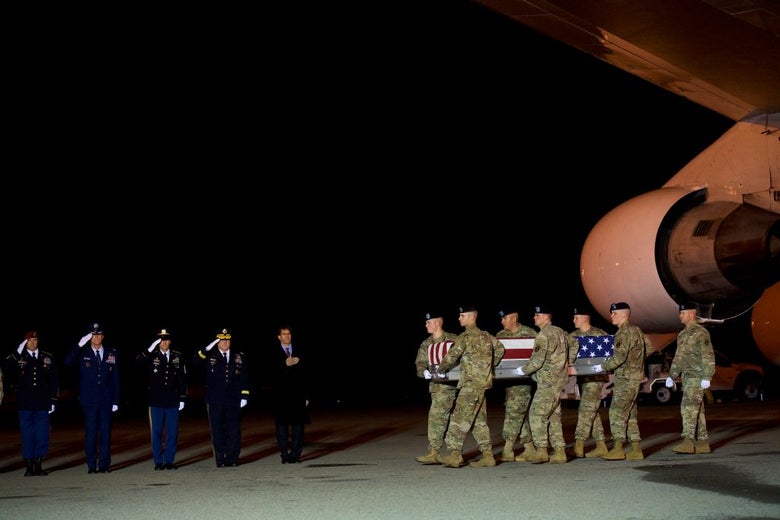 A fourth service member has died from injuries sustained when a Taliban-claimed roadside bomb exploded near U.S. troops in Afghanistan's Ghazni province on Nov. 27, the Department of Defense says. Army Sgt. Jason Mitchell McClary of Export, Pennsylvania, passed away Sunday in Landstuhl, Germany. He was 24.
In addition to the three service members killed immediately in the Nov. 27 attack, two other U.S. troops died in Afghanistan earlier in the month—an Army Ranger who was shot to death in western Afghanistan on Nov. 24 and a National Guardsman who was killed in Kabul on Nov. 3. According to the iCasualties database, those five deaths in November proper make the month the deadliest for U.S. forces in the country since December 2015.
The first deaths related to the U.S. military's Afghanistan engagement were recorded in October 2001, shortly after 9/11. As Slate's Fred Kaplan noted in October 2018, that means that U.S. armed forces can now recruit 17-year-olds (who can enlist with parental consent) who weren't yet born when the conflict began. In addition to our original Afghanistan enemies, the Taliban and al-Qaida, the U.S. is now fighting ISIS insurgents in the country as well. Wrote Kaplan: "We are no closer than we have ever been to accomplishing our objectives [in Afghanistan], in part because those objectives have been so sketchily, inconsistently, and unrealistically defined."
Relatedly, here's one memorable paragraph from a memorable piece in the New Yorker earlier this year about a CIA officer who worked in Afghanistan and Iraq, became disillusioned, quit his job, and joined the police force in his hometown of Savannah, Georgia, as a beat cop:
"We write these strategic white papers, saying things like 'Get the local Sunni population on our side,' " Skinner said. "Cool. Got it. But, then, if I say, 'Get the people who live at Thirty-eighth and Bulloch on our side,' you realize, man, that's fucking hard—and it's just a city block. It sounds so stupid when you apply the rhetoric over here. Who's the leader of the white community in Live Oak neighborhood? Or the poor community?" Skinner shook his head. " 'Leader of the Iraqi community.' What the fuck does that mean?"
Well … anyway … onward to victory!
---