It should come as little surprise to see the Democratic Republic of Congo ranked first and Afghanistan second on a list of countries at risk of experiencing mass atrocities in the coming years, according to a new report. But Egypt (No. 3 on the list) and Turkey (No. 8), both countries with relatively stable governments allied with the United States in the fight against terrorism, might be more unexpected.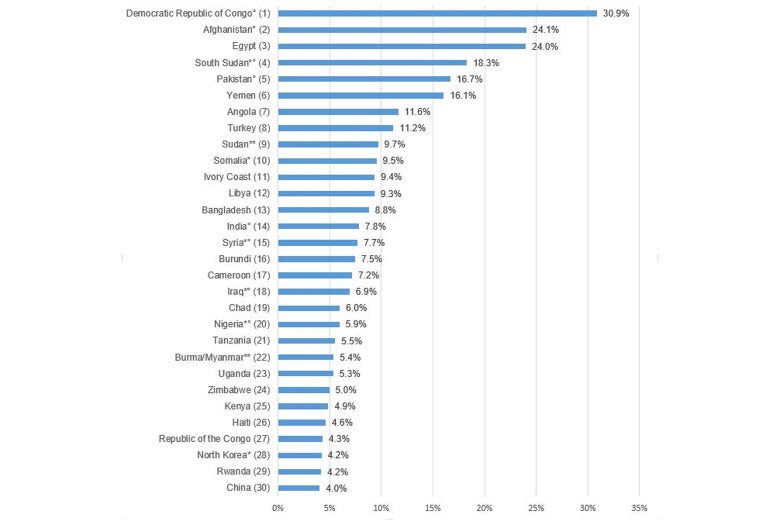 The Early Warning Project, which I first wrote about when it was launched in 2014, is an annual report from the U.S. Holocaust Memorial Museum and Dartmouth University that seeks to determine which countries are at greatest risk of a mass killing, defined as deliberate actions by armed groups leading to 1,000 civilian casualties or more. Risk factors used to create the list include a history of other mass killings, restrictions on freedom of movement, ethnic fractionalization, and regime type. ("Anocracies"—governments that combine democratic and autocratic features—are found to create the highest risk of mass atrocities.)
The formula for determining risk has been tweaked over the years, notably to include killings by nonstate actors (think ISIS) as well as governments. This year's report also expands the prediction window to two years, meaning the risks measured are for 2018 and 2019. One of the project's notable, though tragic, successes was correctly predicting a mass killing in Myanmar, which was ranked No. 1 in the first two years of the report, shortly before the mass persecution of the Rohingya began in 2016. It's worth noting that the report measures the risk of a new episode of mass killing, so if one is ongoing—as is the case in Myanmar—it can lower a country's ranking. (Myanmar is still ranked 22nd this year with a 5.4 percent risk of a new incident.) Congo, Afghanistan, South Sudan, and Pakistan are all still in the top five despite ongoing mass atrocities.
Egypt ranks second on the list with an alarmingly high 24 percent chance thanks to factors including "lack of freedom of movement for men, the country's regime type (anocracy), a large population (the largest of any country in the Middle East), its geographic region, the presence of political killings, a history of mass killing (2013–14), and a recent coup d'etat." Egypt has also seen a recent wave of violence targeting Christians as well as ongoing fighting between the government and militants in the Sinai region. And it's only been five years since hundreds of protesters were gunned down in what became known as the Rabaa Massacre. Turkey, whose military was accused of killing hundreds of Kurds in the southeastern region, exhibits similar risk factors.
These countries' high rankings ought to be sobering for the U.S. government, which has long embraced the notion that strongman leaders are the best guarantors of stability in the Middle East. Though administrations of both parties have held this belief, it has gone into overdrive under Donald Trump, who has unabashedly embraced leaders like Egypt's Abdel Fattah el-Sisi, Turkey's Recep Tayyip Erdogan, and the ruling family of Saudi Arabia.
Another surprising country on the list is No. 7, Angola, which saw a peaceful transition of power after the 38-year rule of President José Eduardo dos Santos in 2017.* In addition to structural factors, the report notes ongoing tension between the government and separatist rebels in the Cabinda region.
One of the rare bright spots in the report is Ethiopia, which dropped from 12th to 32nd on the list after a year that saw unexpected political liberalization and an improvement in relations with longtime rival Eritrea. (On the other hand, Ethiopia is considered to have been experiencing an ongoing mass killing event since 2015 in the western Oromia region.) Haiti, at 26, is the only country in the Western Hemisphere in the top 30.
Jill Savitt, acting director of the Holocaust Museum's Simon-Skjodt Center for the Prevention of Genocide, told me that part of the goal of the project is to "reorient the larger conversation on prevention" of mass atrocities rather than responding to them afterward, when "it's much harder and more complicated to take action." She said, "If we can reorient both policymakers and the NGO community to start paying more attention earlier, this kind of tool can help save lives."
On Monday, the Nobel Peace Prize was jointly awarded to the Iraqi Kurdish former ISIS captive and activist Nadia Murad and the Congolese doctor Denis Mukwege, for their activities to combat and publicize the use of sexual violence in war. In his acceptance speech in Oslo, Mukwege criticized the international community for having turned a blind eye while Congolese civilians were "humiliated, abused and massacred for more than two decades in plain sight."
The next time this happens, we can't say we weren't warned.
Correction, Dec. 10, 2018: This piece originally referred to José Eduardo dos Santos as José Eduardo de Santos.