There was a serious escalation of the already high tensions at the southern border with Mexico Sunday as border patrol agents fired tear gas at a group of migrants. Children were among those affected by the gas. One witness said migrants opened "a small hole in concertina wire at a gap on the Mexican side of a levee," which then led border agents to fire tear gas, reports the Associated Press. "We ran, but when you run the gas asphyxiates you more," the witness said as she held her three-year-old daughter in her arms. Images on local television also showed migrants trying to jump over the fence at the border. Local news reports showed images of border authorities firing rubber bullets at the migrants.
Earlier, a group of migrants pushed past a blockade of Mexican police and rushed toward the border. "We are not criminals! We are international workers!" the migrants shouted. In response, the United States closed the San Ysidro Port of Entry, which is one of the busiest border crossings in the world with more than 90,000 people crossing daily. None of the migrants apparently made it into the United States. But the effort to rush the border illustrates how their patience is running thin as more than 5,000 Central Americans are living in and around a sports complex in Tijuana after walking through Mexico toward the border.
The mayor of Tijuana had previously declared a humanitarian crisis in the border city, calling on the United Nations to help officials deal with the migrants. "We don't have sufficient and necessary infrastructure to adequately attend to these people, to give them a decent space," Mayor Juan Manuel Gastélum said.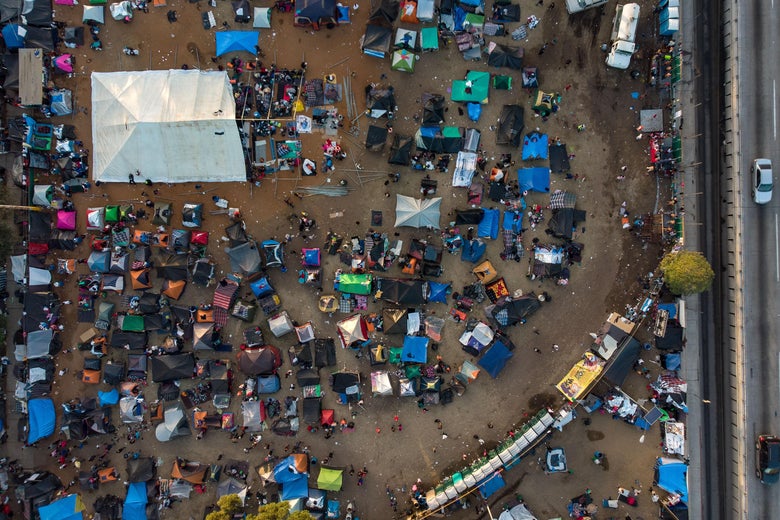 On Sunday morning, Trump took to Twitter to write that it "would be very SMART if Mexico would stop the Caravans long before they get to our Southern Border, or if originating countries would not let them form." Earlier in the week, Trump tweeted that "there are a lot of CRIMINALS in the Caravan."