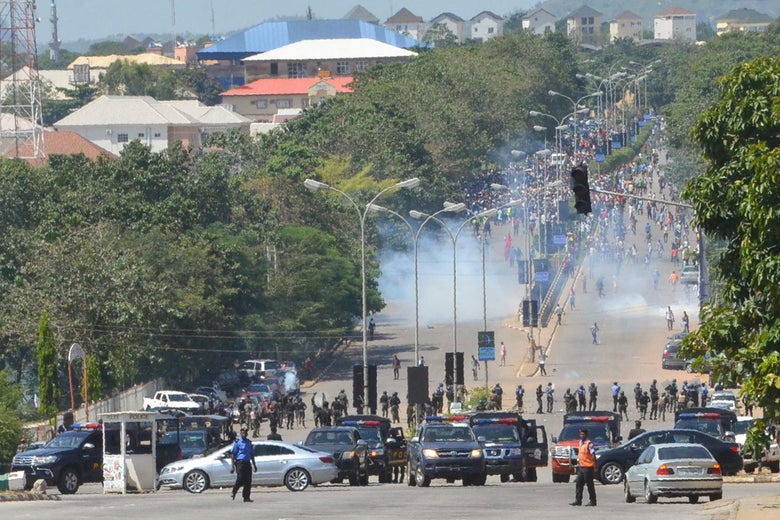 During his otherwise news-free immigration speech Thursday, President Trump said that troops amassed at the southern border would treat rocks thrown at them as if they were bullets, raising the possibility that American soldiers could fire on the unarmed migrant caravan if it reaches the border.
But the more immediate impact may have already been felt in Nigeria.
Earlier this week, the Nigerian Army fired on a group of Shiite Muslim protesters in Abuja, the New York Times reported, killing as many as 40 and wounding 100. The army later posted a video on Twitter (now deleted) pointing to Trump's words about the military's potential response to migrants who throw rocks but are otherwise unarmed. The video stated, "Please Watch and Make Your Deductions," the New York Times reported, and showed Trump saying, "We're not going to put up with that. … They want to throw rocks at our military, our military fights back."
The video was a response to Amnesty International, which criticized the Nigerian government and said the army had killed at least 45 protesters, an army spokesman told the Times.
"We released that video to say if President Trump can say that rocks are as good as a rifle, who is Amnesty International?" the army spokesman said. "What are they then saying? What did David use to kill Goliath? So a stone is a weapon."
A spokesman for the Islamic Movement of Nigeria, the Shiite group that protested this week, told the Times: "The use of force is disproportionate. I don't think President Trump is a good example—even in America many are critical of him. I am surprised that the Army will use Trump as a role model."
Support work like this for just $1
Slate is covering the stories that matter to you. Become a Slate Plus member to support our work. Your first month is only $1.
Join