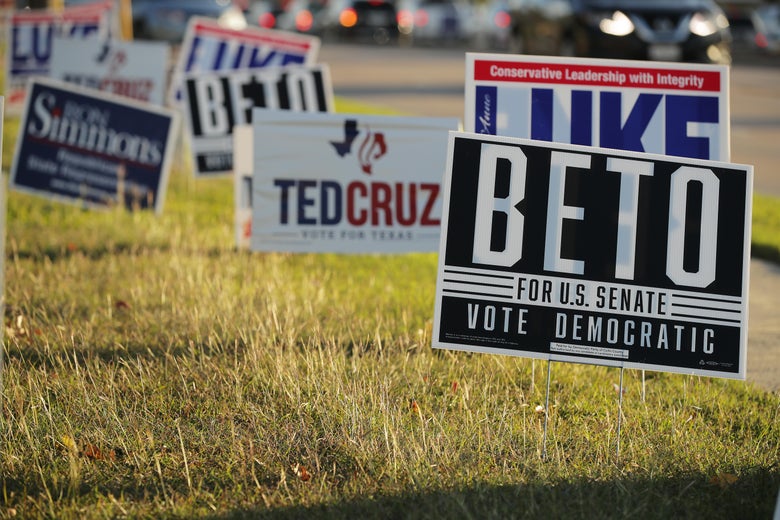 Early voting has been huge in Texas for this year's midterm election, leading some to speculate it could be a good sign for Democratic Rep. Beto O'Rourke's uphill bid to beat Sen. Ted Cruz. The raw numbers are astounding. Almost five million people have voted early in the 30 Texas counties where 78 percent of registered voters live. That means more people have cast a ballot over 12 days of early voting in those counties than turned out for the entire 2014 midterm election. And early voter turnout has surpassed that from the 2012 presidential election. In total 4,514,930 Texans have cast in-person ballots and 369,598 cast mail-in ballots, according to the Texas Tribune.
The early voting numbers are giving a boost of optimism to O'Rourke supporters, who are seeing it as a sign that he may very well come out on top in the closely watched race against Cruz. "If this continues, we win," O'Rourke said Friday after a rally. "I feel very good about our prospects, not just on Election Night, but on being able to deliver for the next six years that follow on every priority, from health care to education to immigration to criminal justice reform. Texas is going to be the leader that this country has been waiting for." Republicans, however, are cautioning Democrats about being too confident, pointing out that historically there are far more Republicans among voters in Texas than Democrats. Although polls have shown a tight race, they still widely favor Cruz to come out on top.
The surge in early voting is not a phenomenon that is limited to Texas. In 22 states and Washington, D.C. more people voted early than did so in the last midterm election, reports the New York Times. "We're in uncharted territory with the size of this vote," said Michael P. McDonald, an associate professor of political science at the University of Florida who tracks early voting. "In some states, it's closer to the presidential election than to the 2014 midterm election."
Support our independent journalism
Readers like you make our work possible. Help us continue to provide the reporting, commentary, and criticism you won't find anywhere else.
Join Slate Plus
Join
---