TIJUANA, Mexico—The young woman reclined in the middle of the street didn't want to give me her name. Her son, a sleepy 4-year-old, rested next to her, his head leaning on a backpack covered with a blanket. He wore a red tank top and Crocs, both at least a couple of sizes too big. The woman looked like a teenager, and she seemed troubled, her light brown eyes darting around as we spoke last Wednesday just outside the Benito Juarez Sports Complex, where, a few hundred feet from the border, thousands of people from the Central American migrant caravan that has drawn international attention in recent weeks had built a makeshift camp. The camp has already overflowed to Cinco de Mayo Avenue, where the woman and her son spent every morning.
The woman told me she had decided to join the caravan in Honduras without any reluctance after hearing rumors that the large group would face favorable conditions as it made its way through Mexico toward the U.S. border. Many others had heard this promise as well. As her son sat up and looked on, she said life in Honduras had become unbearable. Her toddler's father had been killed by a gang, along with two of her brothers. In fact, she said, that was the reason she didn't want to share her name, not even for a conversation with no cameras involved: The "maras" could be after her, she said, referring to the powerful gang known as Mara Salvatrucha, or MS-13. "They jump borders," she told me.
Suddenly, her young son looked up at me and asked for a glass of warm water. He was holding a small packet of powdered milk. His mother told me he had been saving it for days, unable to find water hot enough to dissolve it. "My name is Milagros," she finally said. She might have been lying; like many of the people in the caravan, Milagros carried no papers. "It's riskier if people know who you are," she said.
The caravan that left Honduras in early October reached the border city of Tijuana two weeks ago. The city, energetic but chaotic under normal circumstances, was ill-prepared for the sudden arrival of thousands of immigrants. Local police struggled to hold the long line of people, many of whom made their way toward the border fence along the beach in the city's northeast. Some climbed on top of the 20-foot metal structure, straddling it with one foot hanging over Mexico, the other over the United States.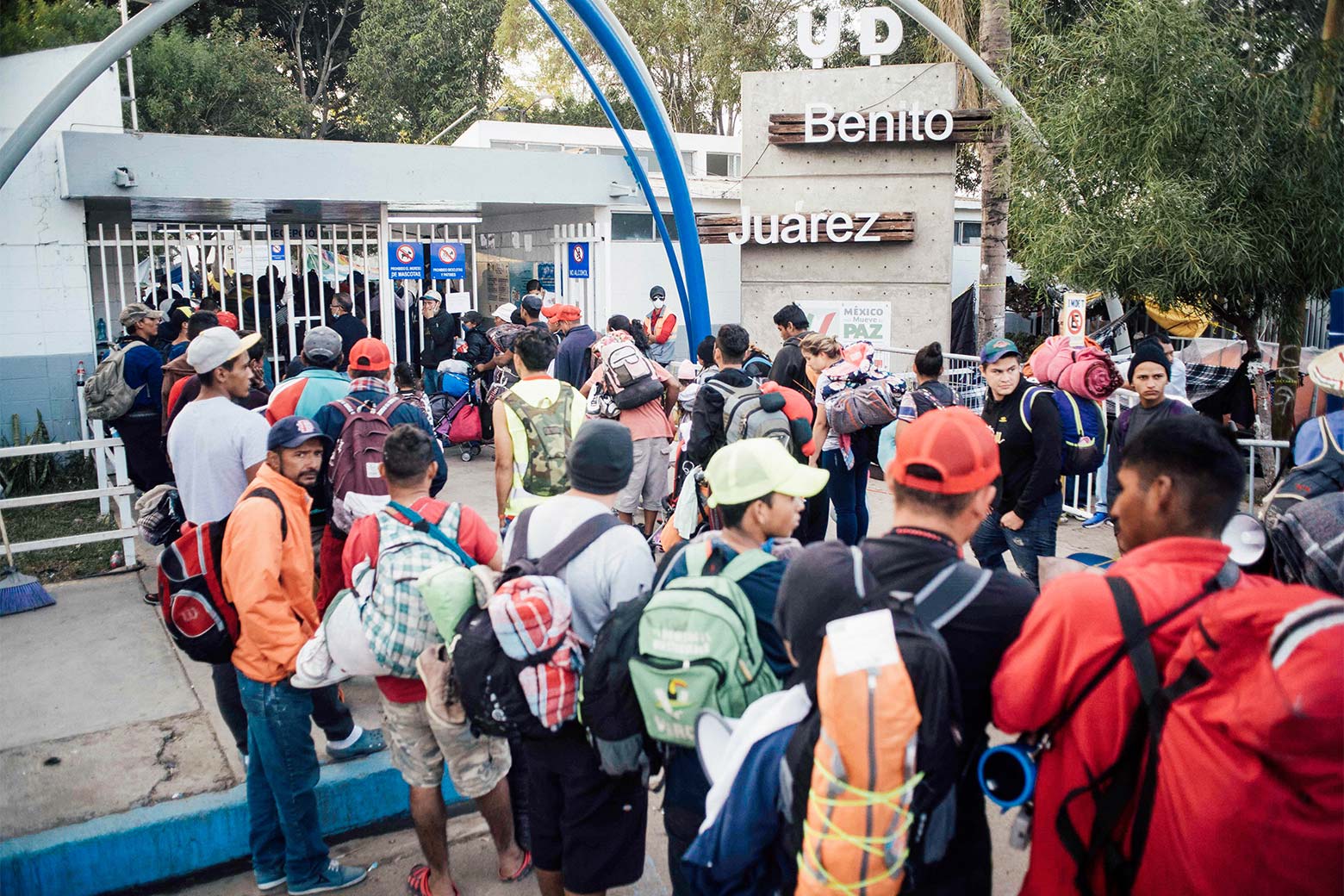 The behavior by the newcomers led to a couple of minor protests from local residents. Juan Manuel Gastélum, Tijuana's mayor, reacted poorly, spewing nativist rhetoric when temperance surely would have served the city better. Eventually, local authorities decided to open the Juarez Sports Complex to the caravan. With a small baseball field often used for Little League games, a playground with an old iron play set, a couple of outdoor basketball courts and an indoor gym, the place at least offered a sprawling area for the crowd of at least 5,000 people to rest. Local authorities began handing out wristbands to identify members of the group. Portable toilets lined the outfield fence, with perhaps a few dozen makeshift showers installed under an old scoreboard. The hope, authorities told me, was to help contain and organize the group, giving migrants "austere but livable" conditions, a local official said.
Reality has proven vastly different.
I walked into the camp with my colleagues from Univision on Monday, just a few hours after a group of migrants had tried to cross the border near the San Ysidro port of entry. The result had been disastrous: American Border Patrol officers responded by shooting tear gas canisters into Mexican territory, sending hundreds of migrants, many of them women and children, running back toward the camp. Some were injured; most were terrified. The episode had left people badly shaken and darkened the mood of the camp.
By the beginning of the week, the place was quiet, other than the sound of children laughing and playing in the face of brutal adversity. Thousands of small tents covered the baseball field. Some were proper camping tents, battered but still standing after almost two months on the road. Many were just makeshift shelters made out of plastic bags, blankets, or sheets tied to poles, fences, and trees. Migrants slept on pieces of cardboard, thin sleeping pads, or the bare, uneven ground. Along the complex's main walkway, people had used small enclosures to assemble other minuscule shelters. Some were built with branches, twigs, and other debris, resembling fragile beaver dams.
As I walked toward the back of the camp, I found a family of four sleeping underneath what can only be described as a paper cave: layer upon layer of deconstructed cardboard boxes held together with tape. As I approached, a child peeked out, curious. Her mother pulled him back so forcefully that the whole structure began to shake. Further up, in the small playground, kids ran up and glided down a slide. One toddler threw a toy car around while another, a girl with messy hair, pushed a tiny stroller carrying a doll. All were insufficiently dressed; many were barefoot, their legs powdered with dust. Next to the playground, authorities had set up a couple of large white tents where dozens of migrants rested, their sleeping pads hardly separated from one another, backpacks and duffel bags strewn about.
On the outer rim of the encampment, where the migrants shower and wash their clothes, the penetrating stench was almost unbearable. People slept next to piles of clothes that lay next to bags of trash, the situation too chaotic to sort out, a ticking time bomb of insalubrity and desperation.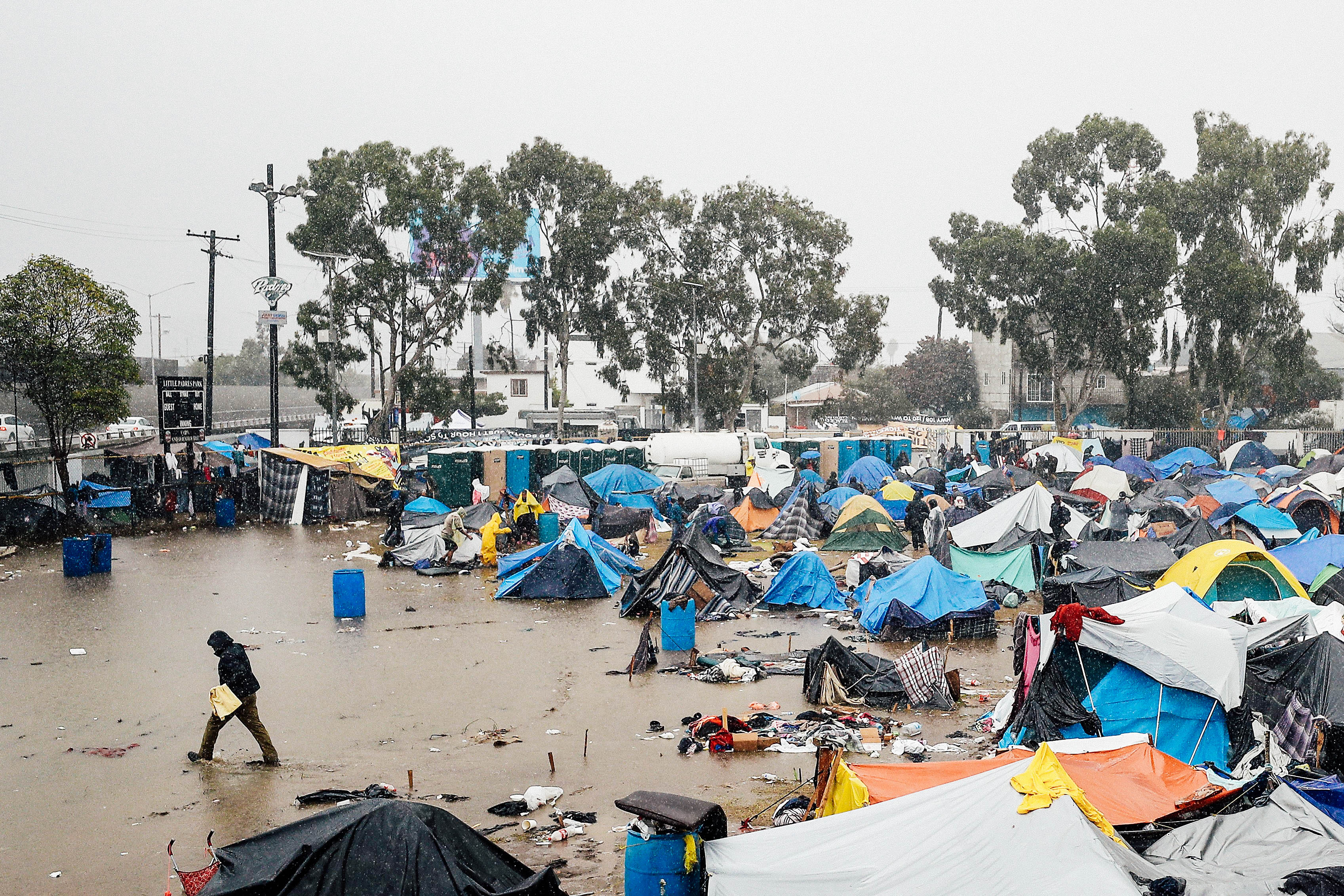 Tijuana's mayor knows the situation in the camp is unsustainable. On Tuesday, I interviewed him in his office, a sparsely decorated space on the third floor of City Hall, a stern, rectangular building downtown that boasts the slogan "Here, the homeland begins," perched in golden letters on one of its grayish walls. A former representative to the Mexican Congress, Gastélum was elected mayor two years ago. An increase in violence throughout the city—Tijuana will likely finish the year with a record of over 2,400 murders—had already left his reputation badly damaged before the caravan arrived. His initial reaction to the latest crisis has made things worse. On Monday, when I told a local businessman of my plan to interview the mayor, the man asked me if there even was such a person.
Gastélum is still unrepentant about his harsh tone and some of the things he said upon the caravan's arrival. He says he does not regret declaring that "human rights are for humans who behave the right way." But while his nativist rhetoric shows an obstinate pigheadedness, he did seem genuinely worried as he acknowledged the severity of his city's predicament. "It's inhumane to treat people this way. It is not right," he told me. When I asked him about his government's slow response to the crisis, Gastélum admitted he had not been ready for the caravan. "People ask me why things weren't properly set up. It's because we weren't prepared," he said. "One day they were in Mexico City, and all of a sudden they arrived in Tijuana. Thousands of people."
According to Gastélum, the refugee camp is being maintained solely with money from the city's taxpayers and goodwill donations, as well as the support of the Mexican navy, that has fed thousands of people every day. He says he has received little help from the federal government. President Enrique Peña Nieto, who will leave office on Saturday, Dec. 1, has been particularly unhelpful, the mayor says. "If they knew this was going to happen, why didn't they anticipate things? Why didn't they reach out to us in time?" he asked. "They left us alone. They sent us enough food for only three days!" Gastélum also isn't too optimistic about the commitment of Mexico's next government, led by Andrés Manuel López Obrador. "They have been very active in other areas, but in this particular issue I just don't see them here," he told me.
The incoming administration has assured Gastélum they will deal with the crisis as soon as López Obrador is formally inaugurated. How? The president-elect's team has suggested two possible strategies for dealing with the current crisis: increased regional aid to Central America's northern triangle of Honduras, Guatemala, and El Salvador and, controversially, a reported deal with Donald Trump's administration that would force potential refugees to wait in Mexico until their asylum requests are processed in the United States.
If confirmed, the agreement—a massive, unprecedented concession from Mexico—would turn Tijuana and other cities on the border into semipermanent bases for thousands of immigrants, a large community asked to settle for months or even years in places without anything close to the required infrastructure. When I asked Gastélum if someone from López Obrador's team had asked for his opinion on the plan, he smiled. "No, no one has consulted me," he said. Gastélum has been considering another, more radical idea: reaching out to the United Nations for assistance. "If Mexico can't handle this situation on its own, what's wrong with asking for help from a friend like the United Nations?" he asked.
In the meantime, conditions inside the Benito Juarez refugee camp worsen day by day. On Wednesday night, a downpour forced the partial evacuation of the camp. Tijuana expects more days of rain ahead, and winter will make sleeping outdoors unmanageable, especially for the children, of which there are hundreds. The fear of disease and unrest is growing.
I paid a last visit to the camp on Tuesday afternoon. A handful of migrants stood outside, filling out paperwork that would return them to Honduras with the help of the International Organization for Migration and Mexico's migration authorities. Orliz Duarte, a chatty twentysomething man who had been on the road for over a month and a half, seemed relieved to be heading home by bus. He had left his wife and children in Honduras and joined the caravan with the intention of "sweating it out": working and starting a business in the United States. "I wanted to build my kids a home. A roof over our heads, that's all I asked God for since I left my country," he told me. He changed his mind after he saw the Border Patrol's violent reaction on Sunday. "They didn't care that there were children there. They are willing to do anything to us. He who is wise sees evil and stays away, do you understand?" Duarte said, pointing at the border.
As I was heading for the exit, I exchanged a few words in English with a Univision colleague. Next to us, from underneath a tent covered in pink blankets, a teeny voice called out: "I speak English," a boy yelled. I stopped and knelt, prodding the textile walls with a microphone. Inside, the child stood up, making a bump in the cotton ceiling of his makeshift refuge. "Who's in there? What's your name?" I asked. A man replied: "He's on his way out." A youngster came running from around the corner. Thin, lively, and handsome, the boy emerged shirtless into the Tijuana afternoon. He wore gray shorts and looked at me with inquisitive brown eyes, dirt crusting in the corners as he blinked. Jefferson didn't speak much English, but spoke Spanish eloquently.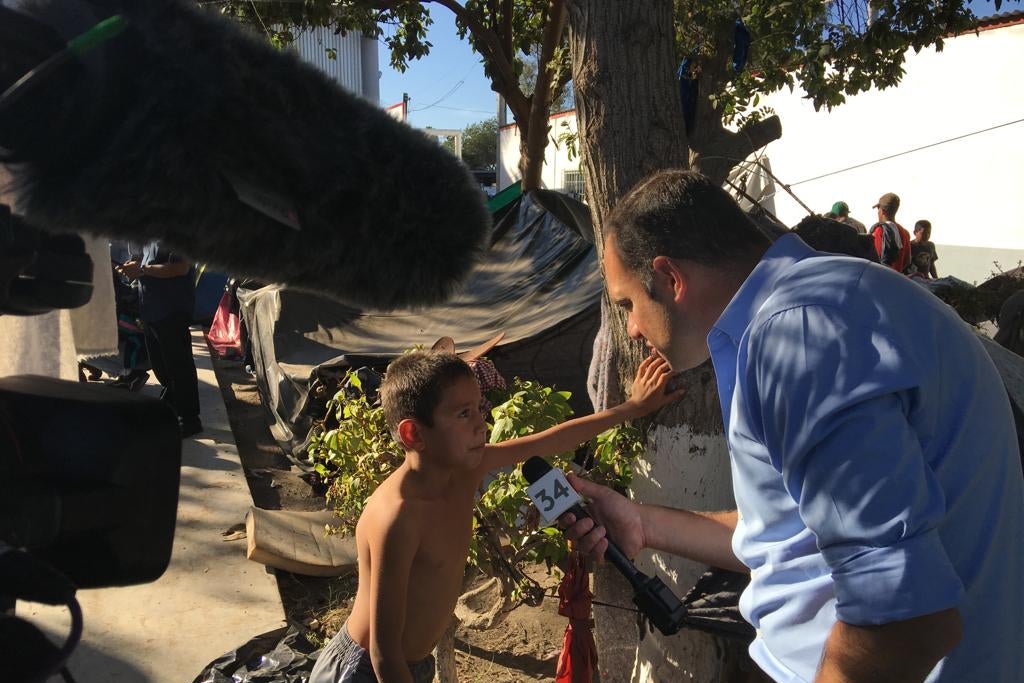 Eleven years old, he had been on the road with the caravan from the very beginning, marching alongside his father, a former construction worker in Honduras, where they had left Jefferson's mother and a couple of siblings. I asked him about the long trek that had taken him 2,000 miles from his home. Jefferson told me the caravan has been "a joy." No matter the hardship, he explained, the voyage had brought him closer to his biggest dream: to become a physician in the United States.
"God willing, we can cross and my dream will come true," he told me. When I asked him what would happen if his petition for asylum fell through, Jefferson would have none of it. "We would try again," he said. Something else explained his persistence. Before going to medical school, Jefferson said, he wanted to be a kid in America. "Children in the United States grow up to be examples," he told me.