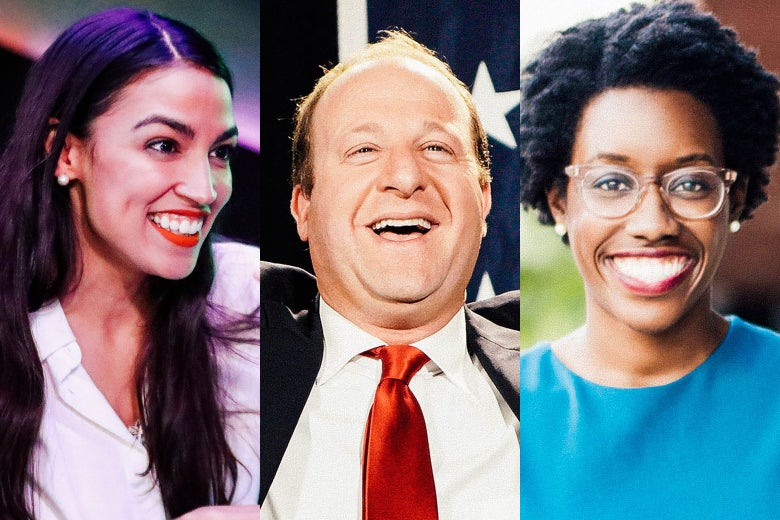 If you, like me, are a pessimist, you may be startled by the extent to which Tuesday's election felt improbably hopeful. I expected the far-right takeover to accelerate, as often happens when you concentrate wealth with the rich and leave people to squabble in a state of artificial scarcity. Desperation and anxiety can intensify reactionary feelings, and our country has pingponged through a series of backlashes that seem to have political bankruptcy as their endpoint: Kavanaugh felt like a backlash to #MeToo, #MeToo gained momentum partly as a backlash to Trump, who was for different reasons a backlash to Obama, who was himself partly a backlash to Bush.
This is all to say that I did not expect to feel hopeful on election night. We are not living through a moment known for its encouraging surprises. It was as astonishing as it was overdue, therefore, that Ilhan Omar and Rashida Tlaib, two Muslim women, got elected to Congress. (Even one would have been a first.) Similarly—at a moment when the GOP has been openly disenfranchising Native voters—it was jarring in the best way to watch Deb Haaland and Sharice Davids, both Native American women, be elected to Congress. (Even one would have been a first.) Texas is sending two Latina women—Veronica Escobar and Sylvia Garcia—to represent the state in Washington, D.C. Even one would have been a first!
After a dispiriting few hours, the unlikely wins just kept on coming: Jahana Hayes will become the first black woman from Connecticut to be elected to the House of Representatives. Ayanna Pressley will be the first black woman to represent Massachusetts in the House. Alexandria Ocasio-Cortez will be the youngest woman to serve in Congress. Maine got its first female governor. Over 100 women have been voted into the House, including Iowa's very first (two!) female representatives. Nevada will become the first state Legislature in American history to have more female than male representatives. Also, the first openly gay man has been elected governor (Colorado's Jared Polis), and Kim Davis—the Kentucky clerk who broke the law by refusing to issue same-sex marriage licenses—has been voted out.
These are clear and surprising signs of health in a country poisoned—not just by a president's homegrown racism, misogyny, and Islamophobia—but by its own radically destabilized concept of itself. While the wealthiest Americans thrive, a hefty percentage of the rest have grown crabbed with anxiety and grabby with greed. Perhaps because they can't quite afford health care, or children, or homes—some have concluded that they also cannot afford kindness, or equal rights, or principles. Or in some cases, democracy.
It's no secret that the far-right has worked to exacerbate these tendencies; Trump and Fox News aim to terrify viewers on a nightly basis with scary stories and invented threats. It has frequently worked. And yet: Having done his best to reshape America using scare tactics in order to create "parallel universes"—one of which lives in constant fear of nonexistent crime waves—Newt Gingrich may now watch his old seat be taken by Lucy McBath, a powerhouse and activist whose son, Jordan Davis, was shot and killed by a white man for the crime of refusing to turn down his music. That means a woman whose suffering and loss is real (not imagined, or theoretical, or TV propaganda) might, pending a recount, have won a Georgia district that even more moderate Democrat Jon Ossoff couldn't quite clinch. That's pretty amazing.
So is the fact that Abigail Spanberger, a former CIA operative, defeated Republican incumbent Rep. Dave Brat, who wasn't just a member of the House Freedom Caucus but the guy who famously defeated GOP House Majority Leader Eric Cantor four years ago in what was then seen as a GOP shift to the right. Dana Rohrabacher, a pro-Russia Republican who liked to boast about arm-wrestling Putin, lost to Harley Rouda, a former Republican who switched parties, announcing that Trump had changed things for him and enough was enough. Scott Walker has been voted out as governor of Wisconsin. Staten Island, New York, of all places, has gone Democratic, replacing Rep. Dan Donovan with Max Rose. And Democrat Laura Kelly handily defeated Kris Kobach—Trump's "voter fraud" boogeyman—for governor of Kansas.
On the issues, we now seem to be a little less afraid of our fellow humans than some might like us to be. Massachusetts voted to protect trans rights. Voting rights have been restored to felons in Florida. Michigan voted against gerrymandering, and for automatic voter registration and protection for overseas and military voters. Raleigh, North Carolina voted out one of the country's most ICE-friendly sheriffs. Minnesota's Hennepin County voted in Dave Hutchinson—a gay, progressive veteran police officer—to replace anti-immigration Sheriff Rich Stanek, who won three earlier elections. Oregon defeated an anti-immigrant ballot measure. Idaho, Utah, and Nebraska voted to expand Medicaid. Texas, that red-state bulwark, may not have seen an O'Rourke victory, but it saw 12 (Twelve!) Democratic pickups in the statehouse.
The Democrat losses were less surprising: The Senate, save for Jacky Rosen's win over Nevada's Dean Heller, who'd never lost an election prior to Tuesday night, got even more Republican. Three states passed laws that effectively reduce women to fetus-carriers without rights. Montana Rep. Greg Gianforte—who attacked a reporter when he was asked about his position on health care—has won re-election. So has New York Rep. Chris Collins, who is under indictment, and California Rep. Duncan Hunter who (also while under indictment) falsely called Ammar Campa-Najjar, his Christian opponent, a "radical Muslim." The bad news is that racism may have helped him and others, like Andy Kim's opponent Tom MacArthur in New Jersey. The good news is that the racist attacks didn't work every time. Incumbent Rep. John Faso's efforts to paint his opponent Antonio Delgado, in New York's 19th, as a scary "big-city rapper" failed, and Delgado will become the first nonwhite representative in his district's history.
The breakout "stars" of this election cycle didn't make it in quite the way many expected them to: While Ocasio-Cortez won, Wisconsin's mustachioed Randy Bryce, who hoped to replace Paul Ryan, lost. So did Andrew Gillum, Beto O'Rourke, and (pending a possible recount) Stacey Abrams—despite extraordinary endorsements and impressive fundraising. Their losses are heavy and the impact real, even if the odds were admittedly against them. But that can't overshadow the 100-plus candidates who did extraordinarily well this year.
If anything, it behooves us not to get so enamored with specific underdog stories: Many of the winners here won despite a striking lack of national attention. Former Navy pilot and federal prosecutor Mikie Sherrill won in New Jersey's 11th District, a Republican stronghold for two decades. Letitia James became the first black person to be elected attorney general in New York—as well as the first black woman to be elected to statewide office. Lauren Underwood, a nurse whose key issue in her Illinois race was health care, defeated Republican incumbent Rep. Randy Hultgren (who'd won in 2016 by 19 percentage points!). And in a stunning upset in Oklahoma, Democrat Kendra Horn managed to defeat Rep. Steve Russell despite a 93.4 percent chance (per FiveThirtyEight) that he'd keep his seat.
All the talk of blue and red waves is entertaining but not especially illuminating. Better than the emergence of breakout Democratic stars is the fact that participation was higher across the country, and that our profiles for what leadership looks like seem to be undergoing a profound change. The Democratic Party is vibrant with engagement and grit and even, improbably, hope. The calls for equality and justice are peppered by an unexpected willingness to fight for them. It's telling, too, that Democratic candidates—particularly women and people of color—ran differently than they have before; rather than treat the things that set them apart as obstacles that needed to be neutralized, they used their stories, their experience, and their particularities to make their cases to the electorate.
And in a startling number of cases, it worked! Democrats' sense of what leaders look and act like seems to be in radical flux. Strength doesn't have to mean male, and leaders don't necessarily have to be white guys in suits. That's an exciting change, and it's deeper than it looks: Americans are much better at paying lip-service to equality than they are at implementing it on a case-by-case basis. The fact that so many voted for candidates who don't reflect the exhausted stereotype of American leadership reflects a pretty radical expansion of our ability to imagine a better, richer, truly diverse country.
The left isn't a monolith, of course. You could see some clashes between old and new factions in action on Tuesday night: While Rep. Nancy Pelosi extolled the "bipartisan marketplace of ideas"—easily the strangest takeaway for a victor to broadcast on a pretty historic night—Stacey Abrams rose to the tenor of the moment. "In our Georgia, no one is unseen, no one is unheard, and no one is uninspired," she said, adding that "hard work is in our bones" and that democracy only works if you work for it. Her message was empathetic and clear, but it was also uncompromising: There would be no concession to an opponent who did everything in his power to suppress minority votes until every single vote was counted. Her message was optimistic. It was appropriate. But it contained a firm and unapologetic challenge.
Seen from a distance and through this particular lens, the Republican Party isn't exactly a picture of health. Among their wins are two members of Congress who are under indictment, a white supremacist, and a literal corpse. As victories go, these are brittle and musty. That makes no difference at all in the short term, of course. So much damage has been done—to the Supreme Court, to American institutions, and to the American public—that it would be reckless to downplay even the most tattered and snaggletoothed win. There is such a thing, however, as long-term health. This was a hard-won battle, and both sides turned out to fight. Both fought well enough. But while one side bubbled with signs of vitality—featuring a hopeful, expansive vision with messaging that hit quintessentially American notes about things like integrity, justice, relief, and hope—the other hunkered down in its bunker, so frothy and fearful of its neighbors that it ended up voting for the criminal and the dead.
Support our journalism
Help us continue covering the news and issues important to you—and get ad-free podcasts and bonus segments, members-only content, and other great benefits.
Join Slate Plus
Join
---