Vanessa Arredondo began her teaching career five years ago in Phoenix with about 30 students in her second-grade class and a list of supplies she had to pay for out of her own pocket. In her first year, she watched veteran teachers quit out of frustration or desperation, leaving behind their overstuffed classes to ill-equipped substitutes. Four years later, she moved to a school in the border county of Yuma, Arizona, and again she found students learning with old books and a long-outdated curriculum. She now teaches third grade at a school in rural La Paz County, in the middle of the desert, where the school week runs from Monday to Thursday, mainly to keep the lights on.
Arredondo, 26, joined the headline-grabbing, weeklong walkout in April, part of an unprecedented wave of teacher activism in red states across the country. She didn't consider herself very political—she hadn't even voted until the 2016 election—but she had seen how desperate her fellow teachers had become. Her political awakening came in the gallery of the state Senate, where she watched the Legislature try to pass a budget. As senators bickered over details of the bill, Arredondo was shocked to see Republicans strike down pro–public education amendments proposed by Democrats, as if more than 50,000 teachers and supporters hadn't just swept around the Capitol in the largest outpouring of support for education in the state's history.
The teachers left with nearly $273 million for pay raises within three years. They felt victorious but not wholly satisfied. They had wanted a long-term commitment to fix the system—to return education funding to pre-recession levels, to pay teachers the national average, to be able to buy new textbooks and modern computers and fund field trips and the arts. They knew they needed to harness the energy from the grassroots movement and turn it into something lasting. Arizona lacks the kind of powerful teachers union that in a state like Illinois would have traditionally led the effort, and other attempts at boosting funding—including a promising ballot initiative that was thrown out on a technicality—have largely failed. Now, six months later, the best bet for teachers to turn the unprecedented protest into meaningful change is by flipping the chamber that so infuriated Arredondo.
And Arredondo, like so many other teachers, has thrown herself into the challenge. "It took me being there and seeing how they do business to know we need to make sure we get the right people in there," she said. She volunteers about once a week, canvassing for Democratic candidates with pro-education platforms or otherwise supporting the grassroots teacher movement known as Red for Ed. The Arizona Senate currently has a 17–13 Republican majority, meaning two flipped seats would tie up the chamber.
One of the candidates Arredondo has supported is not just an education ally but a former state teacher of the year. Christine Marsh, an English teacher in Scottsdale, Arizona, represents many educators' hopes that they can carry the walkout's momentum through Tuesday's election. As Marsh sees it, teachers have finally woken up to the reality that their impoverishment is a political creation and not just a matter of hard times. "The bottom line is the majority party has been in power for 10 years," Marsh said. "And things have not been good for our children."
Many of Marsh's fellow teachers agree. For them, the race to flip the state Senate is the final chance for a major victory. "This is our shot," said Kelley Fisher, a kindergarten teacher in Glendale who helps lead the Red for Ed movement. "I don't think it's going to come around again for a very long time. We have to make it count."
The teacher movement began in February in West Virginia, where thousands of educators went on strike after Gov. Jim Justice signed a bill that would have provided them with just a 2 percent salary hike starting that summer and another 1 percent in 2020 and 2021. Teachers unions complained the raises wouldn't cover cost-of-living increases and that they failed teachers—already among the lowest paid in the country—on other issues related to insurance, health care, and payroll tax deductions. The movement felt spontaneous, as if teachers had suddenly roared into existence as a political group, which was mostly true. The teachers initially coordinated closely with the unions, but the group eventually grew too large and impassioned and ultimately rejected the unions' proposed agreement with the governor as "selling out." Instead, the force driving the action was the fury of teachers who had found one another on the internet and decided they had had enough.
Rebecca Garelli watched from inside the Facebook page at the epicenter of the unrest, a group for West Virginia teachers ready for change. Garelli, a sixth-grade science and math teacher in Phoenix, lurked there for weeks, watching the strategizing unfold. After nine days of protest, the West Virginia teachers won a 5 percent pay raise and went back to work, but the movement would soon spread to Oklahoma and Kentucky. "I realized all their fights were the same as ours," Garelli said. "I was watching what was going on there and asking why no one in Arizona was doing this."
She started her own page, Arizona Teachers United, on a Friday in early March. By Sunday night, it had 2,000 members, many of whom were calling for a strike. She felt she was suddenly in charge of a movement. "I freaked out," she said. Garelli is from Chicago, where she taught for 11 years. She was familiar with more traditional organizing led by a union, and she worried the fledgling movement would fail if it moved forward too quickly. Over the protests of many members, she shut down the page.
Noah Karvelis, a 24-year-old music teacher in Tolleson, picked up the momentum. He created a new page, Arizona Educators United, with eight other teachers (including Garelli) who became the leaders of the grassroots movement they branded Red for Ed. The community grew rapidly, reaching about 55,000 members at its height. The teachers believed they could make public education in the state better with more resources, and the group's leaders polled its members to gauge their priorities: They wanted better pay for themselves and other school staff so they wouldn't need second or even third jobs. They wanted funding for books and supplies, which teachers often paid for out of pocket. And, above all, they wanted to be able to attract and support more teachers, to reduce class sizes that stretched teachers thin and prevented them from being able to give students one-on-one attention.
The teachers in the group seemed to agree that they needed to take drastic action in the spirit of West Virginia, but some members balked at doing so without a gentler lead-up. The Red for Ed organizers, with advice from union leaders, who tried to stay mostly in the background for fear of distracting from the grassroots nature of the movement, tested the waters with smaller shows of solidarity. Teachers wore red every Wednesday beginning in March, and as they grew confident in one another's commitment to the cause, they slowly began to escalate. Soon enough, they were holding demonstrations at the Capitol, "walk-ins" to gather with supporters at the schools, and rallies and marches with hundreds of teachers. One evening in early April, as the governor was on-air at a local radio station calling the teachers "political operatives" conducting a "political circus," 300 teachers gathered outside the station to protest. A dramatic showdown seemed inevitable.
By the time Arizona teachers held a vote to strike, the public narrative had solidified. The teachers were selfless advocates for their children, pushed to extreme measures by extreme conditions, overcoming their apolitical personalities to fight for their students' education. The message worked with the public. Across the nation, the teachers were popular. An NPR poll from the spring found that most Americans supported pay increases and the teachers' right to strike. Parents and children in Arizona rallied with the teachers. The enthusiasm seemed to spill out across the country and across party lines. It carried Travis Brenda, a math teacher and Republican in Kentucky who broke from the party on education issues, to victory over the state's incumbent House majority floor leader in a May primary.
Attacks made against the movement or its organizers (such as accusations Karvelis and fellow Red for Ed leader Derek Harris were communist/socialist agitators) fell flat in the face of the overwhelming number of regular-looking teachers telling their heartbreaking stories of hardship to the press and on social media. Some Republicans in the Arizona Legislature tried to paint the teachers as Democratic pawns and as negligent caregivers. Neither tactic worked. (Elsewhere, it backfired spectacularly, as when Kentucky Gov. Matt Bevin asserted that children had likely been sexually assaulted because the teachers were on strike. He later apologized.) According to Jon Shelton, who researches unions and education at the University of Wisconsin in Green Bay, even labor historians were shocked by the popular support, given the ways teachers are usually harshly criticized during strikes for what critics see as a crisis of morality—of setting a bad example for their students by breaking the law.
In Arizona, success came a week into their walkout. When teachers first called for action, the Republican Gov. Doug Ducey offered a 1 percent pay raise. Teachers found it insulting. When the broad popularity of the movement became apparent, Ducey abandoned the plan. Instead, he promised a 20 percent increase in education funding over three years—without tax increases—and declared himself a pro–public education leader in TV ads. With that concession, teachers went back to work, but they weren't done fighting.
Christine Marsh lives, campaigns, and works in relatively affluent suburbs of Phoenix, but she will tell you that even there, the budget cuts punished her school. In her more than 25 years of teaching, she has seen class sizes creep up as teachers flee the state or the profession after years of low pay. "When classes become so big, it becomes impossible, or at least very challenging, to create the bonds you need with kids," she said. "You can't give the attention they deserve." She has become frustrated by the conditions over the years, and the low pay didn't help. On three separate occasions, financial hardship nearly drove her out of teaching, and she considered the possibility of going into catering.
Marsh teaches high school English, a class that allowed her to encourage students to be aware of local politics. She brought in local authors and politicians to speak to classes as source material for their essays, but also because she wanted her students to think critically.
According to Marsh, some local politicians would use the opportunity to speak about education policy, which caused her students to pay attention to the issue for the first time. Her political origin story began there, she said, when she heard one of her students ask why Arizona students were worth less than those in other states.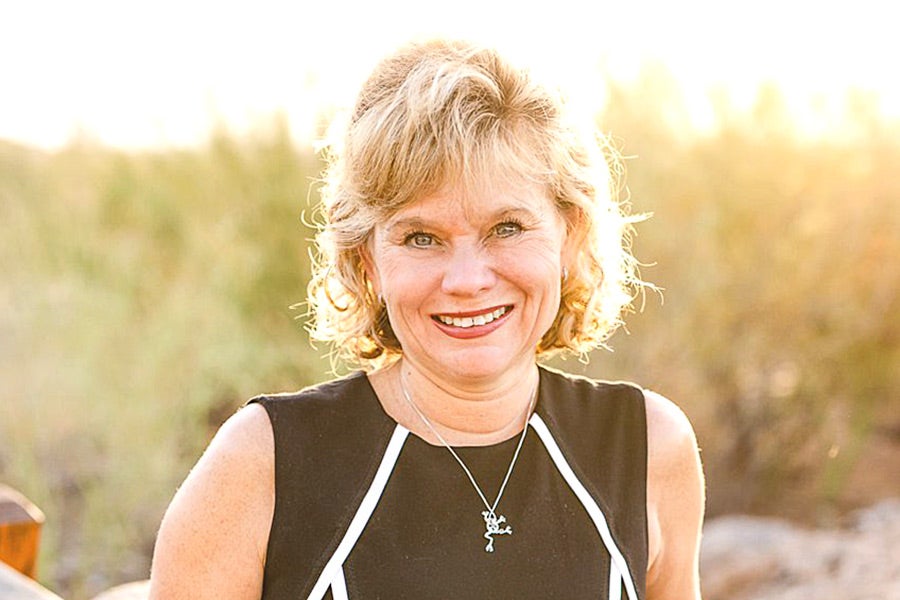 Even before she signed up to run for office—and before the Red for Ed movement began—Marsh spoke publicly on behalf of educators. When she traveled to conferences and speaking engagements around the state after being named teacher of the year in 2016, she learned that the conditions in schools were worse than she had realized. She said teachers reached out to her about an array of problems: financial difficulties, class sizes, outdated books, slashed music and art programs, and roles they were burdened with outside normal teaching duties. "In impoverished areas, all of the issues my students are facing are magnified and so much more of an extreme," she said. When local Democrats asked her to run in the spring of 2017, she hesitated, convinced it would be impossible to be a full-time teacher and run a campaign. But she eventually agreed. "After about six weeks, losing lots of sleep, tossing and turning, I realized I'd lose less sleep by running," she said.
A year later, when the teachers pulled together, Marsh became a face of the movement. Dozens of teachers would run for office in Arizona after the walkout, including two candidates for the state House. Many were eliminated in primaries, but the excitement held. Marsh was already an established candidate and running for a crucial Senate spot, and she became a natural fit for the moment—a prescient choice by local Democrats.
Marsh wasn't supposed to be the best hope for Red for Ed, but successive failures in other efforts have redirected attention her way. Teachers' biggest action for this election was expected to be a ballot initiative called Invest in Ed. Hundreds of teachers, including Arredondo, Karvelis, and Garelli, spent countless hours in triple-digit heat gathering 270,000 signatures in support of the measure—nearly twice the 150,642 needed to land on the November ballot. The initiative, if voted on and passed, would have added a 3.5 percent state tax on the highest earners to raise $690 million annually for education, bringing funding back to pre-recession levels. And until August, it was the primary focus of newly political teachers. But a group of conservatives challenged the phrasing of the initiative (over what the educators describe as a minor technicality about potentially confusing language), and the state Supreme Court threw out the initiative. Educators were devastated—and suddenly stripped of any concrete plan to raise education funding.
Ducey, the most vilified figure from the walkouts, was the next target. Teachers felt he had largely ignored public education in favor of boosting charter and private schools. And he looked vulnerable. Democrat David Garcia, a Red for Ed–endorsed education professor, challenged Ducey over his reaction to the walkout, accusing him of having stumbled to a funding solution only in reaction to a crisis. In June, an NBC News/Marist poll showed more than half of all Arizonans believed Ducey should not be re-elected. But time seems to have softened those public frustrations with the governor. He now claims to have the high ground on education policy because, he says, he masterminded the solution that appeased teachers—and provided them with their most significant salary increase in more than a decade—without raising taxes. As of the latest polling from early October, he holds a double-digit lead.
Even if Ducey maintains his advantage, Democrats in Arizona still stand a chance at a major victory in the state Senate. They need two seats to split the chamber, and for the first time in many years, even Republicans are warning that Democrats' odds of gaining power are decent. While some of that has to do with Donald Trump's unpopularity, many have credited the momentum from Red for Ed for bolstering Democrats' hopes.
Most of the seats considered flippable reside in suburbs around the Phoenix metro region. In particular, Red for Ed and union leaders have focused on three districts: District 6, District 17, and Marsh's district, 28. Each of those races has drawn unusual levels of outside interest and funding from progressive political organizations, and each of the Democratic candidates is focused on public education funding. Even before the races came to be defined by education, local Democrats sought out Marsh because they believed a former teacher of the year stood the greatest chance of drawing votes across party lines. Now, with Red for Ed still in voters' memories, the seat seems more vulnerable than ever.
Kelley Fisher joined Arizona's teachers union immediately after starting work in the state two decades ago, on the advice of a mentor from more union-friendly Illinois. She said the organization in those early years was fairly quiet, in part because the conditions were much better than they are today, and in part because her colleagues didn't always agree with the union's politics. Teachers in the state, like the general population, skewed conservative and voted that way, too. "People were just complaining in their classrooms but not connecting the dots of what their vote was doing to their own profession," Fisher said.
In all that time, she says, she had never seen educators believe in their own collective strength. During the walkout this spring, she saw teachers crying after witnessing their own legislator vote against public education funding. She thinks it was a turning point for many of them. "People thought the buck stops at their [local] school board," she said. "To see with their own eyes and own ears was a huge change."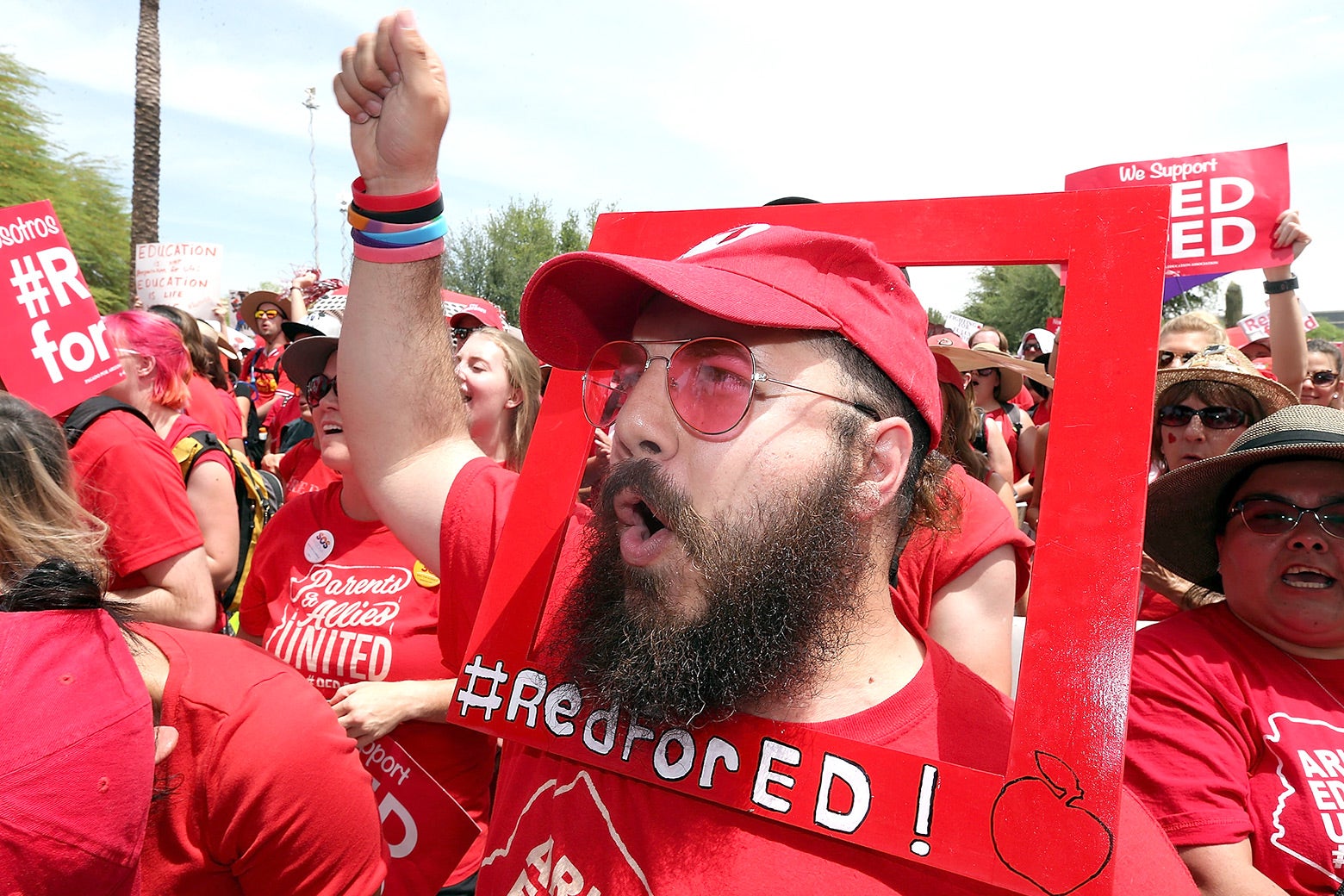 A natural step for mobilizing this feeling would be through a teachers union. And the state has seen a small but significant increase in membership, according to union president Joe Thomas. Roughly 2,000 teachers signed up during the walkout, making the new members about 10 percent of the full union. The sudden interest gave union leaders hope, but they still have to acknowledge their limitations: The union is an entity reliant on Democratic politics in a Republican state.
Arizona has long been a right-to work state, meaning teachers have to opt in to paying dues to support the union. Without the fees from a majority of teachers, and without the political strength from the many thousands of vocal constituents, the union has remained relatively weak, unable for a decade to effectively pressure Republican lawmakers over funding.
The national political climate isn't warming on organized labor in the public sector, either. States like Arizona could be considered a window into what the rest of the country will look after the Supreme Court's Janus ruling, which in June effectively made the rest of the country right-to-work as well. Many labor advocates have warned the decision could undercut the strength of public-sector unions to the point of almost total inefficacy. Jon Shelton at UW–Green Bay speculated that this could mean a deterioration in public school funding and classroom conditions across the country, possibly causing even more strikes of the scale we saw in the spring.
Thomas disagrees. He said he thinks that the other states will experience what he said he has in Arizona: "It is also an opportunity for unions to be stronger, because now members have to own the fact that they're in the union. Then you understand you have a role to play in making sure that it is strong and responsive to its membership. That's what I see my colleagues doing in other states—they're doubling efforts to listen to membership, trying to identify leaders at the local level, looking for ways to engage younger, newer members."
Unions in red states where teachers went on strike—states that were largely right-to-work—all claimed they had experienced a revitalization during and after the walkouts. "I see an opportunity for unions to emerge stronger and more vibrant, the way we're coming out a more vibrant, powerful union," Thomas said. "I'm excited by it."
But Leslie Finger, who studies interest groups and policy change in education at Harvard University, has found in her research that even strong unions can't really do that much without allies in the statehouse. "I think if legislatures change in these states, perhaps there is room for optimism," she said. "But I think the real problem is that unions don't have allies right now."
The seat Marsh is running for has been Republican for years. Her opponent, the incumbent Kate Brophy McGee, served in the Arizona House of Representatives for six years before getting elected to the state Senate in 2016. She presents herself as a centrist who knows when to reach across the aisle. She also isn't the anti-education extremist Democrats may wish Marsh were running against.
Brophy McGee received a better rating from the teachers union than any other Republican in the Senate. With help, she claimed, from the pressure the teachers put on her fellow Republicans in the run-up to the strike, she co-sponsored a bill extending for 20 years a sales tax for education—one Marsh has said was a maintenance of the status quo, but which Brophy McGee says is still a coup with a tax-averse Legislature. After supporting school choice and charter schools, Brophy McGee has called for charter school reform and regulation. (Marsh would say Brophy McGee only became interested once charter schools became a "PR nightmare" for Republicans.)
But even if one considers Brophy McGee a pro-education centrist, it doesn't matter to the teachers and their supporters, who are desperate for a change. For the public at large, Marsh is the teacher of the year, a literal spokeswoman for public education. And Marsh, who is also campaigning on the idea of bringing compromise and balance to the Senate, has found that even those annoyed at being bothered by canvassers will stop to listen to a pitch once they know her credentials. "It's literally a door stopper," she said.
Teachers and former students, confident that Marsh will represent their interests, have volunteered for her campaign with the same energy they brought to the strike. One elementary school teacher, Jennifer Chastain, became engaged in politics because of Red for Ed and spent the summer on Marsh's campaign. She returned on her school's fall break, knocking on more than 1,000 doors in less than a week.
If Marsh wins and Democrats shift the balance in the Arizona Senate, it will be the first concrete victory for Red for Ed since the walkout, and it will prove the movement can motivate the public long after it has returned its attention to day-to-day life. If she doesn't, teachers will still be able to point to unmeasurable gains, of finding their voice and recognizing their power. It's possible these educators will continue to fight and win legislative battles over funding. It's also possible that the public school system will cycle through periods of desperation and agitation, where teachers make progress only through exhausting and emotionally trying interruptions to their lives. For Arizona's teachers hoping to avoid that fate, it comes down to a small group of teacher-backed candidates and the former teacher of the year.
Marsh, for her part, says she's glad the teachers have been empowered, but she hopes the burden doesn't remain on them to force the Legislature's hand. "I think it's going to change the state," she said. "But I would ultimately like to get back to the place where teachers can just close their doors and teach."