One afternoon late in her first year at Yale Law School, Linda sat down to create a contemporaneous record of a conversation she'd had the night before. She'd met with one of her professors, Jed Rubenfeld, in his office after hours at his suggestion, following repeated attempts to see him in the afternoon about a paper she was working on for him. Rubenfeld had made her uncomfortable throughout the year, commenting on her appearance and asking her about his. While friends had told her she had reason to feel creeped out by his behavior, Linda wondered whether she was being too sensitive and agreed to the 8 p.m. meeting. She really needed to make progress on the paper, after all. But given the queasy feeling she already had, she asked her partner to pick her up that night, and to come looking for her if he hadn't heard from her after a reasonable amount of time.
Per Linda's record, written the next day and shared with us recently, her conversation with Rubenfeld that evening quickly veered away from her paper. The professor asked her, "Why aren't you married?" When Linda tried to steer the conversation to safe ground—mentioning how young she was and inquiring about his own marriage to fellow Yale Law School professor Amy Chua—Rubenfeld brought the focus back to her. He asked if she'd been the smartest girl in her high school, then if she'd been the prettiest. When she again deflected, he asked if her smarts had made things tough with the guys in school. The conversation meandered from there and never returned to her paper. Eventually, Rubenfeld said they should get going. By the time they left, Linda's partner had come to look for her.
Linda, who today is a recent YLS alum, spent the rest of that academic year agonizing over what to do about her uncomfortable interactions with Rubenfeld, and experiencing more of them. One in particular sticks out: The Saturday night after exams wrapped up, Rubenfeld called her cellphone—the first time he had ever done that, she says. He said they'd never gotten a chance to talk about that paper and asked if she was free to do that now. Linda said she was busy preparing to leave New Haven and couldn't meet, but said she was happy to talk on the phone. They had what Linda describes as a 30-second conversation about the paper before Rubenfeld quickly ended the call, saying he'd see her in September.
That summer, Linda spoke to Yale Law School's Title IX coordinator. (Linda is a pseudonym, and to preserve her anonymity, we have chosen not to name the Title IX coordinator at the time, as it would identify her class year.) Her goal was twofold: She wanted to start a paper trail about Rubenfeld's behavior, and she was looking for advice on what her options were for engaging the school's Title IX process, the government-mandated means of investigating and stopping gender-based discrimination. According to Linda, the Title IX coordinator at the time told her at the very beginning of the call that if Linda named the professor during their conversation and the allegations were sufficiently serious, the coordinator would have to file a formal report. Once that process began, the coordinator said, Linda's anonymity could not be guaranteed.
This put Linda in an enormously tough position. Schools need to protect the accused as well as the accusers, so it makes sense that Yale would ask women, or anyone alleging misbehavior, to attach their names to allegations. But it also makes sense that attaching her name would be incredibly difficult for Linda: Rubenfeld hadn't just advised her on a paper. He also taught one of her courses, and he'd been her "small group" professor during the fall semester. (At Yale, each first-year law student is assigned to a 16- or 17-person small group. Those students take all of their courses together, including one course with just their group that's led by one professor.) Until that April late-night meeting, Linda had generally considered Rubenfeld her advocate. She was counting on him to be one of her references on her clerkship applications, which she needed to submit soon after returning to campus in the fall. She worried that if she made a report or even told the Title IX coordinator his name, it could get back to Rubenfeld and she'd lose his support. This could undermine her chance to earn a prestigious clerkship with a federal judge—which would then make it harder for her to continue to pursue competitive opportunities, like the holy grail for Yale Law School students: a clerkship on the Supreme Court.
Linda was left with two terrible options: She could protect her clerkship prospects by subjecting herself to more unwelcome flirtation, or she could ask Yale to investigate Rubenfeld. The potential drawbacks to reporting seemed to greatly outweigh the upsides. This was several years before #MeToo, and the prevailing wisdom at the time was that women should just lean in and push through when things got weird. Linda questioned whether reporting her professor would make any difference at all.
So, she decided not to give the Title IX coordinator Rubenfeld's name. Instead, she thought about how she would interact with him once she was back on campus. That fall, she devoted a good chunk of mental energy to protecting herself and her recommendation, keeping her distance from Rubenfeld while going out of her way not to offend him. By the end of the first semester of her second year, she'd gotten her clerkship—with Rubenfeld's endorsement.
But in November of her third year, after seeing Rubenfeld exhibit some of the same behaviors toward first-year students that had made her uncomfortable in her own first year, including getting drunk with students and asking odd, sexually tinged questions in class (for instance, asking his small group class if anyone present had been raped), Linda became convinced she needed to try again. She reached out to the new Title IX coordinator at YLS. (At YLS, faculty members rotate through the role, though a YLS administrator simultaneously serves as an additional Title IX coordinator for the law school on a longer tenure.) Linda didn't lodge a formal complaint—she believed by this point in her YLS career, there were professors who would take her seriously and work to resolve the issue without the formal process, and she still had hopes of applying to clerk on the Supreme Court, which meant she needed to stay in good standing with her professor recommenders. But she did reveal which professor she was talking about, after the Title IX coordinator, having heard the nature of her complaints, assured her that her anonymity could be maintained even if she named him. The Title IX coordinator was then able to conduct an informal investigation that spring, speaking to students who had been in Rubenfeld's classes, and agreed not to file a formal report, honoring Linda's request for anonymity.
The informal investigation happened over the course of the spring semester and wrapped up right around the time Linda graduated. Rubenfeld had been set to teach a small group in the fall and had hired his teaching assistants for it, but at the last minute, he ended up not teaching the class. He still taught his larger classes. The following year, Rubenfeld had his small group back. (We asked Yale why Rubenfeld didn't teach a small group that fall, but the school declined to comment.)
Jennifer entered Yale Law School soon after Linda graduated and was assigned to Rubenfeld's small group. Her description of Rubenfeld echoes what we've heard from several former and current YLS students we talked to for this story. "He's a complicated person. I think he cares about his students—he wants to be an effective teacher," Jennifer said. "But he's also a provocateur. He lives and exists on the line."
Rubenfeld tends to ask very personal questions in class. For example, he started the very first class of Jennifer's small group asking if any of the students didn't date people of certain racial backgrounds. Several current students told us that Rubenfeld had gotten drunk at small group gatherings and that when he did, his behavior would become more provocative. Many of his students told us that these sorts of interactions made them uncomfortable.
At the annual Harvard-Yale game party hosted by Rubenfeld and Chua, to which the entire small group was invited, he brought Jennifer into a conversation he was having with older students and asked whether she noticed anything different about him. Jennifer had no idea how to answer the question—why was he asking her about his physical appearance? She tentatively asked if he was growing out his beard (the most innocuous thing she could think of) before he revealed that he'd gotten a spray tan. She quickly left the conversation to rejoin others from her small group, but he eventually came over and engaged everyone in a conversation about the spray tan, saying that Jennifer had mocked him for it. The conversation continued until another student asked if they could move on to a different topic. The next time the small group gathered in class, Rubenfeld started his lesson by noting that Jennifer had subjected him to "professorial harassment" at the party by commenting on his appearance. She was mortified. Not content to let it go, he mentioned the interaction again in the next class.
"Everyone saw he was chiding me, noticing me," Jennifer says. She worried that her classmates would think that she was encouraging it. (Several members of her small group told us that they also found these in-class comments deeply uncomfortable and that it was clear Rubenfeld was pursuing the topic in a strangely flirtatious manner.) "It was awful," she told us. "I was frozen."
Rubenfeld's behavior made Jennifer so uncomfortable that she considered skipping the end-of-semester small group party. Instead, she arrived very late, hoping to avoid him. When she got there, Rubenfeld immediately called attention to her arrival. Later, as others mingled around them, he leaned in close to her, repeating her name before saying, "What am I going to do with you?" Shocked and embarrassed, she tried to brush off the question, saying, "Cold call me in class?" But Rubenfeld leaned in further and said "…tickle you?" Jennifer replied, "I think that would be a terrible idea," and walked away. (Rubenfeld did not reply to our repeated, detailed attempts to reach him about Linda's and Jennifer's allegations or any other parts of this story.)
Jennifer found a friend at the party and explained what had happened. The next afternoon, she created a new email account and wrote an anonymous email to the law school's Title IX coordinator asking for information about what her options were for filing a complaint against a professor. (Jennifer is also a pseudonym, and to preserve her anonymity, we have again chosen not to name the Title IX coordinator at the time.) Specifically, she wanted to know: If she named the professor and said he had harassed her, would that professor automatically be notified of the allegation? At that point, she felt unsure of how to proceed but had made up her mind to do something.
In the course of reporting this story and corroborating Linda's and Jennifer's accounts, we spoke to more than a dozen recent Yale law students and graduates about the environment at Yale Law School. None of the students were willing to be named in this story, for fear of reprisal by Yale faculty, for fear of hurting their clerkship chances, or, for those who already are or were law clerks, for fear of embarrassing the prestigious judges they work or have worked for. We also spoke to several faculty members who confirmed the intensity of the competition and stakes around clerkships at the law school and noted that YLS was somewhat limited in its ability to resolve complaints of harassment, given that formal complaints are adjudicated at the university level. These students, alumni, and faculty all had slightly different reads on exactly how out of line Rubenfeld's alleged behavior was (and some faculty members had no firsthand knowledge of it at all). Some described Rubenfeld as flirtatious and line-crossing; others called his behavior harassment. The picture we got from these conversations is not one of straightforward abuse but rather a fraught and uncomfortable situation full of insinuation and pushed boundaries that can make learning difficult and has the potential to push women out of the pipeline for the most prestigious and competitive areas of the law. This type of behavior, which is frequently dismissed as "borderline" or "creepy" and not worth making a formal fuss over, can have very real consequences. The two main obstacles that made it difficult for Linda and Jennifer to report this behavior were a Title IX process that seems incapable of tracking multiple complaints against a single faculty member and this particular faculty member's connection to a clerkship process that makes students enormously reliant on pleasing certain professors.
Yale's Title IX system, like most university Title IX systems, is not easy to navigate. The Title IX office formally operates at the university level, and then each school has an assigned coordinator. If a student brings a complaint to any Title IX coordinator at the school (but not university) level, it can be investigated "informally" by that coordinator, in a process that is largely intended to be ameliorative. For example, at the informal level, the Title IX coordinator might brainstorm solutions so that a student would no longer need to interact with a certain faculty member. In the informal process, it is possible for the students' anonymity to be maintained, as long as the alleged conduct does not violate Yale policy (if it did, the Title IX coordinator would be obligated to make a formal report). This process can also yield a recommendation of discipline to the dean of the particular school but not formal discipline itself. If a Title IX coordinator thinks there is enough concerning evidence to warrant a formal complaint, the Title IX coordinator can bring the complaint on behalf of the student, but the student's identity is guaranteed to be revealed in the course of that process.
If a student (or Title IX coordinator) files a formal Title IX complaint with the university's Title IX office, the accused will be notified of the complaint, a fact-finder is dispatched to determine the circumstances of the situation, and eventually a trial-style hearing is scheduled and heard by the University-Wide Committee. As listed on the UWC's own website, in reviewing such a case, the UWC can only consider previous formal investigations that resulted in discipline. What that means is that if Jennifer had pursued a formal complaint against Rubenfeld, Linda's previous complaints would not have been considered in the UWC adjudication process. The Title IX system makes it difficult for the school to recommend discipline based on a pattern of behavior unless several women are willing to lodge individual formal complaints or sign onto a Title IX officer's complaint, and in both instances the students would be required to sacrifice their anonymity.
Jennifer's anonymous email eventually led to conversations with the YLS Title IX coordinator, and those conversations eventually prompted YLS to hire an independent investigator to look into Rubenfeld's behavior. The investigation, which launched in the spring of 2018, is a very unusual step, according to everyone we spoke to at the school, because it is outside the bounds of either the formal or informal processes. It has allowed Yale Law School to cast a wider net to investigate Rubenfeld's behavior over a longer period of time and to consider inappropriate behavior beyond just gender-based discrimination and harassment. It is unclear how or why the law school was able to circumvent the Title IX process laid out above, and YLS declined to answer our questions about its decision-making. Representatives from the school did note that it is the university, not the law school, that retains authority over whether Rubenfeld loses his tenured position, should it ever come to that. (Rubenfeld recently said he has been told that his job is not in jeopardy, but the dean of the law school, Heather Gerken, responded with a statement saying that no options were off the table.)
In a statement provided to Slate, Gerken wrote the following:
Allegations of faculty misconduct are of deep concern to me and to the School. It is our responsibility to ensure that our students live and learn in a community of mutual respect. As Dean, I take this responsibility extraordinarily seriously. I strongly encourage any members of our community who have been affected by misconduct to contact my office directly. The community has my word that all allegations are investigated as fairly, thoroughly, and expeditiously as possible.

This is a moment of reflection for this institution where we are called upon to live up to our best values. We are listening to that call, working in partnership with our students and alumni.
The Rubenfeld investigation had been an open secret on the Yale campus since it started in the spring, but its existence was officially reported by the Guardian for the first time on Sept. 20. It was a side note in a story about Rubenfeld and his wife and YLS colleague, Amy Chua, telling their students that current Supreme Court nominee Brett Kavanaugh liked his female clerks to have "a certain look." (It was also reported that the pair had warned certain students away from clerking for former 9th U.S. Circuit Court of Appeals judge Alex Kozinski, because he sexually harassed women. Kozinski stepped down from the bench in December after credible allegations of sexual harassment were levied against him.) Chua, who is one of the professors who helps students get clerkships, has refuted the Guardian's claims about her telling students to look a certain way for Kavanaugh as "100 percent false," but we have confirmed the Guardian's reporting with students who were present at the time. As for Rubenfeld, he told the Guardian:
In June, Yale University informed me that it would conduct what it terms an "informal review" of certain allegations, but that to preserve anonymity, I was not entitled to know any specifics. As a result, I do not know what I am alleged to have said or done. I was further advised that the allegations were not of the kind that would jeopardize my position as a long-tenured member of the faculty.

For some years, I have contended with personal attacks and false allegations in reaction to my writing on difficult and controversial but important topics in the law. I have reason to suspect I am now facing more of the same. While I believe strongly that universities must conduct appropriate reviews of any allegations of misconduct, I am also deeply concerned about the intensifying challenges to the most basic values of due process and free, respectful academic expression and exchange at Yale and around the country.

Nevertheless, I stand ready to engage with this process in the hope that it can be expeditiously concluded.
After the Guardian story broke, Above the Law published a letter (which it ran without attribution) that it says went out to YLS alumni over the summer, providing some details about the independent investigator and encouraging alumni to "reach out to her if they have something to share." The letter claims that the investigator is interested in hearing about, among other things, instances of "retaliation against students who do not show sufficient loyalty." This concern over retaliation was something we heard about from several of our sources, it is connected to Chua's role on the Yale Law clerkship committee, and it is another layer of what made reporting Rubenfeld's behavior so difficult for students.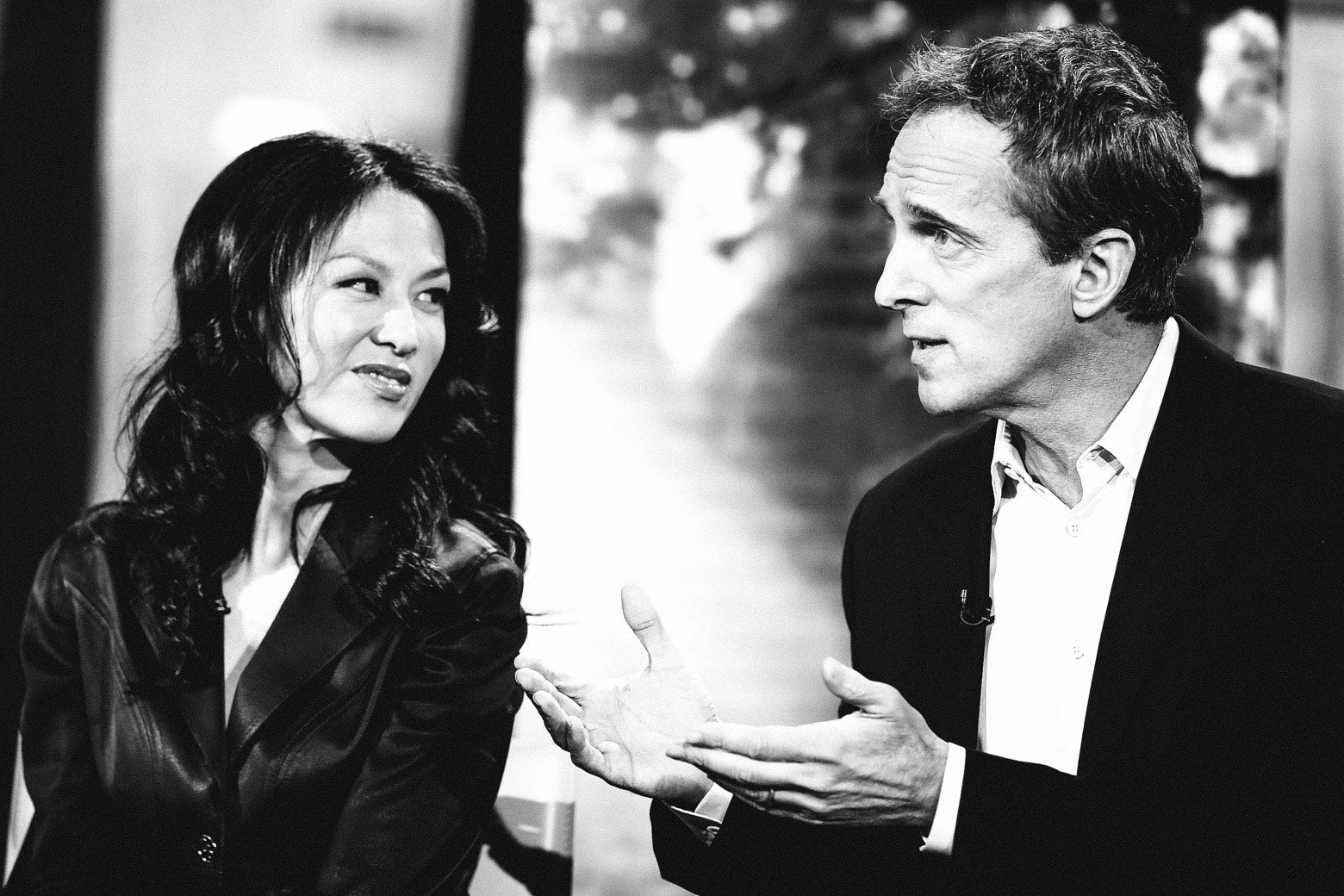 A Supreme Court clerkship is an all-but-certain pathway to the upper echelons of power. It vaults former clerks into the best, highest-paying jobs at the finest law firms, and it opens doors to the most prestigious academic institutions. Neil Gorsuch, Elena Kagan, and John Roberts all clerked at the court on which they sit today. Brett Kavanaugh, a Yale Law School alum, clerked for Justice Anthony Kennedy. While law students are sold on the idea that the few dozen clerks who apprentice at the Supreme Court each year are bar none the smartest and most meritorious young lawyers alive, the children of sitting justices and prominent appellate judges somehow end up in that select group every year. Among the recent crop of Supreme Court clerks is a Kozinski, an Alito clerked for Kavanaugh, and Rubenfeld and Chua's daughter, a current Yale law student, has signed on to clerk for Kavanaugh wherever he ends up.* And it's not just Supreme Court clerkships that students covet. Clerkships with so-called feeder judges—the federal appellate judges (almost all white men) who routinely place their law clerks on the high court—are also highly competitive.
Yale Law School isn't just the top-ranked law school in the country. It's also the best possible launching pad for aspiring clerks. Roughly 50 percent of YLS students from the classes of 2013 to 2017 got clerkships of some kind. This is a truly remarkable number—most law schools' clerking rates barely crack into double digits, while even Harvard's (19 percent) and Stanford's (26 percent) don't come close to that of Yale (though Harvard's total enrollment is much larger than Yale's).
For students who don't arrive at Yale with fancy last names, getting a position working for a federal judge can be as much about networking as it is about academic performance. "A clerkship … isn't something you apply to as much as it's something that happens to you," one student told us. Clerkships are brokered through relationships, with influential professors holding enormous sway over the process due to their access to both the Supreme Court justices and the "feeder" judges. At Yale, students' reliance on faculty relationships and recommendations is exacerbated by the school's policy of not giving grades to first-year students. The first semester is graded as pass/fail, while the second is pass, fail, or honors. (This is also the case at Harvard and Stanford, but most other law schools assign grades.) While this grade-free ethos is supposed to decrease pressure on new students, the reality is that it leaves judges with a limited academic record with which to assess prospective candidates, so they have to depend even more heavily on faculty recommendations. This means students work hard to curry favor with the handful of faculty known to be influential in the clerkship process. Chua is one of those professors.
Nearly every student we spoke to for this story noted that Chua has done extraordinary work placing women and minorities in prestigious clerkships that for decades only went to white men. She is widely heralded for going out of her way to be inclusive, organizing dinners at her house for student groups and giving students straight answers to questions about the otherwise opaque clerkship process. This meant that many students, particularly first-year students, approached Chua for advice, even when they didn't have any classes with her.
And yet this influence seems to have had a downside, at least from the perspective of several of the students we spoke to. One student said that what makes applying for clerkships at Yale so fraught is "the extent to which the entire system was orbiting around just one person." (There are other faculty members who also have a lot of influence on clerkship placements, but Chua is the most visible.) Many students told us that they felt they had to maintain a good relationship with Chua and Rubenfeld, so as not to screw up their chances. Multiple students described scenarios in which getting in with Rubenfeld, via work or teaching assistance or research, was understood to be a way to get onto Chua's shortlist too. And this dynamic, they believe, worked in both directions.
In November 2014, Rubenfeld published an op-ed in the New York Times titled "Mishandling Rape." That piece, a critique of universities' efforts to adjudicate sexual assault claims internally, contended that schools had broadened the definition of rape to such a degree as to "trivialize" sexual assault. Embedded in the piece was the argument that intoxication isn't always a barrier to consent. "In fact, sex with someone under the influence is not automatically rape," Rubenfeld wrote.
Some students knew the piece was coming before it was published—Rubenfeld had talked about it, and his ideas around drinking and sex, while drinking with students—but as soon as it appeared in the Times, it created a stir on campus. A small group of students drafted an open letter condemning the op-ed, which was posted on a school listserv. Students began adding their names to the open letter and later some organized a town hall to express their disapproval, which Rubenfeld attended. "It seemed like students were responding to more than just the content of the op-ed," one student told us of the aftermath. "There was a sense that [Rubenfeld] was a creep and without other channels to express that, I think people brought their anger to that town hall."
According to multiple sources who were on campus at the time, Chua did not react well to the criticism of her husband's op-ed. At a drinks event attended by several students in the wake of the town hall, Chua said she would "call every justice on the Supreme Court" to ensure that one of the student organizers behind the open letter did not get a clerkship, according to two students who were there. It's unclear if Chua was just venting or if she was serious (in a statement to Slate, she vehemently denied making that comment or taking any such action), but it still made an impression with some students on campus, creating a sense that crossing Chua or Rubenfeld could be detrimental to their careers.
Chua is currently on medical leave this semester—she was hospitalized over the summer with a serious illness and is still recovering. In response to our questions about this incident, she emailed: "After my husband's op-ed came out, I did my best to stay out of the fray and refrain from making any comment on the issue." She also noted that she wrote letters of recommendation and "passionately advocated" for students who signed the letter about the op-ed when they were applying to clerkships and that many students did get the clerkships they wanted.
One thing that struck us while reporting this story is that many people we talked to seemed to take as a given that Rubenfeld crossed lines with students, that the relationship between Rubenfeld and Chua created a toxic atmosphere around clerkships, and that the university process for dealing with such things hasn't been working.
Several Yale faculty members we spoke with said that, while there are problems around the clerkship process, students who drink with "worldly and urbane" professors like Chua and Rubenfeld are going in with their eyes open, and assume their own risks. Others told us that the administration is currently doing what it can to improve a flawed Title IX system and that if more students and former students come forward and report, the stigma of doing so will decline. Many students and recent alumni spoke highly of Gerken, the current dean of Yale Law School, and her attempts to resolve some of these systemic issues. Starting this year, for instance, Yale Law students will participate in a reformed clerkship process. The system was created in collaboration with federal judges and many other law schools, and dictates that law students will not be allowed to apply to clerkships until the conclusion of their second year, by which point they have received real grades and have had more time to establish relationships with faculty. (This change in the clerkship process has been attempted before, eventually dissolving as judges started to pre-empt the system to try to secure the best clerks earlier and earlier.) Gerken has also worked to bolster the Title IX process, sources said. (The first independent Title IX investigator was hired under her watch.) There are also ongoing efforts to make information about the Title IX reporting system a more formal part of the school's curriculum, and students working on this issue said Gerken has been supportive of that work.
The result of the current investigation and Rubenfeld's future at the school is still unknown. Yale Law School has made it plain to us that it wants students and alumni to come forward with their relevant experiences, and we believe that. Linda expressed hope at the prospect of the independent investigator gaining a broader understanding of the scope of the allegations against Rubenfeld but noted that "if the law school truly had been committed to ensuring equal opportunities for female students, it would have done this years ago." Both Linda and Jennifer say they came forward in the hopes that there won't be a Jennifer or Linda next year, or the year after. They're frustrated that they will likely still need to participate in a high-profile, trial-style UWC hearing after the independent investigation concludes, something they fear would harm their professional future. "I came forward because I believed that professor Rubenfeld's conduct was wrong and, left unchecked, would continue to visit personal, professional, and educational harm," Jennifer told us. "That decision wasn't the hard part. The hard part was knowing that, even if other women filed complaints as well, the process would operate to divide and conquer our claims."
The Yale Law School student is, after all, smart enough to know how this all works.
If you have further information on this piece, please email susan.matthews@slate.com.
*Correction, Oct. 6, 2018: The original version of this story misstated that an Alito had clerked for the Supreme Court when in fact the clerkship was for Kavanaugh.