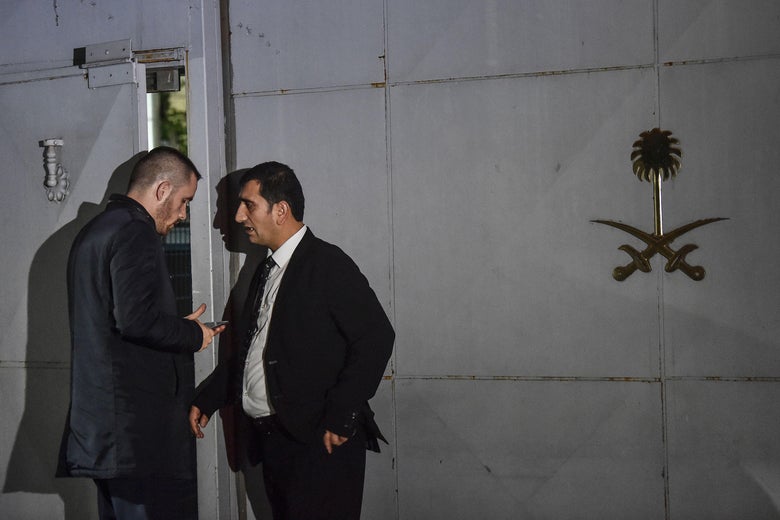 Saudi Arabia made a stark turn in its narrative about what happened to Jamal Khashoggi, finally agreeing with Turkish officials who had been claiming the journalist was killed inside the Saudi Consulate in Istanbul.
But, according to Saudi Arabia's telling, Khashoggi died during a fistfight that broke out at the consulate in an account that immediately raised doubts and skepticism because, well, it sounds pretty far-fetched. One person who seemed eager to give the kingdom the benefit of the doubt? President Donald Trump, of course. The president said he saw the explanation by Saudi Arabia as credible, calling it a "good first step" and a "big step" in clarifying what happened to Khashoggi. "I think we're getting close to solving a big problem," Trump said.
According to Saudi Arabia's telling of events, Khashoggi got into a discussion with people inside the consulate and a fistfight broke out that led to his death. The Saudi government said it fired five top officials and arrested 18 men in the case, including the 15 men who were sent to confront Khashoggi at the consulate. "The discussions that took place with the citizen Jamal Khashoggi during his presence in the consulate of the Kingdom in Istanbul by the suspects did not go as required and developed in a negative way led to a fight and a quarrel between some of them and the citizen Jamal Khashoggi, yet the brawl aggravated to lead to his death and their attempt to conceal and cover what happened," according to the Saudi statement.
A Saudi official tells the New York Times that an order to return Khashoggi to the kingdom was misinterpreted. Khashoggi "tried to flee, the men stopped him, punches were thrown, Mr. Khashoggi screamed and one of the men put him in a chokehold, strangling him to death," the Times writes. A Saudi official told Reuters that the men "were trying to keep him quiet." The men then handed the body to someone local so they don't know where it ended up, which is convenient considering that Turkish officials had claimed Khashoggi was dismembered.
Many, including several key members of Congress, immediately raised doubts about Saudi Arabia's explanation. Rep. Adam Schiff, the senior Democrat on the House Intelligence Committee said that "if Khashoggi was fighting inside the Saudi consulate in Istanbul, he was fighting for his life with people sent to capture or kill him." Schiff, who has received a detailed briefing on the killing from the CIA, said he thought the Saudi explanation "was not credible." Schiff was hardly alone. Sen. Lindsey Graham wrote on Twitter: "To say that I am skeptical of the new Saudi narrative about Mr. Khashoggi is an understatement."
For now, Saudi Arabia's admission that Khashoggi died inside the consulate after days of vehement denials is unlikely to quell international pressure to figure out what happened. Turkey said Saturday it will "never allow a cover-up" in the killing and will continue its investigation. "There can only be one of two possible alternatives here: either—as many suspect—the powerful Crown Prince Mohammed Bin Salman was to blame or he had lost control of his inner circle, something most observers find hard to believe," writes BBC's security correspondent Frank Gardner. "MBS, as he is known, has a huge following amongst young patriotic Saudis who see him as a visionary reformer. If that support were now to ebb away then the crown prince could find himself dangerously isolated at court."
Support our journalism
Help us continue covering the news and issues important to you—and get ad-free podcasts and bonus segments, members-only content, and other great benefits.
Join Slate Plus
Join
---