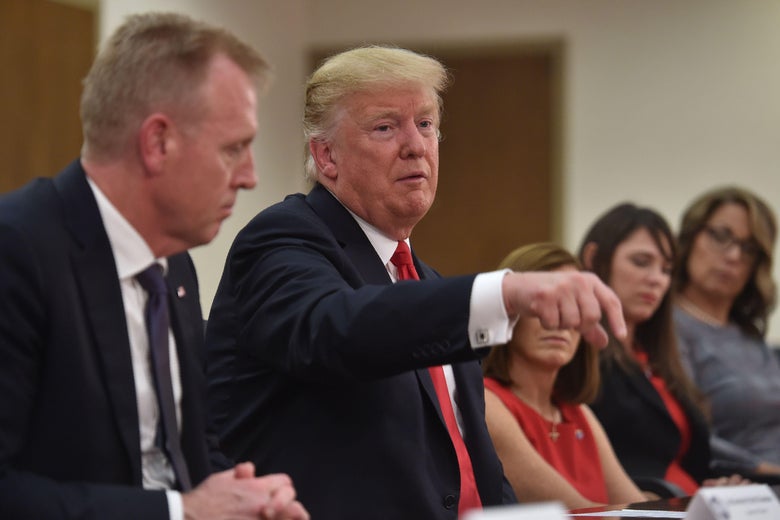 President Donald Trump dismissed as ridiculous a question from a female reporter who asked her about his claims that the migrants making their way to the United States are dangerous. During a roundtable with reporters, Trump answered questions about a large caravan heading to the border. "Some of these people are hard criminals. Hardened criminals—not good people," Trump said. "These are some bad people coming through. These aren't babies these aren't little angels coming into our country."
New York Times reporter Emily Cochrane asked Trump to explain himself: "What evidence do you have that these are hardened criminals that are coming to the United States?" Trump dismissed the question, as if the answer were obvious. "Oh please. Please, don't be a baby, OK. Take a look, just take a look, look at what's happening, look at the Mexican soldiers that are laying on the ground. Take a look. These are hardened—I didn't say in all cases but in many cases these are hardened criminals. These are tough, tough people. And I don't want them in our country and neither does our country want them in our country."
Trump has turned the caravan that is largely made up of Hondurans into a rallying cry ahead of the midterm elections. In a tweet earlier in the week, Trump threatened to stop sending aid to Honduras, Guatemala, and El Salvador if their governments didn't prevent people from crossing into the United States.
Support our journalism
Help us continue covering the news and issues important to you—and get ad-free podcasts and bonus segments, members-only content, and other great benefits.
Join Slate Plus
Join
---