Law enforcement officials confirmed Friday that 56-year-old Cesar Sayoc, Jr., has been arrested for allegedly sending more than a dozen package bombs to prominent Democrats this week. Sayoc, of Fort Lauderdale, Florida, has been charged with five federal crimes, including threats against former presidents and the transportation of explosives, according to the Washington Post. He faces up to 58 years in prison.
Here is what we know about Sayoc.
Sayoc has an Aventura, Florida, address, but he was arrested in the city of Plantation, in the Miami area, where police were also seen examining a white van. The van's windows were covered in stickers, many of which appear to be pro-Trump or right-wing in nature. According to CNN, Sayoc had been living in the van after being kicked out of his parents' home.
According to the AP, investigators identified Sayoc from a fingerprint found on one of the packages sent to Rep. Maxine Waters. There may have also been DNA evidence linking him to the packages. In an address to the public Friday, FBI Director Christopher Wray said that the devices are not hoax devices. He warned that there could still be more devices out there.
According to public records, Sayoc is registered as a Republican. Records also indicate he has owned dry cleaning and catering businesses. Sayoc was born in Brooklyn, New York, but moved to Florida as a child. He has also previously lived in North Carolina, New Jersey, and Michigan.
He has a fairly extensive criminal record, including arrests for grand theft, battery, fraud, and possession of steroids. In 2002, Miami police arrested Sayoc for a "threat to bomb" and "threaten[ing] to discharge destructive device." Miami-Dade County jail records indicate that he had threatened to blow up a local electric utility, warning that it would be "worse than Sept. 11," according to the Post. He pleaded guilty and was sentenced to one year of probation.
In a lawsuit, Sayoc said he had been the manager of a strip club called Stir Crazy for 35 years. He said he had formerly been a wrestler, a Chippendales dancer, a professional soccer player, and an arena football player, according to the Post. A cousin, who described Sayoc as a "loner," confirmed to the Associated Press that he had been an amateur body builder and worked as a stripper. Records show Sayoc had been plagued over the last decade by financial troubles, losing his home in a foreclosure in 2009 and filing for bankruptcy in 2012.
He attended Brevard College in North Carolina in the 1980s, according to the Asheville Citizen Times, and he played soccer there but did not graduate. He also attended UNC Charlotte, where he played soccer but did not graduate.
A Twitter account that appeared to belong to Sayoc (and has now been removed) showed a number of conspiracy theorist, crude, and offensive tweets, as well as some of a threatening nature. In his bio, he claims to be a "Former Professional Soccer Player, Wrestler, Cage Fighter." The majority, of at least his recent tweets, spread conservative and right-wing messages: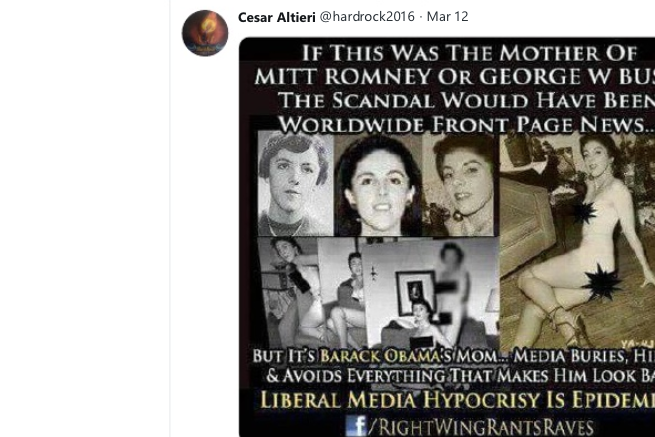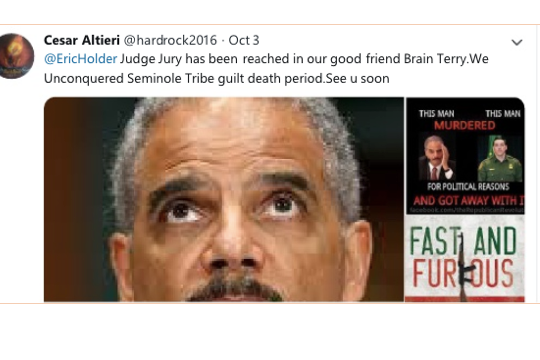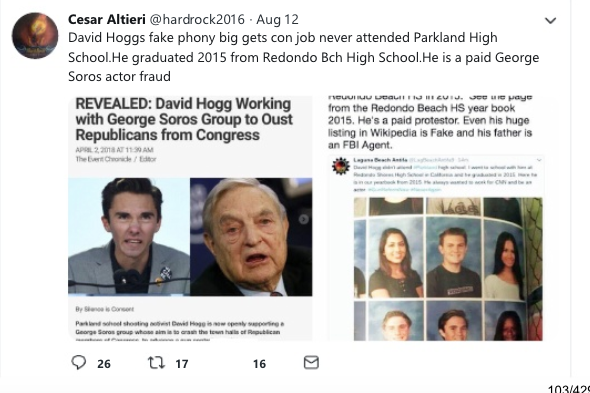 The account also posted angry messages about Florida Rep. Debbie Wasserman Schultz, whose name was listed on many of the packages as the return address, among other targets of the package bombs.
A video, since taken down, posted on his Facebook page also appeared to show Sayoc at a Trump rally.
According to CNN, he was not previously known to Secret Service.
Earlier in the day Friday, authorities intercepted suspicious packages addressed to Sen. Cory Booker, former National Intelligence Director James Clapper, and Sen. Kamala Harris. With those, a total of more than a dozen packages containing homemade pipe bombs and addressed to prominent Democrats and critics of Donald Trump have surfaced this week. Authorities are also looking into a suspicious package addressed to Democratic donor Tom Steyer. Other intended targets included Barack Obama, Hillary Clinton, Joe Biden, George Soros, and Waters. Two of the packages targeted at individual people were addressed to CNN's New York office.
Update, Oct. 26, 2018 at 3:23 p.m.: This post has been updated to reflect that a Facebook post on Sayoc's page has been deleted.
Update, Oct. 26, 2018 at 5:30 p.m.: This post has been updated with new biographical information about Sayoc, as well as information about his charges. It was also updated to reflect that his Twitter account had been taken down.