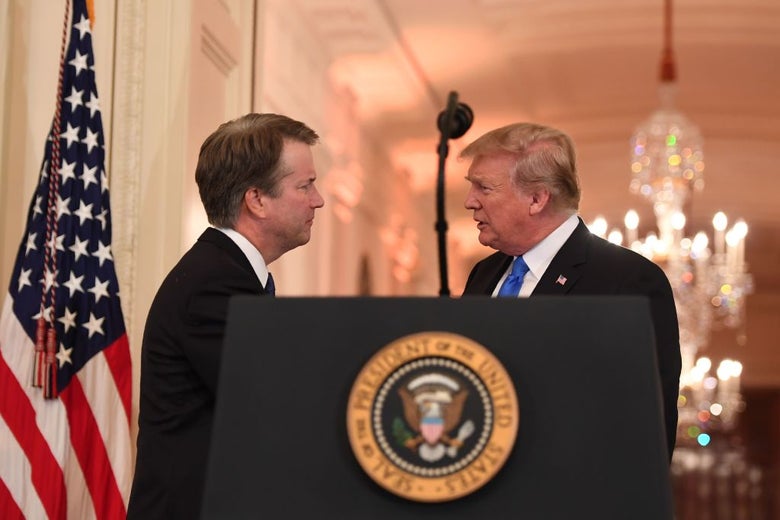 Donald Trump spoke briefly about the sexual assault allegation against Supreme Court nominee Brett Kavanaugh on Wednesday morning at the White House, adopting the Republican Party line that Kavanaugh's accuser, Christine Blasey Ford, is obliged to testify against him in public immediately:
If she shows up and makes a credible showing, that will be very interesting and we'll have to make a decision. But I can only say this: He is such an outstanding man—very hard for me to imagine that anything happened.
As an "outstanding man," Kavanaugh joins a less-than-illustrious group of crime-doers, scam enthusiasts, and lecherous crank-yankers whom Trump has defended by declaring confidently that he knows them to be "fine" or "good" people.
• Trump called his former personal attorney Michael Cohen "a fine person with a wonderful family"— adding that Cohen would never "flip" and testify against him—months before Cohen pleaded guilty to a number of fraud charges, including a campaign-finance violation he said Trump had ordered him to commit. Trump also called his former campaign chairman Paul Manafort "a brave man" with a "wonderful family" in an August tweet, which gloated that Manafort, despite being convicted of fraud, had not flipped and cooperated with prosecutors. (Manafort has since agreed to cooperate with prosecutors.) And Trump called former national security adviser Michael Flynn "a wonderful man" after Flynn was fired over a controversial conversation with Russia's ambassador to the U.S. (Flynn ultimately pleaded guilty to lying to the FBI about the incident.)
• Trump called Republican Pennsylvania Rep. Tom Marino "a fine man" in the same tweet that acknowledged Marino had withdrawn his candidacy to become the administration's top drug-control official amid reporting about Marino's sponsorship of a pharmaceutical industry–endorsed bill that relaxed restrictions on opioid sales. Trump also described former Secretary of Health and Human Services Tom Price, who spent more than $1 million of government funds on wildly unnecessary luxury airfare accommodations during his short Cabinet tenure, as a "very good man" an hour before Price resigned under pressure. And he called former EPA director Scott Pruitt "a good man" before Pruitt resigned for being the least ethical person to ever live on Earth.
• Trump called Bill O'Reilly a "good person" who had not done "anything wrong" shortly before O'Reilly was forced out of his job at Fox News amid reports that the network had paid what turned out to be a staggering $45 million to settle six separate lawsuits against O'Reilly for sexual harassment and verbal abuse. Trump also called O'Reilly's former boss Roger Ailes, who was the subject of similarly extensive allegations of being a relentless sex creep, a "very, very good person."
• Finally, of course, Trump said the participants in a Nazi-themed 2017 rally in Charlottesville, Virginia, included "some very fine people"—doing so after one of them ran over and killed an anti-racist counterprotester with a car. Trump relatedly called former White House adviser Steve Bannon "a good man" who is "not a racist," the latter description being egregiously incorrect.
Asserting subjectively that his allies are of fundamentally sound character, it seems, is Trump's reflexive response when they're accused of doing embezzlement/assault/ethnic cleansing/light treason. It's an approach that appeals to the "one of us" tribal loyalty that he cultivates in his supporters—and it conveniently means he doesn't have to bother learning or discussing the actual details of any given accusation, which is good for him because he doesn't like to learn. It's a win-win, except for taxpayers, nonwhite people, women, and the general concepts of accountability and decency!
Support our independent journalism
Readers like you make our work possible. Help us continue to provide the reporting, commentary, and criticism you won't find anywhere else.
Join Slate Plus
Join
---