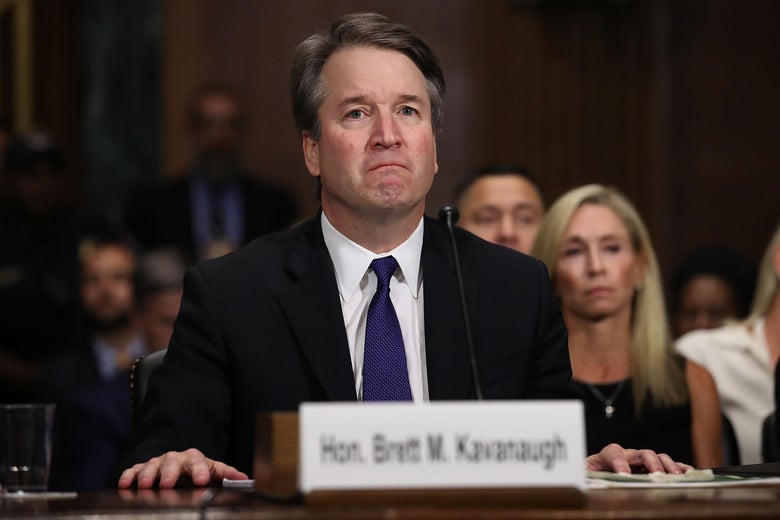 After a tumultuous day of testimony from Christine Blasey Ford and Brett Kavanaugh, the question remains: how much did it move the needle when it comes to crucial senators' votes on confirmation? Republicans appear to believe Kavanaugh—and Republicans on the Judiciary Committee—did enough to keep the nomination alive, despite a morning of Ford's testimony that looked like it could be the end of the Trump nominee's bid for the Supreme Court. On Thursday evening, Senate Majority Whip John Cornyn (R-Tex.) said the Judiciary Committee would follow through with its scheduled vote Friday, which will then be followed by a pair of procedural votes on Saturday and Monday, and a final vote on confirmation in the full Senate Tuesday. "We're still talking through those issues and I'm optimistic we'll get to confirmation," Cornyn said.
With the Senate divided 51-49 to the Republicans, that means Democrats would need to have the entire caucus vote against confirmation along with a pair of Republicans. Over the course of Christine Blasey Ford's sudden, unexpected involvement in the nomination process, four senators have emerged as potential swing votes on Kavanaugh and his Supreme Court aspirations: Susan Collins (R-Maine), Jeff Flake (R-Ariz.), Lisa Murkowski (R-Alaska), and Joe Manchin (D-W.Va.). In addition, Sens. Joe Donnelly (D-Ind.) and Heidi Heitkamp (D-N.D.), both facing tough reelection bids in states Trump won handily. If either of those two decamped, it would be virtually impossible for Democrats to stop Kavanaugh's confirmation.
Where does everyone stand? Well, following the day of testimony, Collins, Flake, Murkowski, and Manchin met, but didn't give any indication of where the stood on their votes.
Stay tuned.
---