Hundreds of protesters gathered on the Senate side of the Capitol on Thursday as the Senate Judiciary Committee heard from Supreme Court nominee Brett Kavanaugh and Christine Blasey Ford, a woman who accused him of sexual assault. They arrived bearing signs and ponchos in the early morning and persisted well into the afternoon, undeterred by the day's rain.
They lay red daisies, white carnations, and roses on the steps of the Supreme Court in honor of Kavanaugh's accusers—Ford, Julie Swetnick, and Deborah Ramirez. Several notes accompanied the flowers—"Believe survivors," one read. Chants echoed in the halls of the Dirksen Senate Office Building, where the hearing was being held. "We believe Christine Ford, we believe Anita Hill," the crowd yelled.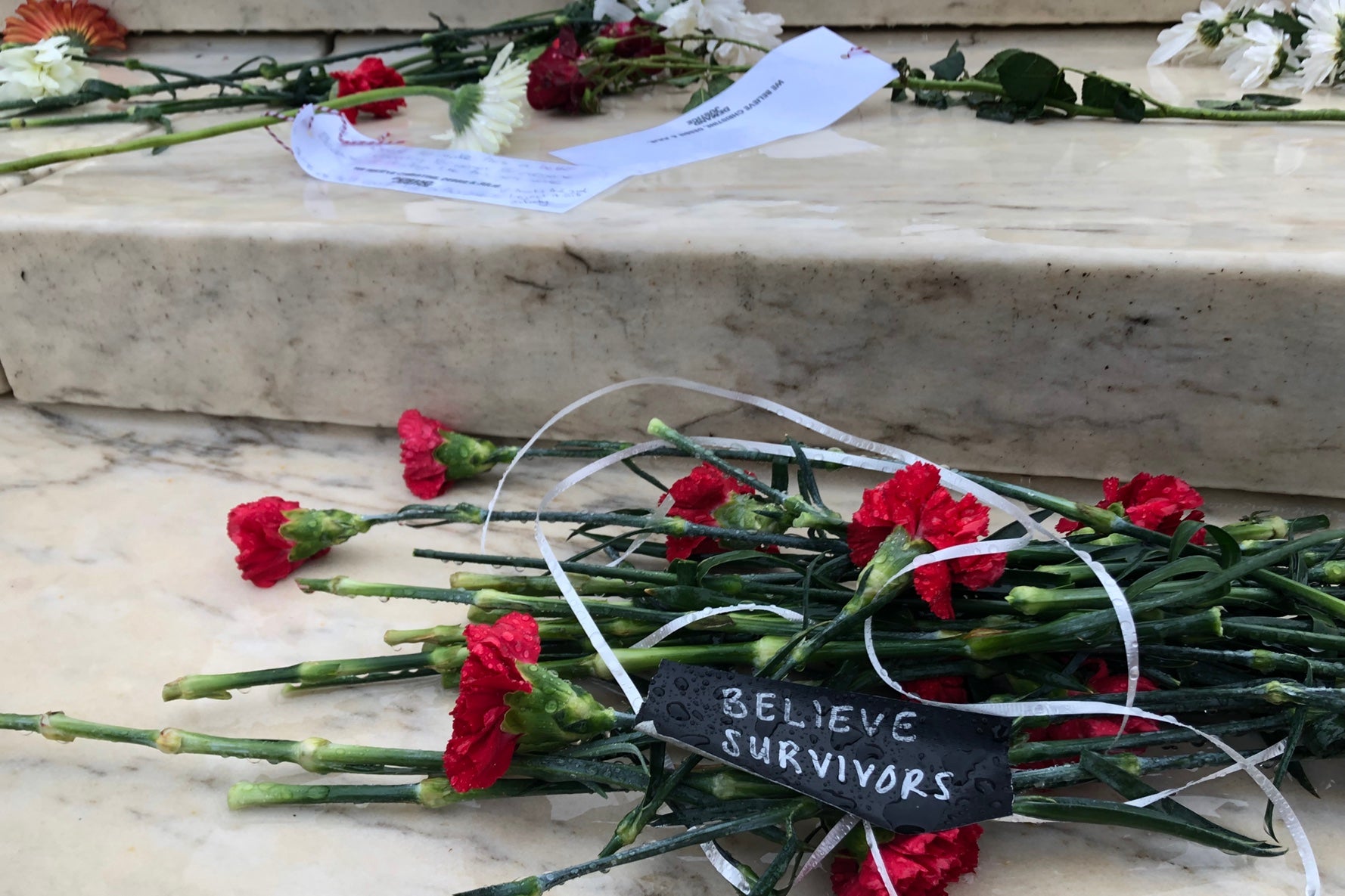 Many were there to protest Kavanaugh, but others were more motivated by a desire to show their support for Ford. Several said they were survivors of sexual assault themselves.
"I'm a survivor. It meant a lot to me to support [Ford]," Laura O'Grady said. "We deserve the respect of being heard, though we aren't having even that."
O'Grady said Ford's case seemed even worse than that of Anita Hill, the woman who accused then–Supreme Court nominee Clarence Thomas in 1991 of workplace sexual harassment. She also testified before the Senate Judiciary Committee.
"For Anita Hill, [the committee] stopped the process and reopened the case with the FBI," O'Grady explained. "But then with Ford, they already made plans before she even spoke. … They are ready to vote on Friday."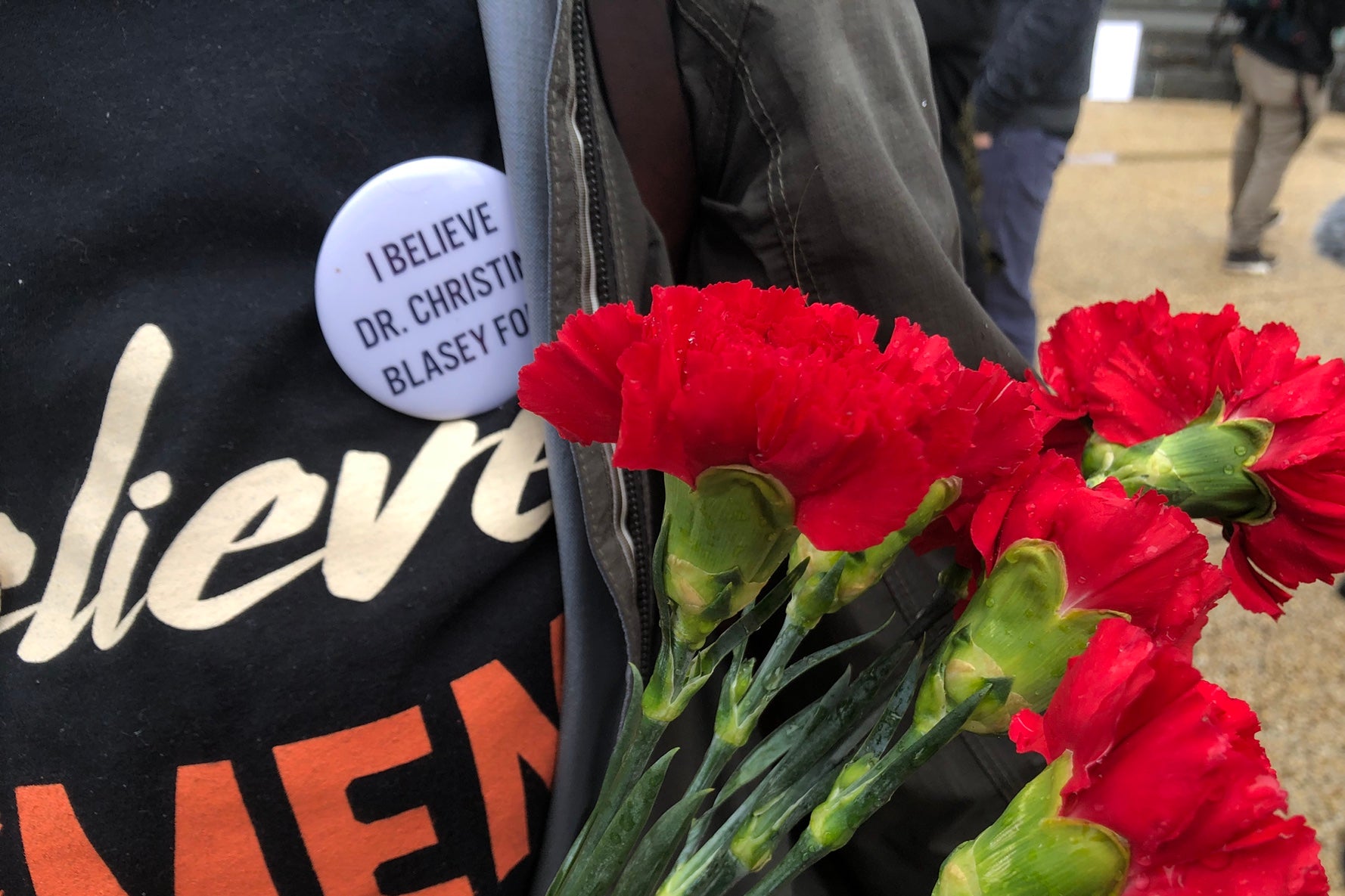 Counter-protesters showed up as well, though they were significantly smaller in number.
"Ford doesn't have credibility. Why did she wait 30 years?" Lourdes Washington, a professor from New Orleans, said. Washington stood outside the Dirksen Senate Office building with a few others who agreed Kavanaugh should be confirmed. "She's been waiting all these years. It happened 30 years ago but these people, they whine, and they cry."
Washington said she was also a survivor but doesn't understand why Ford has come out after decades. "You move on," Washington said. "I was raped when I was 13, but I put closure. I continued my education, I'm happy."
Most women felt that it was normal for Ford to have kept her silence.
"I think that the fact that it happened 35 years ago… [Ford] was 15 and it was early 80s," Abby Bolt of Baltimore said. "So I understand—it happened to many women. At the time, there wasn't much you can do. Speak up to whom?"
Some chose not to watch the hearing because they worried it would be too traumatizing.
"I read her statements on paper and I thought it should be much more powerful when she speaks out loud," said Susan Markham of Washington, D.C.
"I don't think I could have stood the woman prosecutor speaking to Dr. Ford."
Regardless of the results, protesters said they were inspired by Ford's decision to come forward.
"I'm really proud of Dr. Ford," Luna Robledo said, and then addressed a statement at Ford. "Thank you, you look amazing, and I believe you."