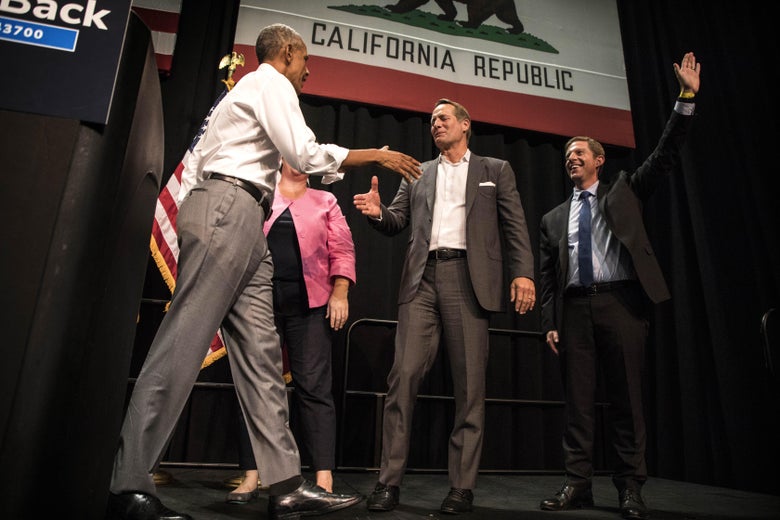 Missing the story: Barack Obama is finally delivering speeches with a more explicitly partisan message. But, Jamelle Bouie writes, the former president still seems to think that "just voting" will fix the problem, even as next-generation progressive politicians have figured out how to talk about the reality of voter suppression without discouraging civic involvement.
His fixation: Why did John Bolton choose the International Criminal Court as the topic of his first public address as national security adviser on Monday? Josh Keating, unsurprised, explains why Bolton sees the ICC as such a boogeyman.
A stunner: It's shocking that Les Moonves actually stepped down, Lili Loofbourow writes. Why are we still so pessimistic that such men will be accountable? "We must get over our surprise at his ouster," Loofbourow argues. "If we do not demand or expect anything better than the rotten status quo, we are capitulating to it."
This again: That horrible image of Serena Williams at the US Open that flew around the Internet yesterday is just one more-viral-than-usual example of the racism and chauvinism that characterizes the work of Australian cartoonists and pervades Australian culture, Rachel Withers writes.
For fun: Some gross-bagel theories.
She panicked,
Rebecca
If you think Slate's election coverage matters…
Support our work: become a Slate Plus member. You'll get exclusive members-only content and a suite of great benefits—and you'll help secure Slate's future.
Join Slate Plus
Join
---