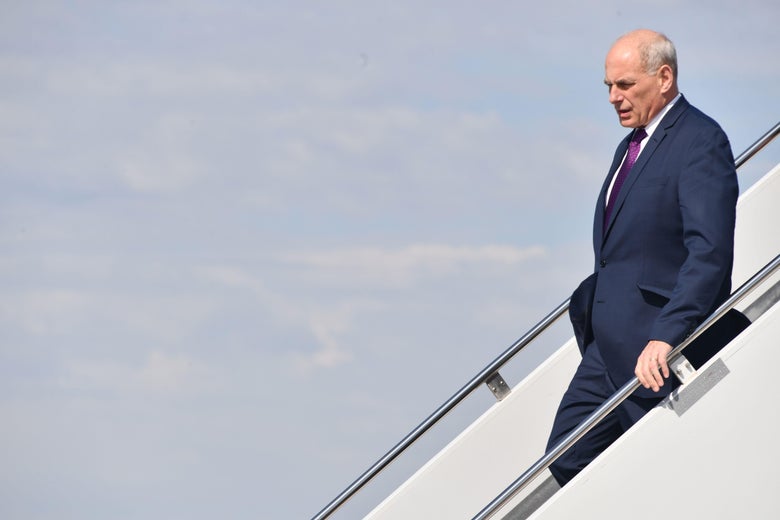 A ship of fools: Bob Woodward's book is too kind to the Donald Trump staffers it depicts as bulwarks against madness, and far too optimistic about our situation, Isaac Chotiner writes in a review. Altogether, reading Fear left Isaac confused: "Woodward obviously believes that Trump is unfit to be president, but a reader can't quite shake the sense that he somehow thinks maybe, just maybe, things could be different with the right coaching or incentives."
Mouth shut: Jeremy Stahl sums up the range of questions Judge Brett Kavanaugh has refused to answer in his confirmation hearings, and observes that Kavanaugh has reclassified a large number of crucial topics, including the question of whether a president should be able to order the imprisonment of his enemies, as "debatable political points."
The good and the bad: The Democrats are doing OK in the battle for the House, Josh Voorhees writes at the beginning of the two-month countdown to the midterm elections. The Senate is a much dicier proposition.
Anodyne: Nike's Colin Kaepernick ad campaign is neither here nor there when it comes to the message of his protest, Christina Cauterucci writes. Inspirational athletes telling us we need to try our best? Not quite radical, or new.
For fun: This is how we got Trump.
I know you are,
Rebecca
If you think Slate's election coverage matters…
Support our work: become a Slate Plus member. You'll get exclusive members-only content and a suite of great benefits—and you'll help secure Slate's future.
Join Slate Plus
Join
---