Christine Blasey Ford, through her attorneys, has suggested that the FBI should conduct an investigation into her allegation of sexual assault against Supreme Court nominee Brett Kavanaugh before she makes any kind of appearance before the Senate Judiciary Committee. On Wednesday afternoon, Judiciary Committee Chairman and Republican Iowa Sen. Chuck Grassley argued in a public letter that the committee is solely responsible for investigating the allegations. Wrote Grassley: "I certainly understand and respect Dr. Ford's desire for an investigation of her allegations. That is precisely what the Senate is doing."
On Wednesday night, the Judiciary Committee's chief counsel for nominations—who served as a political staffer in the George W. Bush administration—tweeted this: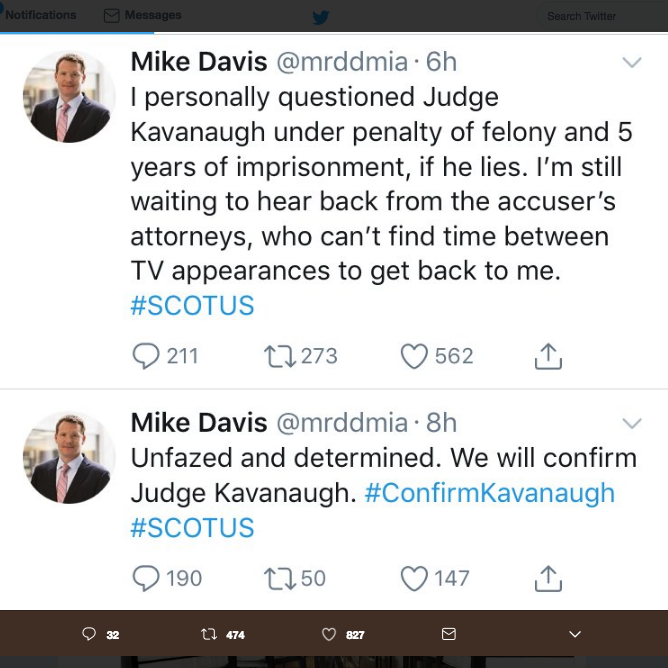 According to Davis' LinkedIn page, he "leads a team of attorneys that advises Chairman Chuck Grassley and other senators on presidential nominations and Senate confirmations of federal judge."
Indeed, why wouldn't Ford or her attorneys trust this gentleman to fairly investigate her allegation, aside from him having announced its outcome in advance, in public?
Update, 11:30 a.m.: Davis' Twitter account, which was locked on Thursday morning, is back up. The tweets above have been deleted, with the following explanation:
It's not clear, of course, how the statement "We will confirm Judge Kavanaugh" left any room for interpretation, left-wing or otherwise, about Davis' goal.
Read more from Slate:
• Republicans Would Love a Hearing Without Ford. Democrats Might Gift It to Them.
• The Kavanaugh Accusation Has Men More Afraid Than Ever
• Ford Wants Full Scrutiny of Her Claims. The GOP Should Support That.
• Brett Kavanaugh Is the Culmination of a Political Movement Devoted to the Status Quo