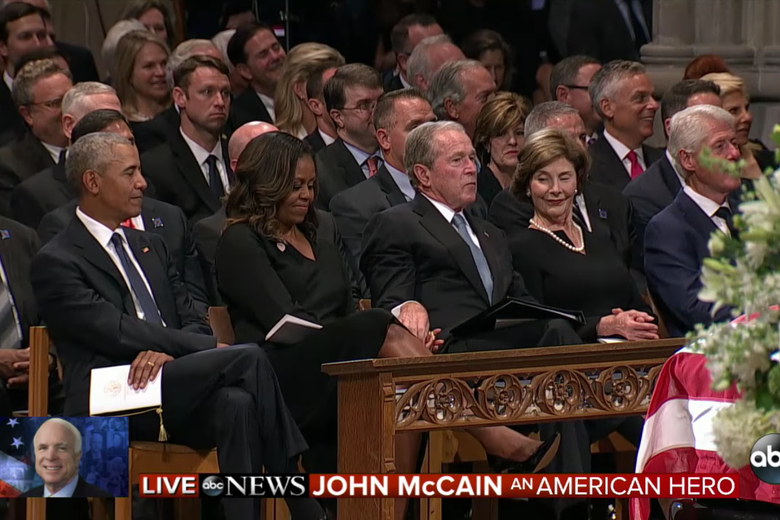 We already knew that former president George W. Bush and former first lady Michelle Obama have managed to strike an unexpected friendship. After all, who can forget the now-iconic photo of the two hugging at the dedication ceremony for the Smithsonian Museum of African American History and Culture in 2016?
At John McCain's memorial Saturday, the pair shared yet another cute moment. During former Sen. Joe Lieberman's eulogy to McCain, cameras caught Bush as he grabs a piece of candy—some reports say it was a mint but that isn't entirely clear from the video—from his wife and passed it to Michelle Obama. "Thank you," the former first lady mouths with a smile as former President Barack Obama and former first lady Laura Bush look on and smile.
In a 2017 interview with People, Bush talked about the unlikely friendship. "She kind of likes my sense of humor. Anybody who likes my sense of humor, I immediately like," Bush said. The former president explained the two often sit next to each other at events and she appears to appreciate the way he tries to keep things lighthearted. "I can't remember where else I've sat next to her, but I probably have a few wise cracks and she seemed to like it okay," Bush said. "I needle her a little bit and around her, I'm fairly lighthearted … we just took to each other."
Needless to say, users on social media went wild over the candy-slipping video. "I'd like to think that moments like this between W. Bush and Michelle Obama are what McCain was hoping for," wrote one.
If you think Slate's election coverage matters…
Support our work: become a Slate Plus member. You'll get exclusive members-only content and a suite of great benefits—and you'll help secure Slate's future.
Join Slate Plus
Join
---