On Thursday morning, a Politico reporter wrote that Ed Whelan and Leonard Leo—key figures in the circle of conservative Federalist Society activists who have guided the Trump administration's judicial nominations—were on the verge of releasing information that would prove conclusively that Supreme Court nominee Brett Kavanaugh did not sexually assault Christine Blasey Ford:
The imminent release of the information was treated as a blockbuster event in right-wing circles. Conservatives "close to Kavanaugh" were "tantalized" by Whelan's research, Politico wrote. A staffer for Utah Sen. Orrin Hatch, one of the senior Republicans on the Judiciary Committee, which is vetting Kavanaugh's nomination, posted the following: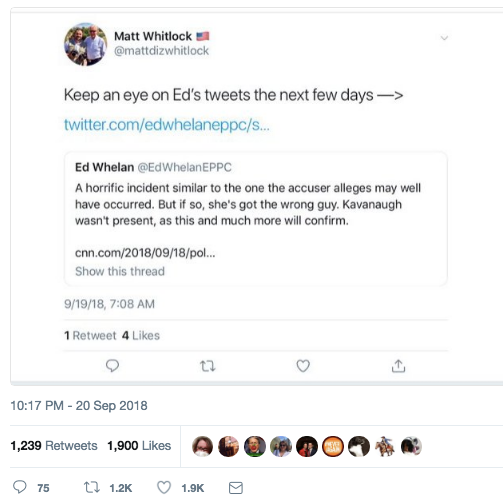 Whelan was hyped as a source of nearly godlike intellect and authority:
"Ed Whelan is the model of careful, discerning legal analysis and commentary. It's why all of us who know him take everything he says and writes so seriously," said Rich Lowry, the editor of National Review, where Whelan writes on judicial issues.
On Thursday night Whelan released his exoneration material, which turned out to be a wildly speculative case—made on the basis of Google Maps images, Zillow floorplans, and old yearbooks—that Ford may actually have been assaulted by a different student at Kavanaugh's high school. Here's an example of Whelan's work: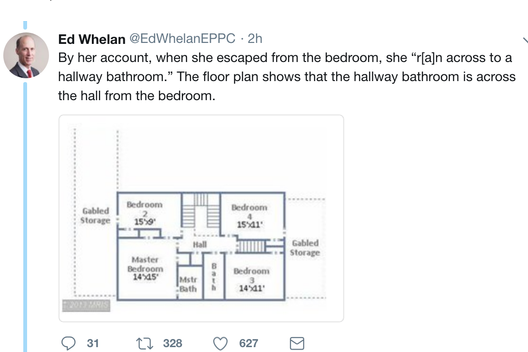 A bedroom and a bathroom on the same floor of the same house? What are the odds???
Incredibly, Whelan—who is a lawyer!—went on to name and post a photo of the random Kavanaugh classmate who he'd just insinuated to have been the perpetrator of a sexual assault. The classmate, it turns out, is now a middle school teacher—and, according to a statement that Christine Blasey Ford made almost immediately to the Washington Post, she knew him when she was a teenager and is sure he is not the person who assaulted her. While it's impossible to say a statement is libelous or defamatory in a legal sense without litigating the matter, Whelan's tweets were at the least recklessly accusatory in the layperson's sense of the term, and Republicans began backing away from him immediately. Here's Orrin Hatch's staffer:
Here's spokesman for the Republican-run Judiciary Committee, many of whose members have worked with Whelan in the past:
The Washington Post reported that "White House officials" likewise "sought to distance themselves from Whelan's claims and said they were not aware of his plans to identify the former classmate." By Friday morning, Whelan himself had deleted his thread and apologized:
Whelan has further asserted that he didn't coordinate his work with White House Counsel (and judicial nominations guru) Don McGahn or Kavanaugh himself:
This raises a big question, though: How, then, did Whelan come up with the idea to look up the plans for a house that Kavanaugh's classmate lived in decades ago? Even if it were logistically possible, it doesn't make sense to imagine that Whelan looked up housing information and yearbook photos for each of Kavanaugh's male classmates before settling on the one he named; almost everyone Kavanaugh went to high school with, obviously, lived in a house that had a bedroom and a bathroom, and many of them probably vaguely resembled Kavanaugh.
The Times' Maggie Haberman, incidentally, says Kavanaugh "allies" have been floating a mistaken-identity theory "for days":
Haberman doesn't say, however, that these allies were circulating the name of the specific classmate that Whelan outed.
So, who tipped off Ed Whelan?