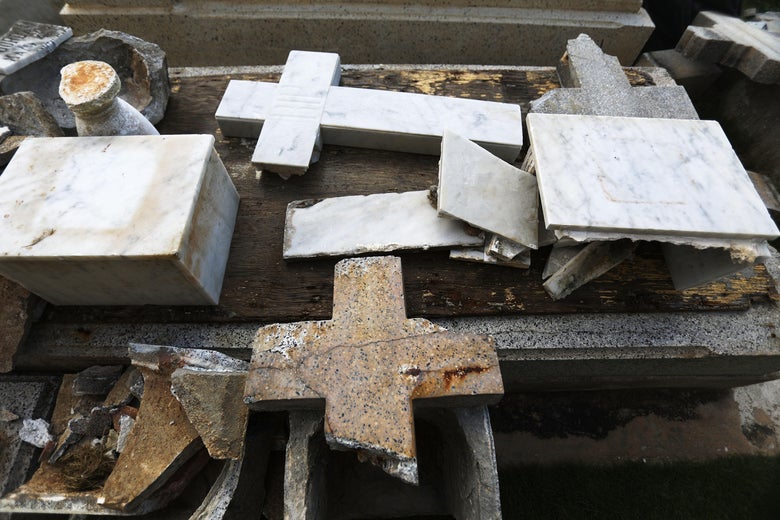 President Trump said that figures that attribute about 3,000 deaths to Hurricane Maria are a Democratic conspiracy to smear him and the federal government's response to the storm. Trump had said earlier this week that the response to Hurricane Maria was an "incredible, unsung success" of his presidency.
The original official government death toll from the storm was 64 people, and Trump, during his visit to the island in October, cited low official death numbers in contrast to the more than 1,000 people that died due to Hurricane Katrina to show that Maria was not a "real catastrophe like Katrina."
But, even in the weeks and months following the storm, many experts thought the government figures were far too low because they only included deaths that could be directly attributed to the storm like collapsing buildings and drownings. In December 2017, the New York Times found that "in the 42 days after Hurricane Maria made landfall on Sept. 20 … 1,052 more people than usual died across the island."
Later analyses found similar results. A study by George Washington University, commissioned by Puerto Rico's government and released in August, found that there had been 2,975 "excess deaths" in Puerto Rico between September 2017 and February 2018. The authors said the low official estimate was "because the conventions used for causal attribution only allowed for classification of deaths attributable directly to the storm, e.g., those caused by structural collapse, flying debris, floods and drownings."
This would not include people who died because they could not, for example, access routine or emergency medical care due to limited transportation or electricity following the storm, access they would have had if Maria had not so thoroughly battered the island's infrastructure.
The researchers said the number of deaths increased 22 percent in the six months following the storm compared with the expected level in that time period had the storm not hit.
The researchers estimated that through October 2017—roughly six weeks following the hurricane, including when Trump had visited—there were 1,271 "excess deaths" in Puerto Rico compared with the expected level had there been no hurricane. Puerto RIco's government acknowledged the revised death toll in August.
Update, Sept. 13, 12:20 p.m.: Some of Trump's fellow Republicans — especially those who hold office in Florida — are less convinced by his line of argument:
Florida Sen. Marco Rubio said, "These days even tragedy becomes political," and lamented the inadequate response from federal and Puerto Rican authorities:
Florida's governor Rick Scott, who is running for Senate against Bill Nelson, was more direct in criticizing the president's conspiracizing:
And soon-to-be-departed Speaker of the House Paul Ryan said he accepted the figures:
Support our independent journalism
Readers like you make our work possible. Help us continue to provide the reporting, commentary, and criticism you won't find anywhere else.
Join Slate Plus
Join
---