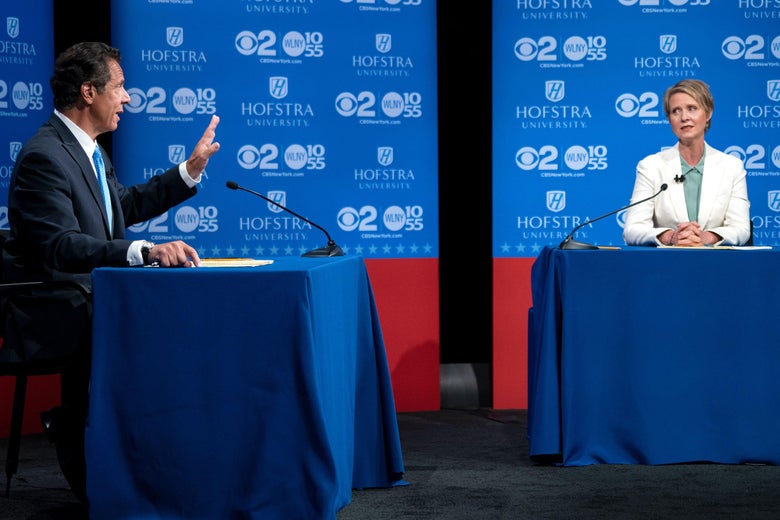 Well that was fun. Did we all have fun? Two-term incumbent governor Andrew Cuomo has, as every poll ever predicted, trounced actor and activist Cynthia Nixon in the New York gubernatorial primary, with 66 percent of the vote at the time the AP called it. He will now go on to face the Republican nominee, whose name is… let's see here… it doesn't really matter. Marc Molinaro, that's the name. He'll lose.
Nixon's run wasn't totally in vain. The buzz she earned upon entry in the race seemed to rattle Cuomo enough to move him leftward on some of his positions. He's all but allowed for the legalization of recreational marijuana, which he had been known to call a "gateway drug" previously. He restored voting rights to parolees. He's gone after the scourge of plastic bags only a year after blocking New York City from doing so. These are issues on which Nixon can and should declare victory, even if she never came close. It was a smart idea to run.
Nixon had dismissed the polls, saying recently that they were "not capturing the new progressive voters and the hunger for real change." This is something that the candidates who are trailing by dozens of points in the polls say. The numbers checked out.
In the final days of the campaign, it's almost seemed like Cuomo was taunting his detractors, reminding them why they don't like him, just to rub it in. The New York Times reported that his administration had pushed for the opening of the new Tappan Zee Bridge—named after his father, former governor Mario Cuomo—despite safety concerns, sparking accusations that Cuomo's camp had done so to try to boost his campaign. His campaign at first denied any involvement in a state Democratic party mailer linking Nixon to anti-Semitism that was sent to Jewish neighborhoods in New York City, only then to admit that an adviser had signed off on it. ("He only saw the positive section of the mailer and never saw the negative section," a Cuomo campaign spokesman argued, risibly.)
Cuomo spent tens of millions more than Nixon and controls the machinery of New York state politics, a machinery that is noticeably decrepit, corrupt, and not improving. And yet, even with a win like this that was never really in doubt, Cuomo had to whine after voting on Thursday.
Pity Andrew Cuomo, who gets to be governor for as long as he wants.
Support our independent journalism
Readers like you make our work possible. Help us continue to provide the reporting, commentary, and criticism you won't find anywhere else.
Join Slate Plus
Join
---