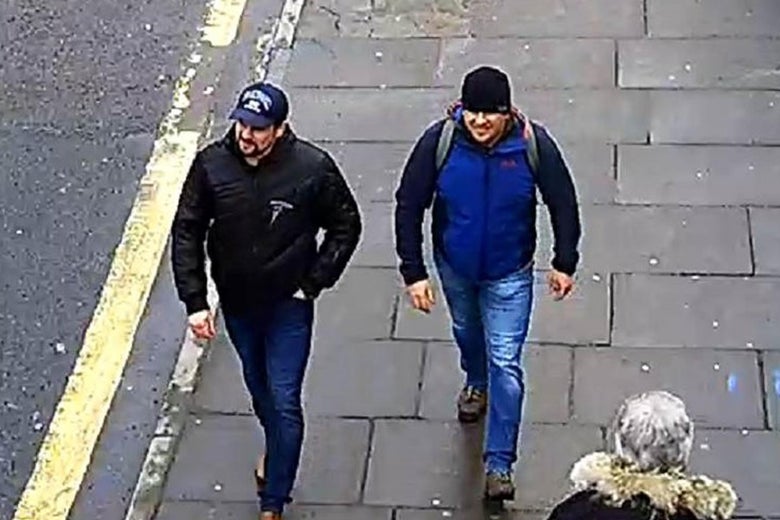 The investigative website Bellingcat, working with the Russia-focused media site The Insider claims to have identified one of the two suspects in the March poisoning of Sergei and Yulia Skripal in Salisbury, England. According to the investigation, one of the two men charged by British authorities, who traveled to the U.K. under the name Ruslan Boshirov, is actually Anatoliy Chegipa, a colonel in the GRU—Russia's military intelligence service—who was awarded Russia's highest state honor, Hero of the Russian Federation in 2014. British officials, who also charged that the two men were GRU officers, have not yet commented on the report, but according to the BBC, "there is no dispute over the identification."
This, to put it mildly, contradicts the story given by "Boshirov" and co-suspect Alexander Petrov in a recent interview with RT. The two claimed to be vitamin salesmen who had traveled to England for fun and visited Salisbury—twice in two days for just a few hours at a time due to inclement weather—just to see its famous gothic cathedral. In the interview Boshirov/Chegipa rattled off facts about the cathedral's spire that seemed drawn from a Wikipedia page. The RT interview also suggested that the two men might be gay.
Shortly after the interview, on Sept. 14, Bellingcat reported that documents show the two men were issued IDs under their cover names in 2009—there's no previous record of them under those names—and that one of their files contained markings associated with the Russian secret services. A telephone number on one of the files connects to the defense ministry, according to the Guardian.
Wednesday, Bellingcat followed up with the identity of Chepiga, which it found through examinations of photographs of graduates of Russian military academies, telephone databases, and passport files. Bellingcat is an open-source investigative site founded by the English blogger Eliot Higgins, best known for his reports on munitions and chemical weapons in Syria and the shootdown of Malaysian Airlines flight MH17 in Ukraine in 2015. His work is frequently cited by NGOs and media outlets.
According to the newly assembled bio of Col. Chegipa, he was born in 1979 in a small town near the Chinese border, and, at 18, attended "one of Russia's elite training grounds for marine commandos and Spetsnaz officers." He was deployed three times to Chechnya and received the alias Ruslan Boshirov sometime between 2003 and 2010. He was awarded Hero of the Russian Federation 2014 for an unspecified mission. (Given the timing, it likely had something to do with Ukraine.) The award is typically handed out by the Russian president personally to only a few officers per year. And in news that will come as a disappointment for those who were rooting for the star-crossed love story of Ruslan and Alexander, Chegipa is reportedly married with one child.
Bellingcat's sleuthing is unlikely to have too much of an impact in Russia, where Higgins has long been dismissed as a NATO-backed propagandist. The new details may help bolster Britain's case that Russia is lying, but it's not as if the Kremlin was really trying hard to make the cover story convincing anyway.
Support our independent journalism
Readers like you make our work possible. Help us continue to provide the reporting, commentary, and criticism you won't find anywhere else.
Join Slate Plus
Join
---