In yet another bit of confirmation that President Donald Trump was not at all moved by the warning from New York Times publisher A.G. Sulzberger that his attacks on journalists could be dangerous, the commander in chief upped the ante and accused the media of causing wars. In an angry tweet early Sunday morning, Trump repeated that the press are the "enemy of the people," saying that the "Fake News" hates him using those words "because they know it's TRUE." The media "purposely cause great division & distrust" and "can also cause War."
Trump's angry words on Twitter came mere hours after he also launched an attack against the media at a rally in Ohio Saturday evening. And it wasn't only his doing. The pastor giving the invocation at the rally prayed to God to protect Trump from "jungle journalism."
"Tonight, I pray that You will protect our President and his family with a shield of faith, Lord, that shield of faith against the fiery darts of the wicked one, Lord, against that jungle journalism [that] extorts the truth and distorts honesty and integrity every single day, gets in his face with lies and mistruths and innuendos," Gary Click, a pastor, said, according to CNN. "Lord, protect him."
Trump picked up the baton and attacked the media during his speech too. "Oftentimes I'm getting ready to do the fake news with CNN and MSNBC—MSNBC is so corrupt, it's so disgusting, so disgusting. I would say they're almost worse they're really a fake news group of people. And here's the good news, the guys that we love, right? They're blowing them away in the ratings," Trump said in reference to Fox News before going on to name some of those network's anchors, stopping several times out of concern that he was forgetting to praise some of the network's big names. "CNN is down at the bottom of the totem pole, MSNBC isn't even close." Before Trump's speech and once during it, the crowd started chanting "CNN sucks," according to the Columbus Dispatch.
On Fox News Sunday, Chris Wallace called on National Security Adviser John Bolton to explain Trump's tweet. "What wars have we started?" Wallace asked. Bolton largely avoided answering the question directly only saying that "the issue of press bias has been around for a long, long time." Wallace agreed with Bolton that press bias exists and should be called out but the president's words are "taking it to a completely different level." Bolton went on to say that it's "the president's view based on the attacks that the media have made."
Last week, Sulzberger issued a statement detailing how he warned Trump in a White House meeting that the language the president uses against the media "is contributing to a rise in threats against journalists and will lead to violence."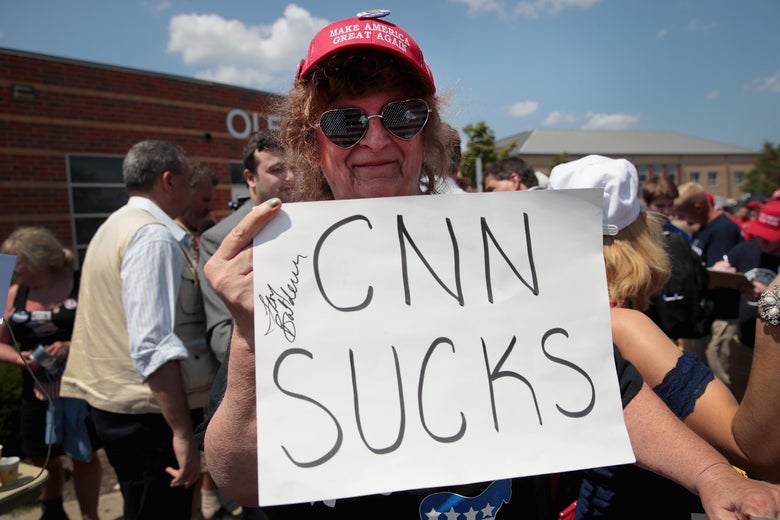 Support work like this for just $1
Slate is covering the stories that matter to you. Become a Slate Plus member to support our work. Your first month is only $1.
Join