In the run-up to the long-anticipated far-right protests in Portland, Oregon on Saturday, everyone seemed to be preparing for the worst. Portland was bracing for violent clashes as hundreds of people descended on the city ostensibly to support Patriot Prayer leader Joey Gibson, a senatorial candidate from Vancouver. They were met by hundreds of counter-protesters. After weeks of heated rhetoric and warnings about weapons that led some to warn it could be "Another Charlottesville," there ended up being little violence between the two groups. A total of four people were arrested and they faced a variety of charges, including harassment, resisting arrest, disorderly conduct, and unlawful use of a weapon, among others.
A large police presence in downtown Portland kept the two groups separated. Things took a turn toward the violent when police say some protesters started throwing rocks and bottles at the officers.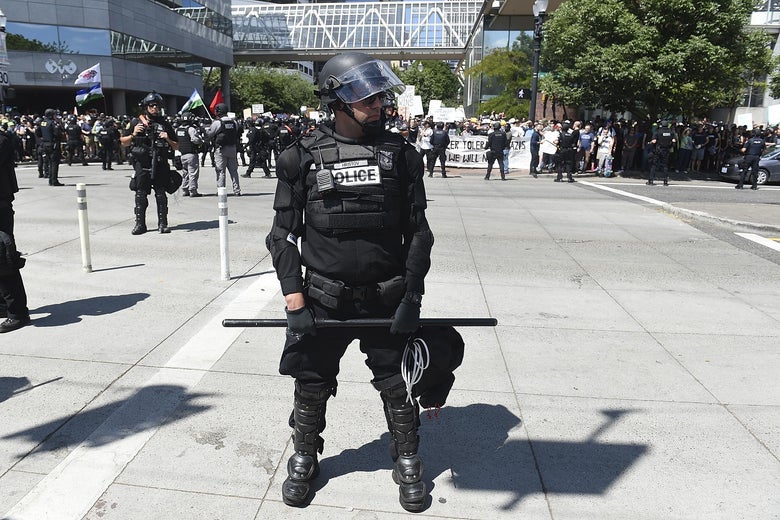 Eder Campuzano, a reporter for the Oregonian, was one of the three people injured. That is when officers categorized the protests as a "civil disturbance" and ordered everyone to "disperse." When the protesters didn't immediately leave, officers began firing flash-bang grenade, used pepper spray, and rushed the crowd at points. Campuzano wasn't the only journalist caught in the scuffles, with one officer reportedly pulling KATU News photographer Ric Peavyhouse's camera.
"Unfortunately, today, some people chose to commit illegal acts of violence, which required members of the Police Bureau to take action in order to keep all participants and non-participants safe," Police Chief Danielle Outlaw said in a statement. "This was a dangerous situation for all those involved, including officers, and I am disheartened that this kind of illegal behavior occurred in our beautiful city."