This personal account was written by Eyad Awwadawnan, 23, a Syrian refugee in a camp on the Greek island of Samos. Awwadawnan was a university student, studying law, in Syria but was never able to attend class because of the civil war that began in 2011. He shared the essay, which he wrote in the camp, with author Helen Benedict in June. It has been edited for length and clarity.  
The irony is that, having fought for survival for so long, many of us now only desire death. I hasten to kill my days by sleeping, although I know these are supposed to be the most beautiful days of my life, when I should rise high, make something of myself. Perhaps sleep is like death. In both cases we become nothing. I sleep to become nothing. I spend all my days in this bed in a refugee camp in Samos, Greece, thinking about how the journey that brought me to this place began.
March 18, 2011: An unforgettable date. A demonstration against the government started in the Syrian province of Daraa. Six demonstrators were killed.
At first, people thought this was an isolated incident, that nobody else would die. Days passed and we hoped we could visit our graveyards with flowers instead of new bodies to bury. But the flames of protest only grew, and faces grew panicked in my town of Sabinah, south of Damascus. All over the country, protests broke out. They were followed by government raids, arrests, and executions. When those did not work, Bashar al-Assad's army and militias adopted a policy of siege, aerial bombardment, and artillery. My city felt like the third century: Electricity had once lit its houses, but now its streets disappeared in the dark. Schools closed, and shops emptied of everything except school books. My family's weekly visits to relatives became memories. We had been put under house arrest.
My family is made up of 11 members: my father, his wife, four brothers, three sisters, and my grandmother. After my mother was killed in 1999, my grandmother, who is now 83, took care of us.
But by 2011, she was old and sick, and at the age of 16, I became the one who had to buy bread for the family. It would take me two hours to get bread because, although the bakery was just a short distance from our home, it was next to an open square guarded by a military sniper. The government had taken control of the town by then and, to prevent rebellion, would shoot anyone out on the streets. I had to walk a long way around, hiding where the sniper couldn't see. I would often see a bullet dance in front of my eyes. Many of my friends fell for bread, one of them lying dead in the street for three days. Because of the sniper, people were afraid to rescue the body.
On Feb. 9, 2012, my uncle Omar was killed by a stray bullet. He was 23, and all he had wanted was a small family and a simple life. Still, although the level of violence increased every day, we had no intention of leaving our home, hoping things would return to the way they used to be. But what happened a short time later to me and my friend Majd made our exit inevitable.
Majd was 14. One day, we were running across the street to the bakery with our hands over our heads like helmets when I heard a bullet and saw him fall by my side. I ran behind a wall to protect myself from the sniper and looked back. Majd was covered in blood. I carried him to a taxi just as a shell lodged in the back of the taxi. All sounds disappeared, and I only heard Majd groaning.
When I ran home covered in his blood, my grandmother said to my father, crying, "I will never forgive you if something bad happens to my children. When the siege ends we must leave.
Everything can be rebuilt, but we will not be able to bring our children back if they are killed."
My father agreed. "We will leave once the siege is lifted. Until then, no one can leave the house."
I watched their frightened eyes and said we would be fine—unlike Majd, who will spend the rest of his life in a wheelchair. For the next eight days, rice was our only meal. Then, in the spring of 2012, the way to leave Sabinah opened because the Syrian army was coming and they wanted to evacuate the town. We hurried out in our little car with only our dirty clothes, our documents, and our memories.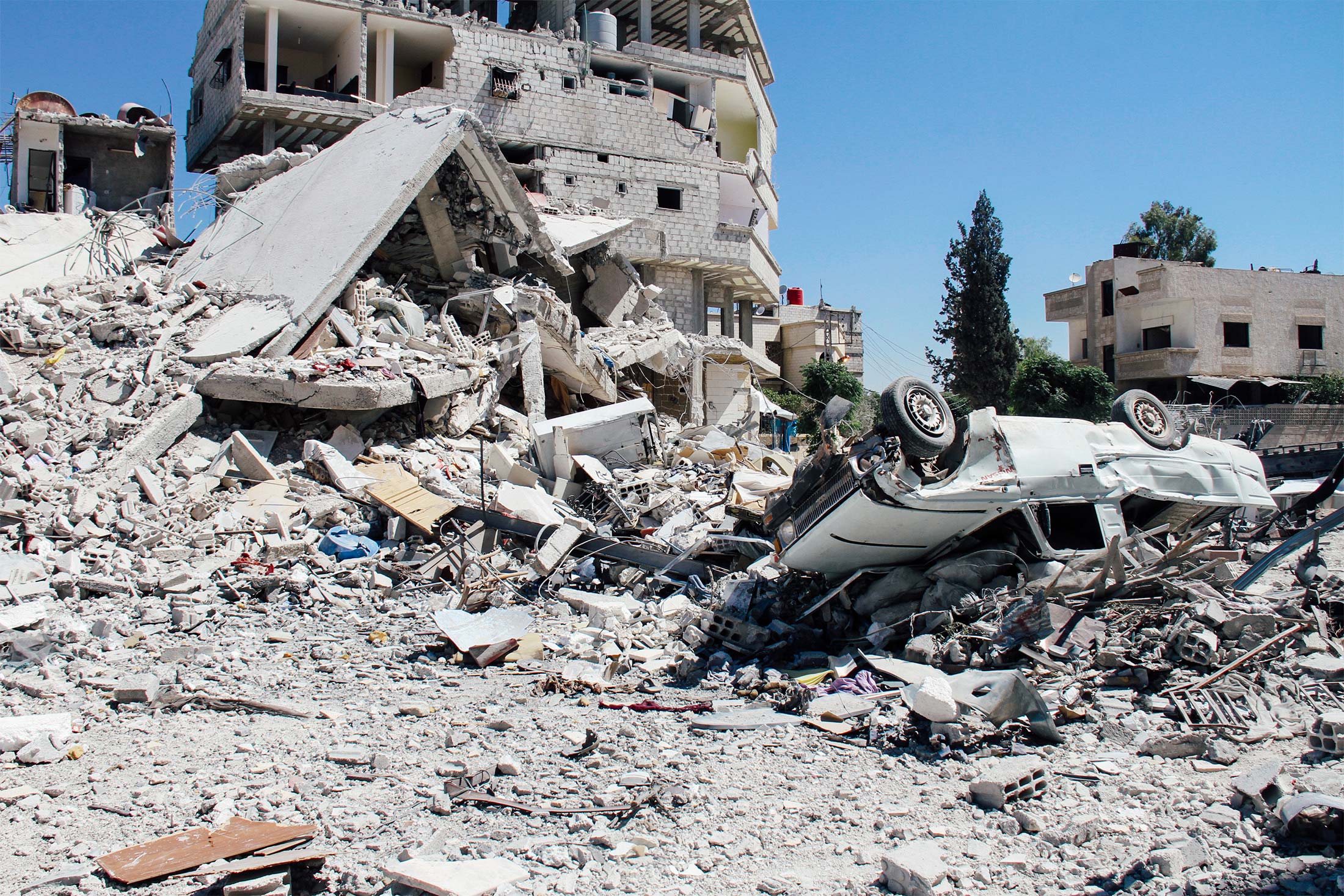 Because my family was so large, we had to split into four groups, each going to a different relative throughout Syria, as nobody could afford to take us all in. Our hosts were polite to our faces but grumbled behind our backs. We felt ashamed. Every time my father called us, we begged: "Please take us out of here, we are not welcome."
After a time, my father rented a house in the small city of Shahba, in Southern Syria, and I remember our first night there was very beautiful because my family was reunited. My brothers and I took whatever work we could find—shovelling concrete or picking apples—even if it was hard, badly paid, or dangerous. We were concerned only about keeping our family safe.
Shahba was quiet, but the streets were full of gangs, drug addicts, and thieves who enjoyed finding new prey. One night three of them started beating me. I responded by slapping one of them, but I was like a small boat swinging amid a storm, tossed one way and another.
People separated us, and I ran to my friend's house covered in blood. "What happened?" my friend shouted.
"I feel like a stranger in my own country," I said. "I used to feel every village in Syria is my village, all its people are my family. But now I realize my homeland was lost when they fired the first bullet, and I have become lost like my homeland."
My friend said: "Things will return as they were, just have a little patience."
I laughed: "You are deceived. Nothing will be as it was. I think I will join a powerful armed group to recover my rights, to be strong."
With an angry face he cried, "Recover your rights from whom? A little boy or an old man? My friend, you will be like the men who beat you, just a demon possessed with the power of weapons."
I left angry and went to a cave where I could be alone. I sat for nearly two hours. Sometimes I told myself to kill the light inside me and become without mercy, and other times I asked myself who would I be taking my rights from? From people who just want to spend their day in peace? Then what would be the difference between me and this abyss?
At the end of 2015, two of my cousins ​​were killed at the same moment, their bodies torn to pieces, both killed by government missiles near their home in Daraa city. When I heard this news, I and every one of my brothers went off on his own to cry and scream without anyone hearing us. When I returned, my father had gone to Daraa to be with my uncle whose sons had died.
"I know that you would have liked to go with me," he said when he returned, "but you are in the age of military service and on the way to the city of Daraa, there are more than 20 military check points. They would imprison you because they consider Daraa a city controlled by terrorists, and they would not abstain from torture and humiliation."
A few days later, my father said to his children, "I have sold our car, and we will leave Syria. Every one of you will complete your studies and will achieve their dream."
After he spoke, silence was the master of the place, as if we were at a funeral. "My children, do not look for honey in a country that kills its bees," he continued.
On Feb. 28, 2016, we left our new city without luggage but with memories of apples, black city stones, and the sounds of animals making our dark nights loud. Tears filled our eyes, perhaps because we realized that this was the end of a country that had given us the elixir of life, the river of papyrus, and apricot orchards in its grottos.
We stayed in Turkey for a year and a half in a small apartment in Antakya. We were human animals: Our lives consisted of work, food, sleep, nothing more. For a while, I repaired trucks, and then I worked in a shoe factory. Employers would often refuse to pay our wages, and if we asked for them, we were fired. We were insulted by the people, the police, and the army: "You are traitors. You fled from your country and came here to hide like women behind us."
At first, I tried hard to explain our war story to them, but in the end, I realized they would never understand. I often sat with my brothers and discussed the dreams we'd had as boys. Now our dreams were ashes blown here and there by the wind between bullets and bodies.
At the beginning of June 2017, my father decided there was no future for us in Turkey. Although we worked there for a year and a half, we were never paid enough to save anything. We had to borrow the money to go.
The agreement we made with a smuggler was to pay him $500 per person for passage to Greece on a small rubber boat with no more than 33 passengers, for a crossing no longer than an hour. We were taken to a small hotel in Izmir, on the Mediterranean coast, where the beds were full of bugs and drenched in urine.
The first trip was a failure, and we were arrested, an event that I will never be able to expel from my memory. The second trip was with 67 people, large and small, injured and healthy. We were packed into a closed van, standing like cattle for two hours. It was suffocating, the crying of children and pregnant women, every man cursing.
My father's wife fainted. We beat the roof of the van and shouted. The driver stopped and opened the door. We thought he was going to help us, but he only screamed, "Get out! Stupid people, you could put me in prison." He threw our luggage on the ground and shouted: "Go to hell."
From there we walked for half an hour until we met the Turkish smugglers on the beach. They forced us to carry the boat and inflate it.
Instead of one hour, we spent three hours packed in a boat just 7½ meters long. Most of us had no life jackets even though we couldn't swim. The driver was not more than 16, steering without a compass to guide us across the Aegean toward an island. With every wave, the boat was forced in a different direction. Vomit filled our luggage. We were crushed together so tightly that there was an old woman sitting on my feet, and I lost all sense of feeling.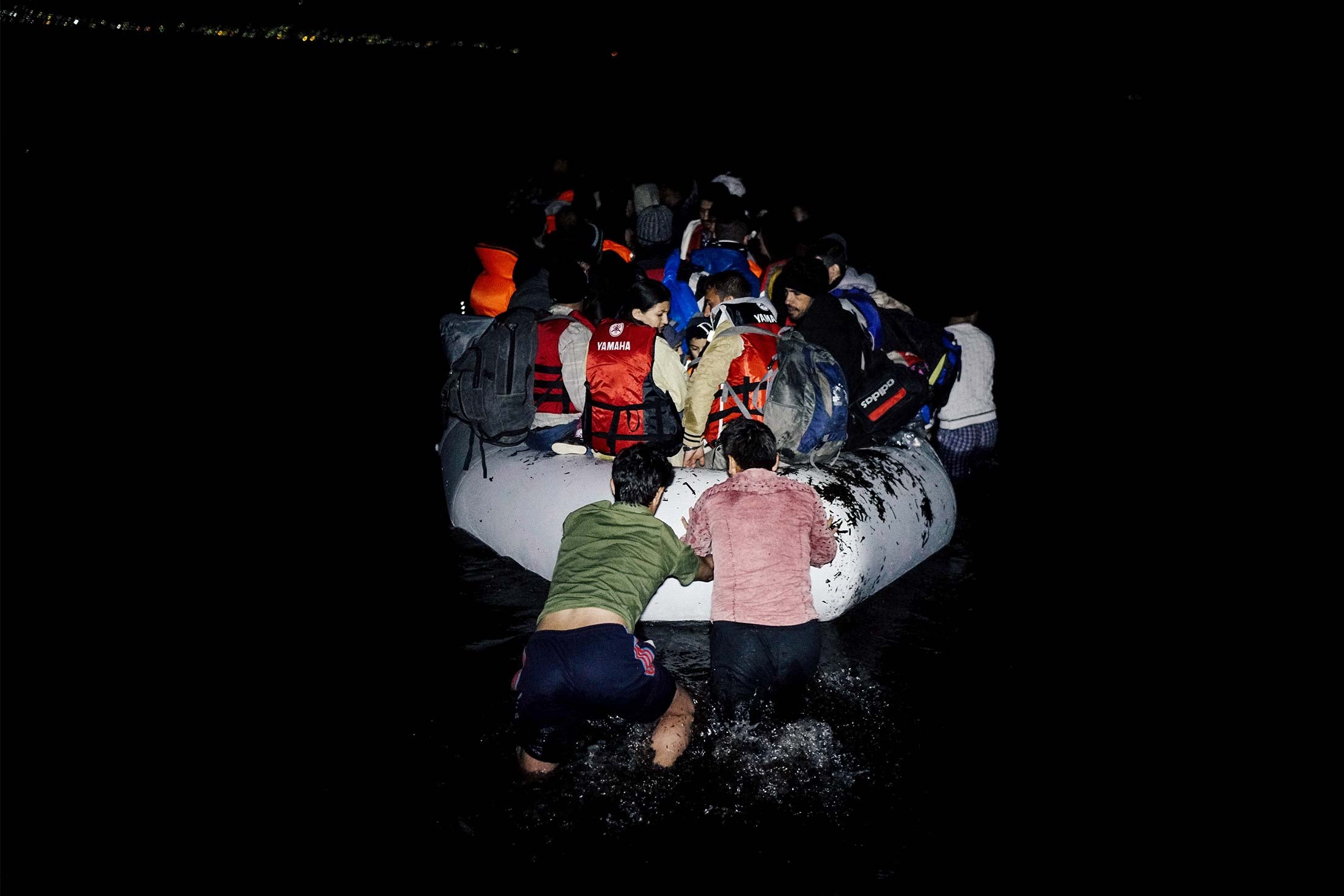 Three hours later, we saw a boat approaching us, terrifying everybody. We shouted, "For God's sake, driver keep us away from that boat!"
The driver panicked and the engine stopped. "If we try to escape, I swear to God they will sink our boat," he said. "These Turkish border guards do not care about people's lives." At the time, I did not understand what he meant, but later I heard stories about the guards stopping the boats by shooting live bullets to make them sink.
They came toward us and we saw a banner reading "Frontex" [the European Border and Coast Guard Agency]. Each passenger raised his child high: We had heard that unless they see children aboard, even the European coast guard might return the boat to Turkey.
We were taken to Samos island and spent our first night on the floor of the police station in the refugee camp.
The next day, we were taken out of the police station. We thought they would put us in a container or tent, but the camp official pointed to an empty patch of ground and said, "Find a place and make that your house." I asked an official if it was possible to give us a small tent to protect my 9-month-old sister from summer insects. The answer was shocking: "I am sorry. This is not my decision to make. Good luck." As if to say, "Who you are to ask for a tent?"
We found an open area in the camp with no tents. The place was very dirty, and a Syrian man I did not know said, "My friend, it's better to leave this spot and find somewhere else. Here there are many drunks who find people to hurt for their own amusement. They may fall over your body while you sleep because they have lost their minds."
I went out looking for another place, and I found one in the woods outside the camp. We spent 17 days there. The sky was the roof of our house, the trees were the walls, and the earth was our bed. We would throw some of our food far away from where we slept as bait for insects. The space was covered in bugs and human waste.
After a time, the police drove us from that place to inside the wire walls of the camp. Although every space in the camp was full, they just repeated, "Find a place and make it your house." We looked for three days to find an empty space, until finally a friend offered us his tent because we were a family and he was alone. He gave us his small tent to shield my baby sister, and we ripped a blanket to make another shelter for the rest of the family. Many days, we woke and rain water was flowing underneath us like a river. We would wake early to stand in a long line for a croissant and a small juice box.
I heard a lot of sad stories in the camp. The heat in the nylon tents was so bad that many people made covers to keep the sun away from their children, but the police came and cut the covers down, saying they blocked the surveillance cameras. One day, a policeman began to beat a pregnant woman. A Syrian man came to defend her. They beat him and then took him to the prison, keeping him there until he could not bear it. Finally, he said he wanted to go back to Turkey because there are no rights and no life in Greece.
Now, when we go swimming or walk on the beach, sometimes the police stop us to check our identity cards and order us back to the camp. As obedient as dogs, we go back. This is their state, their laws, and we are just refugees who do not have the right to object. I often see women waiting for hours in front of the clinic in the camp, collapsing when their bodies finally let them down, the nurses saying, "What can we do for you, with just three nurses and one doctor?"
We often try to walk away from the noise in the camp—fight for toilets, or once a man with a razor blade cutting his arms in front of the policemen, who did not care that children were watching. The sight of the blood took me back again to Syria and to Majd.
On Sept. 4, 2017, the asylum office presented my family with a permit to leave the island, with the exception of me and my brothers Ayham and Ehab. Because we were older than 18, we had separate asylum cases. Yet we were happy to see that our family could leave for someplace better. We were also certain that they would give us open cards to join the rest of our family in Athens.
My older brother received a permit to join my family after three months. I got one as well two months after that. But my younger brother's asylum application was denied. Our entire family could stay in Greece, they told us, but he alone would be sent back to Turkey. They said they rejected him because Turkey was safe for him. How was that possible when Turkish guards had pushed him back to Syria three times when he tried to cross the border with two of our young sisters, taken him to the police station, hosed him with water, insulted him, and forced him to pick up cigarette butts from the floor as they beat him? They did not say why it was safe for him but not for all of us.
When my grandmother heard news of his rejection, she could only hide herself away and cry.
Now I cannot leave this island because I do not want to leave my brother alone while he waits for the appeals court's decision. For 10 months now, I have been waiting, sleeping just five hours a day. At night I am prey for bed bugs. I can do nothing but put detergent or chlorine on my body to stop their aggression, but it is useless, for they are the natives in my new land. I stay awake examining my life, lighting cigarette followed by cigarette until the sun rises again.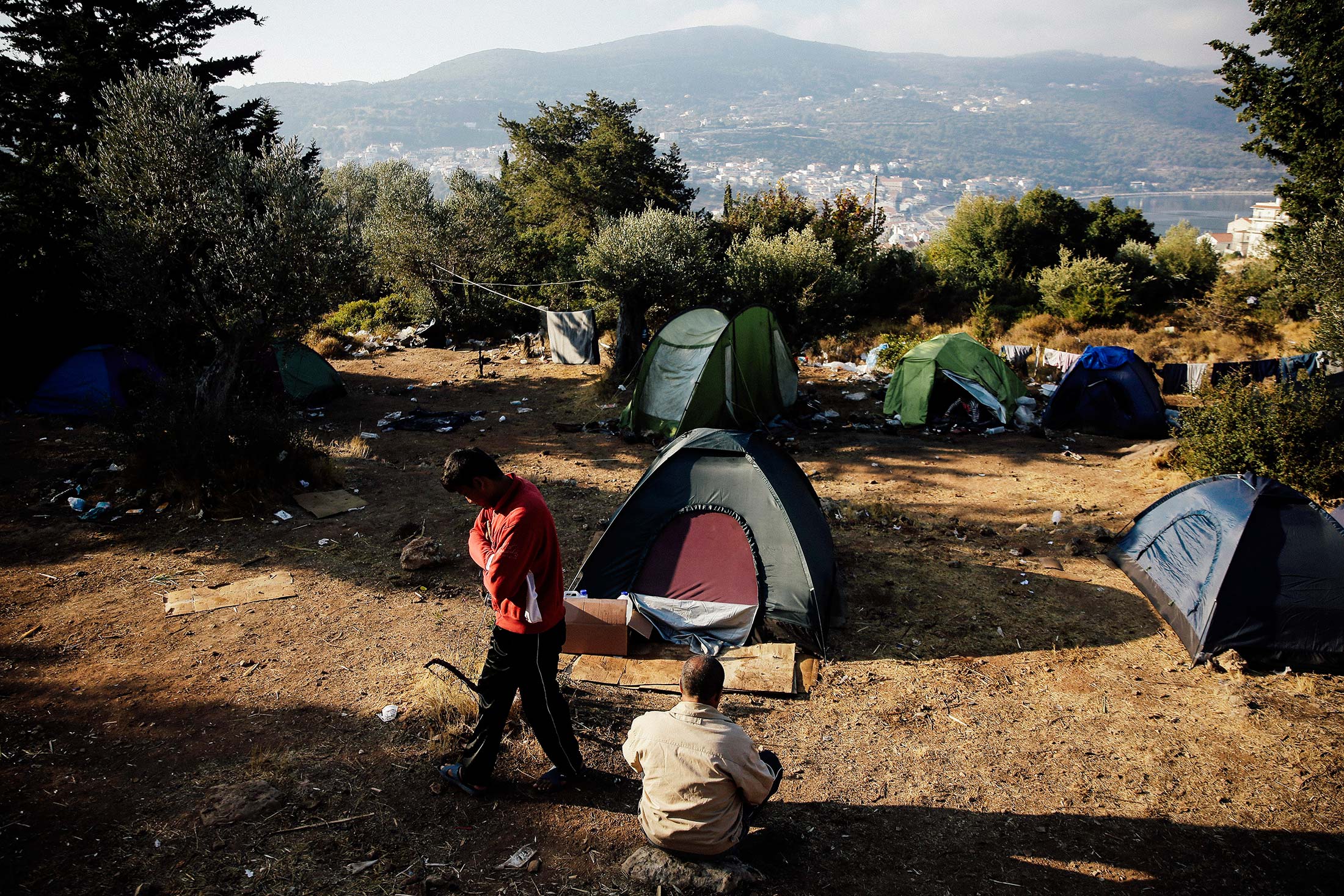 So far, we do not know whether our family will remain together or be torn apart. I no longer care about my future, only that my family is together.
The time is now midnight. I tell myself to sleep after finishing my last cigarette and cup of coffee. After 10 minutes I repeat to myself: It's time to sleep. I stand and walk like a drunk man looking for a candle and throw my tired body on the bed. But the bed is full of bugs, and every night they resume their feast.
The time is now one hour after midnight. My last cigarette has given birth to 10 more. I look at my cup of coffee surprised, for I still have not finished it. Did I make another without realizing? There are so many thoughts in my mind that throw me here and there like a boat without an anchor. I have conversations in my head with people who are now just memories, hoping that they will help me sleep.
The time is now two hours after midnight, and I stop talking to those who are dead, for they cannot help me. It is better to light another cigarette and leave the dead sleeping peacefully in their graves.
Postscript: Since writing this essay, Awwadawnan and his brother were allowed to leave the camp and are now living in Athens. Their case remains unresolved.