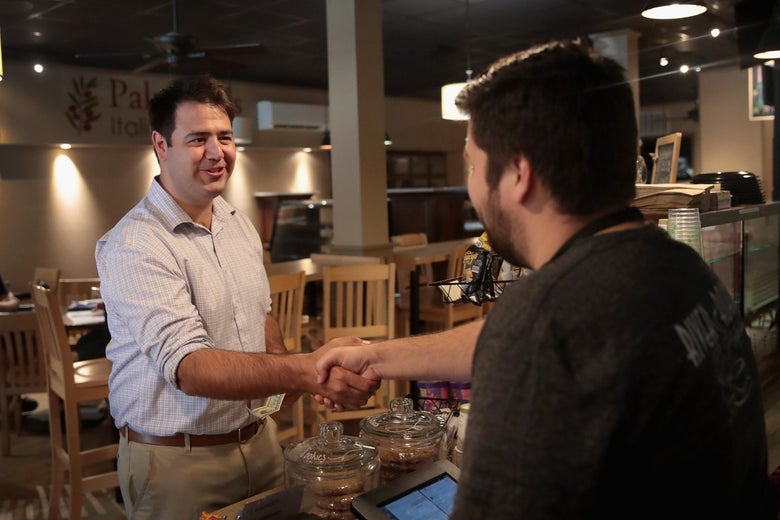 Tuesday's marquee matchup is the congressional special election in Ohio, where everybody will get one last look at how voters are feeling before the final midterm push. What each party sees—or what they think they see—will help shape their political strategies this summer and into the fall. But the Ohio contest isn't the only one with midterm ramifications. Republican primaries in Michigan and Kansas will again test, and likely further confirm, Donald Trump's grip on the conservative psyche. And Democratic contests in those same states will give progressives their first chance to score another status-quo-shaking victory since Alexandria Ocasio-Cortez's stunned the establishment in late June.
Missouri and Washington state also hold primaries Tuesday, but there isn't much suspense in the former, where Democratic Sen. Claire McCaskill and Republican state attorney general Josh Hawley are expected to coast to their respective nominations for one of the most important Senate contests this November. And there's almost too much suspense in the Washington primary, since the state votes entirely by mail and ballots can be postmarked as late as Election Day, meaning any close race will likely take days to call.
Here's what to watch for on Tuesday:
A Very Special Special Election
Republicans have done just about everything they can to push Republican Troy Balderson to victory in this central Ohio district. National GOP groups have spent millions on the race, Trump lent his support in person over the weekend, and Ohio Gov. John Kasich—one of the few #NeverTrump Republicans still in office—did the same via a TV ad. Yet all that Republican unity might not be enough to prevent Danny O'Connor from doing what fellow Democrats Doug Jones and Conor Lamb have done in the past nine months: win a federal election somewhere Trump won comfortably in 2016.
You don't need to squint to see a contest that looks an awful lot like the special election Lamb won back in March. That district included parts of suburban Pittsburgh as well as more rural areas of Pennsylvania; this one includes suburban Columbus as well as more rural parts of Ohio. Trump won Lamb's district by 20 points; Trump won this one by "just" 11 points. And while O'Connor isn't the DCCC rock star that Lamb is, he nonetheless has deployed the same moderate playbook to similar success in his conservative-leaning district. Recent polling shows O'Connor and Balderson locked in a tight battle and nonpartisan handicappers likewise see a tossup.
The fact that Republicans are even sweating—let alone spending—in this one is a victory for Democrats. The results won't determine which party controls Congress next year, but given the district's significant suburban population, they'll probably provide a strong indication.
Trump Puts His Primary Hot Streak to the Test
Whether Trump's endorsement helps or hurts in the Ohio special remains an open question, but there is little doubt that the president's support will be a boon to a handful of Republicans competing elsewhere Tuesday. Among the lucky GOP candidates to get Trump's backing ahead of their primaries: Rep. Kevin Yoder, who's running for re-election in Kansas's 3rd Congressional District; Michigan Attorney General Bill Schuette, who's hoping to replace Michigan's term-limited (and Flint-tainted) Republican Gov. Rick Snyder; businessman John James, who is seeking the GOP nomination in Michigan to take on Democratic Sen. Debbie Stabenow; and Kris Kobach, Kansas' anti-immigrant secretary of state who is trying to take down interim GOP Gov. Jeff Colyer.
Trump's endorsement was mostly just icing on the primary victory cake for Yoder, a four-term incumbent up against two underfunded and largely unknown challengers. And it likely helped seal the deal for Schuette, who's had a double-digit polling lead on Lt. Gov. Brian Calley since before Trump gave him the nod nearly a year ago. But Trump's endorsements-by-tweet could be the difference-maker for James and Kobach, both of whom were in tight races before Trump weighed in during the home stretch. Stabenow is favored to win re-election regardless of whether James or Sandy Pensler wins the GOP Senate nomination, so Kobach is the more consequential endorsement of the two.
The GOP Powers That Be had been pleading with Trump to refrain from endorsing Kobach, believing that Kobach's extreme views could turn off voters in the general election. In a delightfully timed quote over the weekend, one "senior Republican official" told Axios that he thought Trump had gotten the message about sitting this one out but conceded he couldn't be sure since the president was spending this week at one of his own golf resorts with "a cell phone and plenty of 'executive time.' " On Monday, Trump proved Axios' source had good reason to worry:
Progressives Look to Keep Momentum Going
The left has been riding high since Ocasio-Cortez's stunning victory over Rep. Joe Crowley in Queens more than a month ago. On Tuesday, they'll see if they can keep the momentum going in handful of key primaries, chief among them Abdul El-Sayed's no-longer-quite-as-long long shot bid for Michigan governor.
Until recently, El-Sayed had gotten more attention for his bid to become the nation's first Muslim governor than he did for his staunchly progressive policy agenda, which includes a $15 minimum wage, single-payer health care, and tuition-free college for many in his state. But he has since emerged as the latest progressive folk hero thanks to the support of both Ocasio-Cortez and Bernie Sanders, both of whom made trips to Michigan to stump for him recently.
Despite that support, though, El-Sayed remains an underdog against former state Senate Democratic leader Gretchen Whitmer, a liberal who has the backing of her state party establishment, U.S. Sen. Kirsten Gillibrand, and other power players like EMILY's List. Prior to Sanders and Ocasio-Cortez getting involved, polls showed Whitmer with a comfortable 20-point lead over El-Sayed and another candidate, self-funding entrepreneur Shri Thanedar. The good news for El-Sayed? That's roughly how much the polls missed Sanders' surprise victory in the state's Democratic primary in 2016.
Progressives aren't putting all of their eggs in one basket. Ocasio-Cortez and/or Sanders have also endorsed a trio of congressional candidates: Brent Welder, a labor lawyer running in a crowded and diverse Democratic primary for the right to take on Rep. Yoder in Kansas' 3rd District; James Thompson, who lost to GOP Rep. Ron Estes in a special election last April and is seeking a rematch this November in Kansas' 4th District; and Rashida Tlaib, a former state lawmaker running in Michigan's 13th District to fill the seat that opened up when Democratic Rep. John Conyers Jr. resigned over sexual misconduct allegations. Conyers' district is deep blue, and if Tlaib wins the Democratic nomination, she'd almost certainly join GOP Rep. Justin Amash as the second Palestinian American in Congress.
Support our journalism
Help us continue covering the news and issues important to you—and get ad-free podcasts and bonus segments, members-only content, and other great benefits.
Join Slate Plus
Join
---