The facts are these: An 18-year-old black woman named Nia Wilson was stabbed at Oakland's MacArthur BART station. Her sister, also wounded, stayed with her as she bled on the platform. She died at 9:38 p.m. on July 22. The next day, BART police arrested a 27-year-old white man named John Cowell at the Pleasant Hill station. According to her family, Wilson was going to graduate with honors from Dewey Academy and was considering working in the military and maybe becoming a paramedic in the future. According to his family, Cowell was mentally ill. According to a spokesperson for the Contra Costa County District Attorney's Office, Cowell was evaluated in 2016 and found mentally competent to stand trial for an earlier robbery. Cowell was homeless and had been for months. Wilson was reportedly planning to attend an event commemorating the birthday of Josiah Pratt-Rose, once her boyfriend, now dead. At his vigil two years ago, Wilson was standing next to Reggin'a Jefferies—a fellow mourner who'd danced to "Never Would've Made It" in the boy's honor—when Jefferies was shot in the neck. Nia Wilson stayed with Jefferies as she bled on the street. Jefferies died.
Here's another fact: No one knows why Nia Wilson and her older sister Lahtifa, who survived, were stabbed. Tradition—including our justice system and much of the news coverage of the killing, which is framed as a breathless hunt for a motive—argues that our judgment of this tragedy must depend on this final, fragile, missing piece: Without knowing the reason a homeless white man (who may or may not be mentally ill) stabbed an innocent black woman with whom he'd apparently never interacted, we cannot respond. Many assumed that a white man's reason for an unprovoked attack on two black women—on the eve of a planned Proud Boys gathering in Oakland—was race-based. The counterargument is that the attack might have been "random." Wilson's death must be treated as an isolated incident, a datum that must be taken on its own merits and cordoned off from the city where it happened and from the rest of this young woman's life. What matters, by this logic, is what specific variety of hatred her killer held in his heart.
In some ways this makes sense. Our legal system requires these fine discriminations in order to administer whatever passes for justice these days, and Wilson's own godfather, Daryle Hallums, asked the black community to "stand down" while the crime is investigated. "We don't know if this was racist. We don't know if this was random. We don't know what it was," Hallums said. And while it's true and unconscionable that white male criminals receive special dispensation for "mental illness" in ways other demographics don't, it may also be true that the schizophrenia Cowell's family described factored into the attack somehow—even though the mentally ill are more likely to be victims than perpetrators of violence. We're marinating in uncertainty here, awash in maybes.
But waiting and seeing isn't how people grieve a life that's lost. It's certainly not how Oakland is responding to Nia Wilson's death. Nia Wilson was taken. A person who was loved felt unsafe, and was right to feel unsafe. She bled out while being reassured it was all going to be OK. She may have realized, in those terrible moments, that she was part of a pattern: The young people in her life somehow kept dying. This matters more than the finer points of her killer's reasoning, and if the communal response has at times seemed hasty or compensatory or desperate, it's worth considering what it's compensating for. Mourning is not reasonable. Murder produces collateral wounds. And if you politely and correctly wait for the legal system to produce the truth, you'll hemorrhage out, because that's not its job.
Every killing has its own idiosyncratic story. But when a society fails to respond in any systematic way to a pattern of black death, compensatory mechanisms will emerge. There are trends at work that black communities can see and that white America refuses to recognize—painful, documented contexts whose awful contours are too familiar and well substantiated to dismiss as simple paranoia. Maybe Wilson's death was "random"—an unstable man happened to choose a victim using unknowable criteria. But there are reasons Wilson's community is receiving it differently. Another black woman was murdered in a city not known for valuing black life or for punishing its extinguishing.
What I'm saying is that the communal response to an event like this might teach us more than a legalistic framework that encourages us to parse the specific turns of a killer's mind. Approximately 1,000 people came to a spontaneous vigil for Nia Wilson the day after her death. The gathering eventually became a protest—reporter Darwin BondGraham described it as "a mourning procession combined with a militant anti-racist rally." It converged with a planned "pro-Oakland demonstration" that had been organized to counter a white-supremacist group rumored to be convening at an Oakland bar. On Thursday, a group of young people gathered at Frank Ogawa Plaza for an open-mic event called "Youth Speak, Adults Listen," where they talked about how Nia Wilson's death crystallized the ambient fear they live with. Wilson's public memorial is being held Friday.
Other responses have been more invested in inscribing her into the landscape of the city where she lived. Oscar Grant was killed at Fruitvale BART in 2009, and around town some makeshift alterations to a BART map add his and Nia's names to those stations to diagram a record of senseless black death. In a community, things stack up and accrue.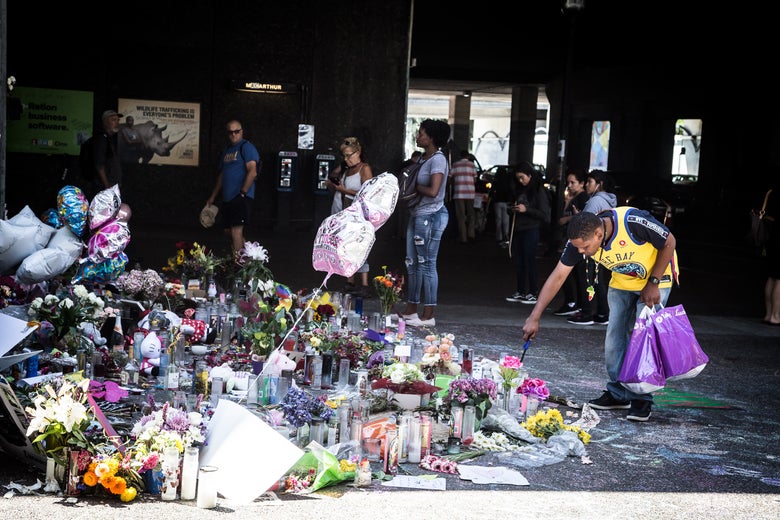 If you visit the MacArthur BART Station where Nia Wilson died, these layers of wounded mourning spring into evidence. The station's old parking lot is now a construction site for high-rises, meaning it's cordoned off and inaccessible to the public (just as it will be once they're built). Round the corner, though, and the place explodes into deeply felt, messy expression. On Thursday, a man who knows Nia's brother parked in a no-parking zone and was playing music in her honor. There are not one but two giant altars to Nia, and ads around the station have become mixed-media testimonials to her and to the way Oakland fits her story into the city's sense of its own turmoil. A Bird scooter—perhaps the ultimate symbol of gentrification in a city gentrifying at warp speed—stands before a PSA against wildlife trafficking featuring Black Panther's Danai Gurira and a rhinoceros. The sign is overwritten with Nia-related messages, some of which play with the advertisement's own. "Nia we love you!!" one person wrote over Gurira's head so it looks like she's saying it. Someone else has written "No Justice, No peace" over the ad's actual text. On the ground nearby, someone has chalked a version of the Lord's prayer.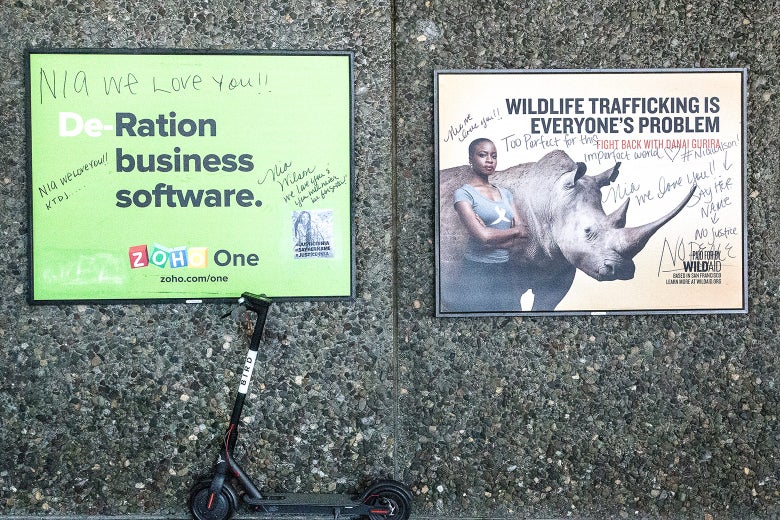 If you walk toward the interior of the station, you'll see the corporate cacophony typical of a Silicon Valley satellite overwritten by signs of an embattled community fighting for the city's attention. Take this dizzying ad for a "Buddy Challenge" that names everything from Hearst Castle to Pepsi to Chevron. A flier depicting Nia covers part of it, and over the invitation to "Register Today!" is a note to her written in small neat script: "Love you so much man. I'm gone miss you baby." Leading up to this altar is an enormous chalked statement: "I see you black girl. You're never invisible. I'll burn cities in your name." NIA WILSON is written below it in gigantic letters.
Nia's name and image are everywhere—on fliers and candles and notes, in pen and paint and chalk—partly as an expression of #SayHerName, a movement dedicated to highlighting violence against black women that gets routinely overlooked. It's also a reaction to provisional thinking: Considering her killing "random" robs a terrible loss of even a little bit of meaning. Black death does not signify in this culture, and the massive, sprawling, citywide demonstration that's developed in response to this particular black death accords it meaning and honors the ambient fear and grief with which so many black residents live. As Zeba Blay writes, "The problem is the constant specter of white supremacy, the reality of it, the fact that I'm made to feel like I'm crazy because it makes me feel crazy." The fear is real, even if it seems unfounded—until, tragically, it isn't.
Wilson's death might have just been bad luck. It's possible. But it's hard to keep invoking probability when you add up all the other bad luck—like Wilson's boyfriend's death and his mourner's. In a city like Oakland, where housing prices have skyrocketed, homelessness is on the rise, and sites like Nextdoor document white newcomers' tendency to consider their black neighbors Schrödinger's criminals, it's hardly surprising that others might regard killers like Cowell as Schrodinger's racists. This is a city with a history of redlining and otherwise engineering white prosperity and black poverty. It's a city where a local news station, a day after her death, chose a photo of Wilson in which she appeared to be holding a gun. (It was a cellphone case.) It's a city whose police officers violently arrested an unarmed and innocent black man who vaguely fit a description for a possible robbery but managed to peacefully arrest Cowell, a white man suspected of a crime BART Police Chief Carlos Rojas called "one of the most vicious attacks that I've seen."
This is the crucial difference between the legalistic framework that obsesses over the minutiae of Cowell's thinking and the way Nia Wilson's community is processing her death. She is everywhere here. The fact of her stacks up in these messy, makeshift memorials that take up public space they shouldn't and wouldn't normally be granted. There are candles and flowers and stuffed animals; the cement pillars of the BART station bear her name and so do the trash cans and ads and windows and walls.
Off in one isolated corner, a sculpture bears wanted posters of John Cowell with his face crossed out. Nothing else is written there.