The former director of the infamous Hỏa Lò Prison, which is now a museum, has joined the string of people who are paying tribute to Sen. John McCain. Retired Col. Trần Trọng Duyệt, who ran the "Hanoi Hilton" where McCain was imprisoned as a prisoner of war for five-and-a-half years, says McCain's strong views earned him his admiration. "I had a lot of time meeting him when he was kept in the prison," he told Việt Nam News. "At that time I liked him personally for his toughness and strong stance."
The former head of the prison said that he felt "very sad" when he heard the news about McCain's death. "I would like to send condolences to his family," he added. Duyet said he thinks most in Vietnam feel the same way considering McCain was instrumental in improving bilateral relations after the war. "Later on, when he became a US Senator, he and Senator John Kerry greatly contributed to promote Việt Nam-US relations so I was very fond of him," Duyet added.
Even as he expressed fondness for McCain though, Duyet had previously denied that he or any other prisoners were mistreated. "There was no torture, Vietnamese people saved him," Duyet said in an interview earlier this year.
Many in Vietnam, including Americans living there, went to a monument in Hanoi that remembers McCain's capture to leave flowers and pay their respects. "On Oct 26, 1967, at Truc Bach Lake, the military and people of Hanoi arrested Major John Sidney McCain, a pilot of the American Navy's air force," reads the inscription on the sculpture depicting McCain's capture. "I felt compelled to come out here and bring some flowers," said Robert Gibb, an American in Hanoi.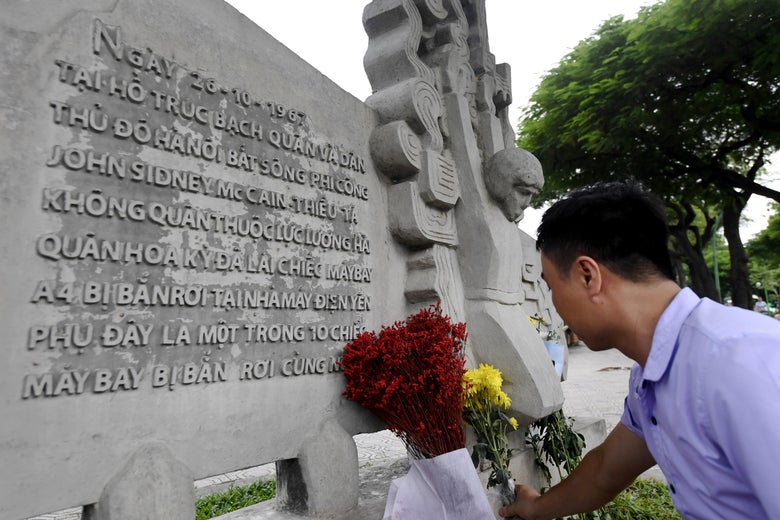 Read more in Slate about John McCain.