Ignacio Lanuza had every reason to believe he'd earned the right to live in the United States. An undocumented immigrant from Mexico, Lanuza had worked in masonry and construction since entering the country in 1996. He married a U.S. citizen and had two children, both citizens. In May 2009, Lanuza petitioned an immigration judge to become a lawful resident.
Because he had a family, more than 10 years of residence, and no criminal record, he should have qualified for legal status. But at his hearing, an Immigrations and Customs Enforcement attorney produced startling evidence against him: a form signed by Lanuza accepting voluntary departure to Mexico, dated January 2000. By signing this document, the lawyer explained, Lanuza had rendered himself ineligible for legal residence. The judge agreed and ordered him deported.
There was one problem: The form was a forgery. Jonathan M. Love, the ICE attorney, had fabricated it for the specific purpose of securing Lanuza's deportation. Aided by a new lawyer, Lanuza was able to confirm the fraud in 2012 and received lawful resident status in 2014. Now he is seeking more complete restitution, suing Love for violating his due process rights. Thanks to the Supreme Court's conservative justices, it is extremely difficult to sue a federal agent for damages. But on Tuesday, a federal appeals court allowed Lanuza's suit to move forward in a forceful opinion decrying the "egregious constitutional violation" at issue.
This victory may embolden other victims of ICE to hold their abusers accountable in court. Yet it is also a reminder that ICE did not become monstrous under Donald Trump. It is an agency that's rotten to its core, and it committed some of its most shocking malfeasance under the oversight of a Democratic Congress and president. Supporting the abolition of ICE is not just about opposing Trump: It is about taking on a rogue agency that defies the law no matter who is in charge.
By Love's own admission, the ICE attorney had no motive to sabotage Lanuza other than sheer malice and a desire to win the case. "Why did I do this?" Love wrote in a letter to the judge who sentenced him to 30 days in jail in 2016. "If I truly knew, I would not be standing here in front of you. … It was stupid and unnecessary, and the consequences of my actions have tarnished my hard work and dedication to public service for the last 30 years."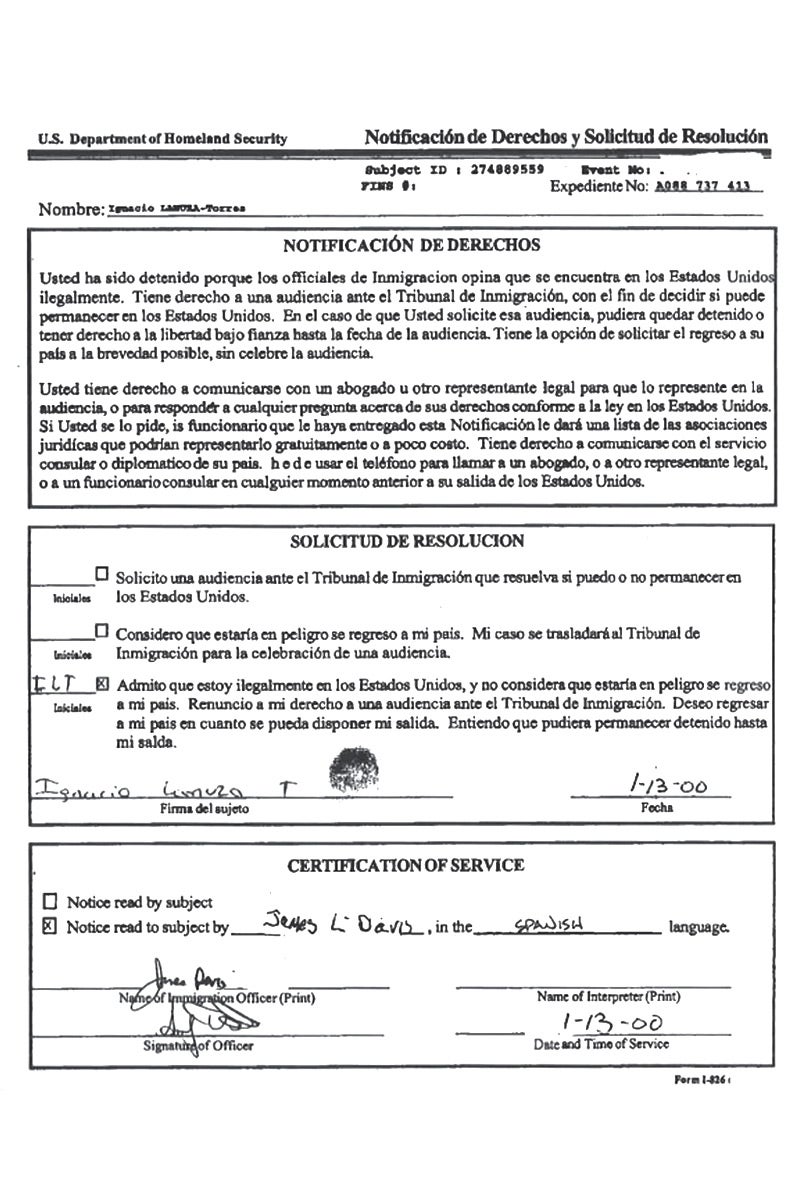 Love does not appear to have put a great deal of thought into his plan. The document he forged, known as an I-826 form, was dated Jan. 13, 2000, and made reference to the Department of Homeland Security. Yet DHS did not exist in 2000; it was created in 2003 in response to 9/11.
Lanuza knew he had not agreed to be deported in 2000. ("Nobody ever read to me or gave me any copy of the [document]," he insisted.) But his lawyer at the time did not notice that the I-826 form was fraudulent, and the immigration judge accepted its validity. Lanuza attempted to subpoena the immigration agents who had allegedly asked him to sign the form, but the judge denied his request. Instead, he ordered Lanuza removed on the basis of the forged form, a decision affirmed by the Board of Immigration Appeals.
It was not until Lanuza obtained new counsel—the Seattle firm Dobrin & Han—that anyone carefully scrutinized the document. Hilary Han, his lawyer, sent it to a forensic document examiner, who noticed the DHS discrepancy as well as a host of irregularities. He concluded that Love had used a real DHS document as his template, then used "erasure, deletion or overlay of text" to conceal its original content. Mismatched handwriting, a suspect signature, and the use of white-out to obscure key information all pointed toward manipulation, as well.
In February 2012, Lanuza took this evidence to the Board of Immigration Appeals. The board reopened his case, citing the "seriousness and particularity of the allegations," and directed the immigration judge to conduct a full hearing. In January 2014, nearly five years after Lanuza was condemned to deportation, the judge made him a lawful permanent resident.
Ten months later, with the help of the Northwest Immigrant Rights Project, Lanuza filed his lawsuit against Love. The suit finally spurred ICE's Office of Professional Responsibility to investigate Lanuza's allegations, which found them credible. In January 2016, prosecutors took action against Love, charging him with deprivation of constitutional rights under color of law. In addition to serving 30 days in jail, he agreed to stop practicing law for 10 years and paid Lanuza $12,000.
It is galling, though not surprising, that ICE did not investigate Love for more than a year and a half after Lanuza initially pointed out the forgery. ICE must have known about the evidence when Lanuza's attorney asked that the case be reopened. But the agency apparently did not see fit to immediately alert federal prosecutors that one of its lawyers had broken the law. Had Lanuza not filed suit, ICE might never have investigated Love at all. In May, when a federal judge found that ICE officers had fabricated evidence in a different deportation case, he condemned ICE attorneys for endorsing agents' blatant falsehoods in court. The Lanuza case represents another example of ICE employees—both law enforcement officers and lawyers—covering each other's tracks.
Lanuza's lawsuit was placed on hold during Love's prosecution, and it has since dragged on due to Love's status as a federal agent. While victims of federal misconduct can, in theory, seek damages for their suffering, the Supreme Court has made these suits increasingly difficult to win. In 2015, a federal court tossed out the bulk of Lanuza's suit. He appealed the decision to the 9th U.S. Circuit Court of Appeals, which reinstated his suit on Tuesday. The court acknowledged that civil actions against federal agents are "disfavored" but held that Lanuza's case constitutes "a proper use of our judicial power."
"At its core," the court concluded, "this case is about a lie, and all the ways it was used, over several years, to defraud the courts. Government attorneys are given great power, and with that power comes great responsibility." Love exploited his responsibilities to torment an immigrant. The Constitution gives his victim the right to seek recompense in the courts.
Throughout its opinion, the court stressed that its holding was limited to these "narrow" and "egregious" facts—malicious fabrication of evidence by an officer of the federal government. ICE has been caught concocting false evidence before, but not many of its targets will be able to meet this high bar of proving that agents falsified evidence against them. At best, Lanuza's procedural victory this week could inspire more immigrants to come forward with claims of ICE's lawlessness. Few may triumph, but at minimum, they will help Americans grasp the corruption at every level of the agency.
That corruption is, sadly, bipartisan. Lanuza's ordeal occurred during Obama's tenure, as the president foolishly turned ICE into a vicious deportation machine. The agency waited for years before punishing Love despite ample evidence that he had engaged in criminal conduct.
Love's fraud is a symptom of a deeper illness. Calls on the left to abolish ICE do not simply reflect knee-jerk opposition to Trump. They indicate a growing understanding that the agency's relentless deportation drive is antithetical to justice.