The White House fired a speechwriter named Darren Beattie last week after the CNN investigative "KFile" unit discovered he'd spoken at a 2016 conference that featured a number of prominent white supremacist pseudo-intellectuals. Media accounts have highlighted Beattie's appearance on a panel with an individual named Peter Brimelow, a prominent extremist known for advocating immigration policies intended to maintain white control of American government. (Brimelow has said, among other things, that "Hispanics … specialize in rape.") The schedule from the 2016 event, held by a group called the H.L. Mencken Club, indicates that there was a third participant on Beattie and Brimelow's panel, an author named Ilana Mercer … and she also turns out to be a real piece of work, racism-wise!
Mercer's primary contribution to the world of arts and letters, it appears, is a book about her native South Africa. It's called Into the Cannibal's Pot, it's about the end of apartheid, and this image is on its cover: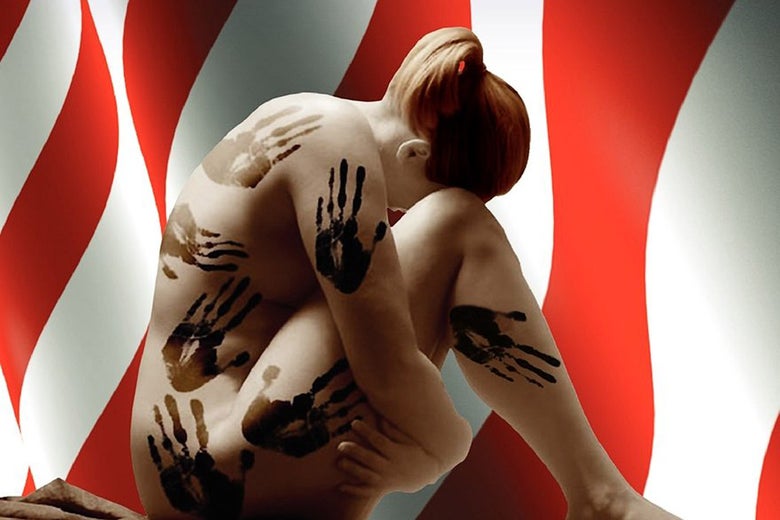 It may not surprise you, given that insanely unsubtle symbolism and title, to learn that Mercer thinks that getting rid of apartheid has been bad for South Africa—and that, broadly, white people shouldn't support democracy in countries in which they're a minority population because they will be exterminated by nonwhite savages.
That Beattie would be fired for associating with these kind of individuals makes sense from a PR perspective—but, on the other hand, it also doesn't make sense, given that Trump-orbit figures like Steve Bannon, Stephen Miller, and Donald Trump Jr. have been promoting white supremacist/white nationalist ideas and cultivating connections to the white-power community for years now. Mercer's ideas specifically seem to converge with those articulated by Bannon, who has said that current world events remind him of the apocalyptic 1973 race-war novel The Camp of the Saints, in which whites must fight for survival against "dirty Arabs," "niggers," and an Indian warlord who eats human excrement. (Bannon left the White House in 2017, but his departure didn't have anything to do with his views on race.)
The curious thing for future historians to parse out, if reading and writing exist in the future, is that the modern United States is, for its various faults, an overall prosperous place where employment rates are high, crime has been falling for years, and immigrants live successfully with native-born individuals in various thriving locales. It isn't a place in which white people, as a distinct group, are threatened by anything more material than symbolic protests and acts of cultural inclusion. Far from being premised on racial redistribution, the most radical policies proposed by the political party most strongly identified with ethnic diversity would benefit huge portions of the white population. And yet we are led by individuals who seem sincerely convinced that European-descended U.S. whites are in danger of being totally destroyed at any moment by immigrant rape and cannibalism. It's weird.