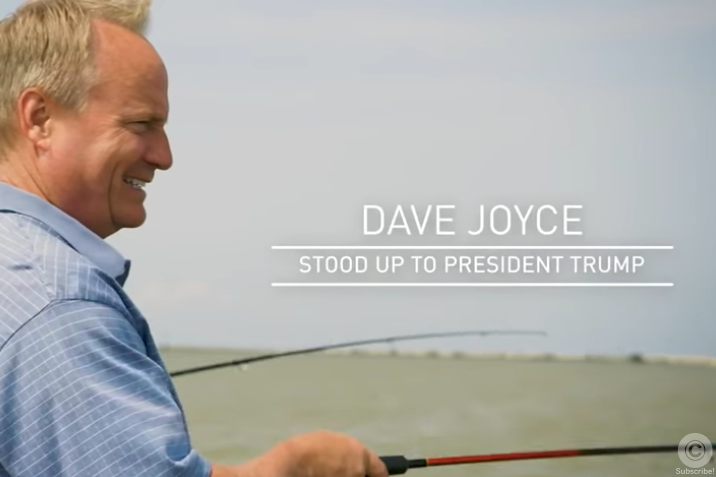 If there's been one electoral constant in the age of Trump, it's that Republican candidates do not go out of their way to highlight their disagreements with the president. The vast majority who do have been pushed into early retirement, seen their political careers ended by a tweet, or been forced to humiliate themselves to get back into Trump's good graces. Now, a little-known Republican congressman is testing whether that rule still holds in a post-primary reality.
That "Regular Guy" is Rep. Dave Joyce, who is running for a fourth term in Ohio's 14th Congressional District. "When Republican leaders in Congress tried to take away protections for pre-existing conditions, I said no," he boasts of his House vote against repealing the Affordable Care Act last year. (Not mentioned: His two dozen or so votes for repeal back when such efforts had no chance of becoming law under President Barack Obama.) "I won the fight to fund the Great Lakes restoration, and when President Trump tried to take it away, I said no again," he says of his vote to include $300 million in funding for the Environmental Protection Agency effort, which Trump opposed. And then the big finish: "I'm Dave Joyce and I approve this message, because I'll do what's right for northeast Ohio, even if it means standing up to my own party."
None of that is going to earn Joyce a spot in the #resistance or even on Team #NeverTrump. Joyce doesn't use the word Obamacare, and he credits the move to dismantle the law to nameless "Republican leaders." The Great Lakes effort is important, yes, but it's not going to ignite passions as much as Robert Mueller's Russia investigation, Trump's brewing trade war, or any number of other higher-profile issues. And Joyce's campaign has been careful to dispute the notion that the ad is "anti-Trump." Still, in today's GOP, this is as bold as it gets.
Another Republican congressman, Rep. Erik Paulsen of Minnesota, took a similar local, water-motivated jab at Trump last month. His Minneapolis-area district, however, is purple. Joyce's district is solidly red, the kind where a noncontroversial Republican incumbent should be able to sail to victory. Joyce, however, has drawn a credible Democratic challenger in civil rights lawyer Betsy Rader, and while nonpartisan handicappers don't yet see the race as competitive, this ad suggests Joyce is getting nervous.
One likely reason: last week's Ohio special election, where Troy Balderson appeared to barely hang on to a GOP seat in a district, the 12th, that looks an awful lot like Joyce's. The 14th is a mix of Cleveland suburbs and working-class towns along Lake Erie; the 12th is a mix of Columbus suburbs and working-class towns in the middle of the state. The 14th scores as an R+5 on the Cook Political Report's partisan index, while the 12th scores an R+7. Trump won both by 11 points two years ago, and neither has elected a Democrat to the House since 2000. Joyce appears to have seen last week's close call and decided Balderson's mistake was running toward Trump as hard as he did instead of inching away, however slightly.
The question now is whether Trump will return fire or let the dig go. Given that Joyce's primary has come and gone, the president's hands would appear to be tied. The 14th is the kind of district Republicans can't afford to lose, and so the obvious play would be for Trump to ignore the slight. In that world, Joyce can hope the ad wins over some Trump-skeptical moderates and trust that Trump superfans will still turn out when the president spends election week telling everyone to vote GOP. It's a strategy that other vulnerable Republicans would be wise to consider. As with most things, though, the wildcard is Trump's ego. Joyce's public disagreement with the president over the Great Lakes also involves a matter Trump cares infinitely more about: his belief that he alone can keep the GOP in power.
---