The British Sun tabloid published a big scoop as Donald Trump arrived in the U.K. to meet with Prime Minister Theresa May: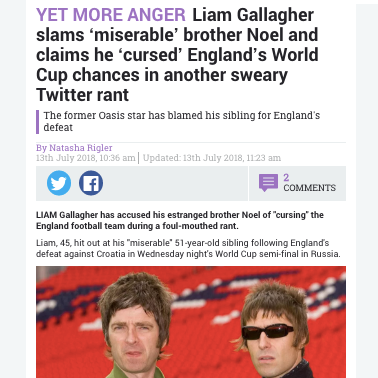 Ah, no, sorry, that's an article about the guys from Oasis fighting about soccer. The actual scoop was an interview with POTUS in which he said that May's just-announced plan for a friendly post-Brexit trade agreement with the EU would constitute the "end" of Britain's "major trade relationship with the United States," that May had ignored his advice on the issue, that she was making "a much ­different deal than the one the people voted on" in the country's Brexit referendum, and that just-resigned U.K. foreign secretary Boris Johnson "would be a great Prime Minister." (You know, someday.)
The best part of the interview was that it was published just before Trump and May held a Friday press conference together. The first reporter called on for a question at the press conference, naturally, noted that Trump had "publicly criticized the prime minister's policy and her personally for not listening to you." His response, just as naturally, was to deny having done so. The video is above; here's the transcript:
I didn't criticize the prime minister, I have a lot of respect for the prime minister, and unfortunately there was a story that was done, which was generally fine, but it didn't put in what I said about the prime minister, and I said tremendous things. Fortunately we tend to record stories now, so we have it for your enjoyment if you would like it. But we record when we deal with reporters … It's called fake news and we solve a lot of problems with the good old recording instrument.
The Sun, as it happens, also has the good old recording instrument (?) and has posted audio of Trump saying what it quoted him as having said. (Audio, which, for the record, does in fact include him calling May "a nice person" who he "like[s].")
If you're being very generous, perhaps you could argue that Trump didn't directly criticize May—he just said that she was making a huge mistake on the massively critical issue she was specifically elected to deal with, that her screw-up would ruin the U.K.'s also-critical relationship with the U.S., and that one of her prominent rivals would be perfect for her job. No big deal, really!