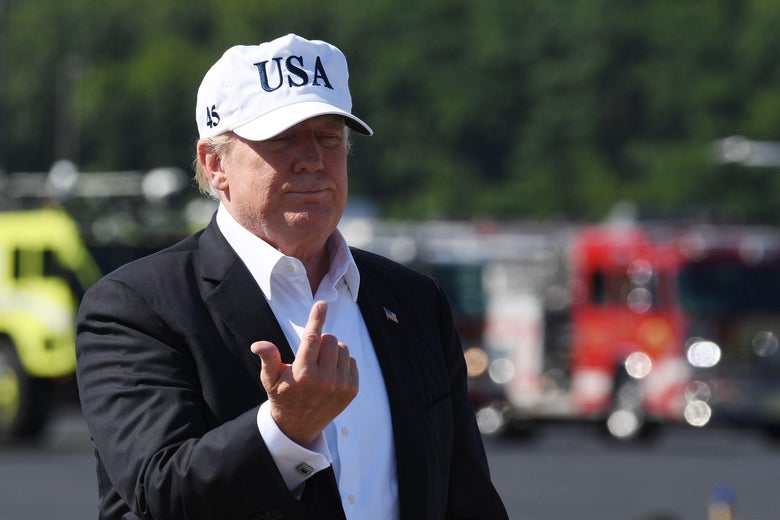 President Donald Trump appears to be doing everything in his power to build up suspense ahead of his self-imposed Monday night deadline to announce his second Supreme Court nominee. As of late Sunday afternoon, Trump had yet to make a clear decision in what many saw as an effort by the former reality television star to ensure all eyes will be on his announcement that is scheduled for Monday at 9 p.m. Some are describing the last minute back-and-forths to announce the replacement for Justice Anthony M. Kennedy as "insane," as one source put it to NPR.
"We are close to making a decision," Trump told reporters Sunday afternoon. "It's, well, let's just say it's the four people. Every one you can't go wrong. I'll be deciding tonight or tomorrow, sometime by 12 o'clock, and we're all gonna be meeting at 9 o'clock. And we have a great country, folks."
The president appears to have narrowed the choices to four federal appeals court judges: Brett Kavanaugh, Raymond Kethledge, Amy Coney Barrett, and Thomas Hardiman. The New York Times notes that Trump has been "expressing fresh interest" in Hardiman, who came close to being nominated last year. Although the Times is careful to note the decision is far from certain, Trump associates say the president appears to have been particularly drawn to Hardiman's personal story. Hardiman was the first of his family to graduate from college and he drove a taxi to help pay for his studies. He also comes with the seal of approval of Trump's sister. The Washington Post is also reporting that Hardiman has received a wave of attention over the weekend.
"He's got a story that's compelling beyond the taxicab," former senator Rick Santorum said in an interview with the Post. "I'm talking to people about his service work with his church in West Virginia and about how he has helped people seeking asylum from communist countries. He speaks Spanish. His wife comes from a Democratic family, and he knows how to engage with all kind of people, not just Republicans."
For now it seems Kethledge has been ruled out, according to the Times.
Leonard Leo, a judicial activist who has been advising Trump on potential nominees, named Kethledge as one of two candidates who could be a tougher sell to conservatives. The other tough sell? Hardiman. "I think in regards to Kethledge and Tom Hardiman they are a little less known by conservatives and their records are a little bit lighter so it might take some time," Leo told ABC's This Week. "It's important to have people who are extremely well known and have distinguished records." But in a clear sign of the mixed signals coming out of Washington, Kethledge and Hardiman are precisely the two judges that Senate Majority Leader Mitch McConnell is urging Trump to pick, according to the New York Times.
Once the announcement is made, White House officials are prepared to "hit the ground running" and promote Trump's pick quickly in the media "before opponents have time to define the person in a negative light," reports Politico. David Bozell, the president of the conservative grass-roots organization ForAmerica, said that the confirmation battle for Justice Kennedy's replacement "is going to be the Super Bowl of politics in 2018."
---