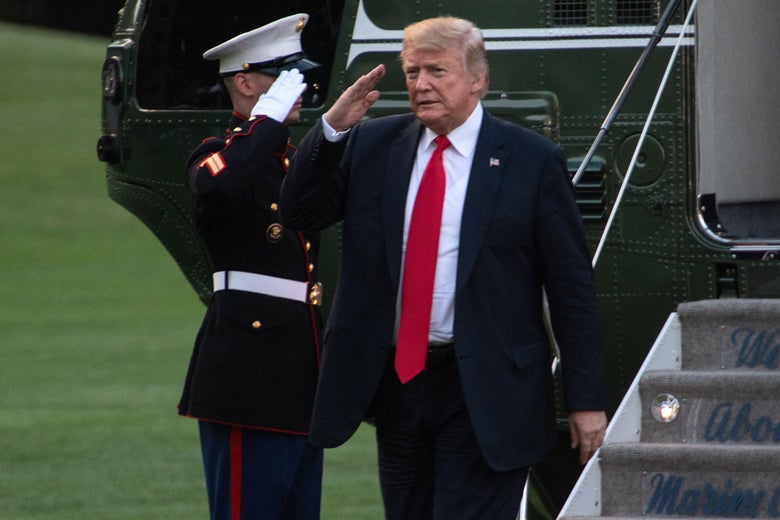 President Donald Trump took a time out from his regular Sunday afternoon activities at his New Jersey golf club for yet another Twitter tirade. This time the target was the news media as Trump escalated his long-standing feud with journalists shortly after New York Times Publisher A.G. Sulzberger warned him of the violence that could result from his rhetoric. The series of four tweets accused journalists of putting people's lives at risk through their reporting and specifically singled out two newspapers for what he described as negative coverage of his administration.
"When the media — driven insane by their Trump Derangement Syndrome — reveals internal deliberations of our government, it truly puts the lives of many, not just journalists, at risk! Very unpatriotic!" Trump wrote. The commander in chief then said he "will not allow our great country to be sold out by anti-Trump haters in the dying newspaper industry." He then went on to cite "the failing New York Times" and "the Amazon Washington Post" for writing "bad stories even on very positive achievements."
The Twitter rant came mere hours after Trump said he had a "very good" meeting with Sulzberger. The New York Times publisher later contradicted the president's account of the White House sit-down. In a statement, Sulzberger said he warned Trump that his "deeply troubling anti-press rhetoric" is ultimately "contributing to a rise in threats against journalists and will lead to violence." Sulzberger expressed specific concern with the president's penchant for calling journalists "the enemy of the people."
Trump didn't stop his Twitter tirade with his attacks on the media. He also blasted special counsel Robert Mueller, specifically questioning his credibility and impartiality to be carrying out his investigation. "The Witch Hunt is an illegal Scam!" Trump wrote. He also questioned whether Mueller will ever "release his conflicts of interest with respect to President Trump, including the fact that we had a very nasty & contentious business relationship." The president went on to accuse Mueller of "only appointing Angry Dems" and wondered why he isn't "looking at all of the criminal activity & real Russian Collusion on the Democrats side-Podesta, Dossier?"
Support our independent journalism
Readers like you make our work possible. Help us continue to provide the reporting, commentary, and criticism you won't find anywhere else.
Join Slate Plus
Join
---