A day-long strike and day of demonstrations by Israel's LGBT community and its allies ended in a huge demonstration with some 60,000 people gathering at a main plaza in Tel Aviv on Sunday night to protest the exclusion of gay men from a new surrogacy legislation. Israel's gay community is angry at Prime Minister Benjamin Netanyahu for going against his word and voting against a measure that would have supported surrogacy for gay fathers in what everyone saw as a bow to pressure from the Orthodox wing of his coalition.
Demonstrators protested all day and even blocked a main highway in Tel Aviv at one point. Some 200 companies had said before Sunday that they would allow their employees to have paid leave to attend the protests, so they could participate in the strike without fear of retribution. In Jerusalem, hundreds protested outside Netanyahu's residence.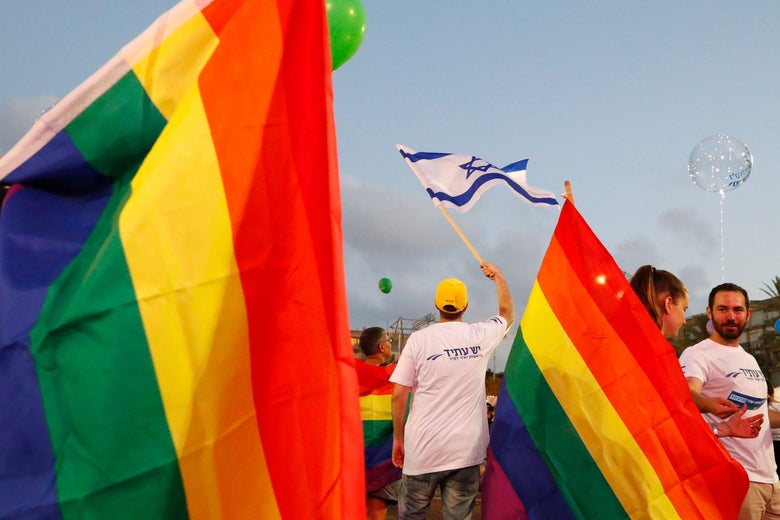 The massive demonstrations came after days of anger following Netanyahu's flip-flop. Under the legislation, single women would be allowed to seek state support for surrogacy treatment. But, crucially, Netanyahu did not support an additional amendment that would have also granted the same right to single fathers. Netanyahu defended his decision, saying that the entire legislation would have been doomed to failure with that amendment and he vowed to revisit the issue in the future.
The massive protests were meant to send a message to the government that the LGBT community is not willing to be treated like second-class citizens anymore and wait their turn for equal rights. "We will no longer be silent. This struggle is not only about the rights of the [LGBT] community but on the image of the country. This is the 21st century. People are not seated at the back of the bus because of the color of their skin and they will not be deprived of the right to be parents due to their [sexual] orientation," Zionist Union Knesset member Itzik Shmuli, who is gay, told the crowd at Rabin Square in Tel Aviv.
Although gay marriage is not legal in Israel, the country does recognize marriages performed abroad. Besides, the fight for LGBT rights is not really centered around marriage. Religion is so intertwined with marriage in Israel that there are lots of other people who are forbidden from tying the knot, including couples of different religions. "So LGBT couples are not alone in their fight for marriage equality," notes Haaretz. "However, when it comes to having children—in both the case of adoption and now in surrogacy—the LGBT community is the sole target of what it views as a violation of a basic right."