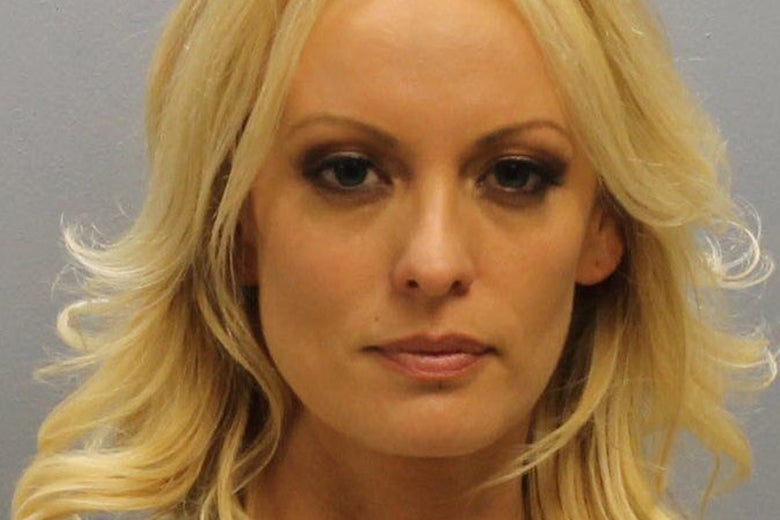 Update, 1:55 p.m.: A Columbus judge has approved a city prosecutor's motion to drop the three misdemeanor charges against Stormy Daniels because the statute under which police arrested her only covers contact between dancers and patrons when said dancer "regularly appears" at a given "sexually oriented business." Daniels had never appeared at the Sirens club before Thursday night, the filing notes, and the state therefore "cannot prove every element of these offenses beyond a reasonable doubt." (Added the city attorney in a statement: "My office was not involved in this sting operation [against Daniels], so any additional questions about it must be directed to the Columbus Division of Police." Lol.)
Original post, 10:46 a.m.: A team of four (!) undercover officers staked out alleged Donald Trump paramour Stormy Daniels' Wednesday appearance at a Columbus, Ohio, strip club and then called in backup (!!!) to have her arrested for illegal breast- and buttock-related contact, Columbus authorities say.
A police report says that officers at the Sirens club witnessed Daniels "forcing the faces of …. patrons into her chest and using her bare breasts to smack the patrons" before they approached the stage themselves for further investigation. (Ohio law prohibits any contact between nude/seminude dancers and patrons.) From Ohio's WBNS :
The report states that when the officers approached the stage, Daniels held the face of the female officer between her breasts. It also says she did the same to a male officer. The report goes on to say Daniels fondled the buttocks and breasts of another officer. At that point, court documents state that a fourth officer exited the club to request assistance to make an arrest.
Daniels' attorney Michael Avenatti says she will plead not guilty to the three misdemeanors she's been charged with.
An ABC affiliate reports that two other Sirens performers, Brittany Walters and "Miranda Panda," were arrested and charged with similar offenses.
The officer who wrote the police report, incidentally, stated that his role in the events described at Sirens while he was "standing back near the bar area witnessing the criminal activity." Folks—it's a tough job, but someone's gotta do it.
---