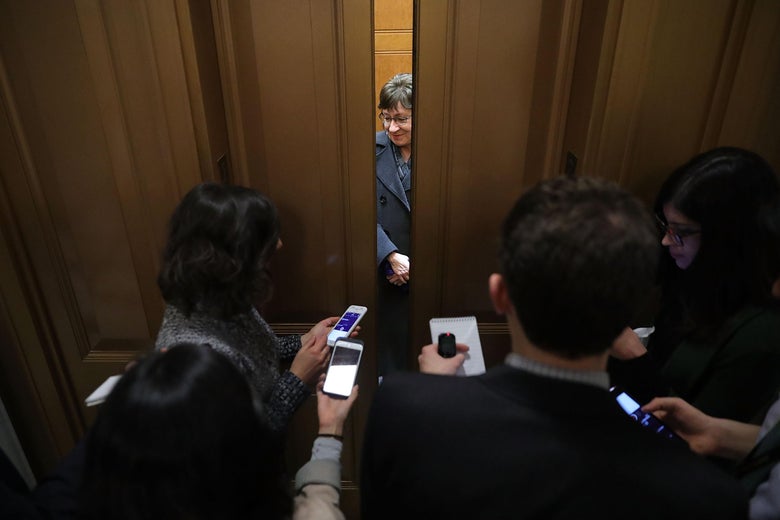 Mitch McConnell warned President Trump about nominating Brett Kavanaugh. But Trump did it anyway, and now it'll be up to McConnell to shepherd Kavanaugh through his narrowly divided chamber. Kavanaugh's fate will rest with just a handful of those senators, chief among them five red-state Democrats and two moderate Republicans who support a woman's right to have an abortion. The GOP holds 51 seats, but John McCain has been undergoing treatment in Arizona, leaving McConnell almost no wiggle room to assemble the 50 votes needed to seat Kavanaugh.
Here's where the key players stand today:
The pro-choice Republicans
Sens. Susan Collins of Maine and Lisa Murkowski of Alaska are the rare pro-choice Republican lawmakers, and yet, the possibility of either defecting seems like a long shot. Collins has chosen her words carefully, saying in the past that she can't support a nominee who has demonstrated "hostility" to Roe, but it's unclear exactly what that means. Murkowski, meanwhile, has said that a nominee's views on abortion would factor into her decision, but that it wouldn't serve as a litmus test. Neither tipped their hand following Trump's Monday night announcement.
Susan Collins: "I will conduct a careful, thorough vetting of the President's nominee to the Supreme Court, as I have done with the five previous Supreme Court Justices whom I have considered. I look forward to Judge Kavanaugh's public hearing before the Senate Judiciary Committee and to questioning him in a meeting in my office."
Lisa Murkowski: "I intend to review Judge Kavanaugh's decisions on the bench and writings off the bench, and play careful attention to his responses to questions posed by my colleagues on the Senate Judiciary Committee. …. I intend to carefully consider [his American Bar Association] rating, the information obtained through personal meetings, my own review of Judge Kavanaugh's qualifications and record, and the views of Alaskans in determining whether or not to support him. My standard for reviewing Supreme Court nominees remains rigorous and exacting."
A Republican wild card
Collins and Murkowski aren't the only Republicans who could need some convincing. Sen. Rand Paul reportedly voiced concerns to colleagues last week about Kavanaugh's role in George W. Bush's White House—Kavanaugh worked in the administration before Bush appointed him to the U.S. Court of Appeals for the D.C. Circuit—and is apparently worried he is too deferential to the executive branch. The libertarian-leaning Paul, however, has not yet gone public with those concerns.
Rand Paul: "I look forward to the upcoming hearings, reviewing the record, and meeting personally with Judge Kavanaugh, with an open mind."
The Democrats who voted for Neil Gorsuch
The three Democrats seen as most likely to vote for Kavanaugh are the same ones who voted last year to confirm Neil Gorsuch: Joe Donnelly of Indiana, Heidi Heitkamp of North Dakota, and Joe Manchin of West Virginia. All three are up for re-election this November in states Trump won big in 2016 and, to varying degrees, have each touted their willingness to work with the president. Of the three, it was Manchin who got the most specific—and the most skeptical—with his post-announcement statement, suggesting he'll be most focused on Kavanaugh's views on health care, which has already emerged as the Democrats' primary talking point against Kavanaugh.
Joe Manchin: "Just as I did when Merrick Garland and Neil Gorsuch were nominated, I will evaluate Judge Kavanaugh's record, legal qualifications, judicial philosophy and particularly, his views on healthcare. The Supreme Court will ultimately decide if nearly 800,000 West Virginians with pre-existing conditions will lose their healthcare. This decision will impact almost 40% of my state, so I'm very interested in his position on protecting West Virginians with pre-existing conditions."
Joe Donnelly: "As I have said, part of my job as Senator includes thoroughly considering judicial nominations, including to the Supreme Court. I will take the same approach as I have previously for a Supreme Court vacancy. Following the president's announcement, I will carefully review and consider the record and qualifications of Judge Brett Kavanaugh."
Heidi Heitkamp: "All that changes for me is that we now have a nominee … Now I'll get to work to thoroughly review and vet his record to provide advice and consent for filling this vacancy. … An exhaustive and fair process took place for Justice Gorsuch, who I supported, and it should and must take place again now."
The endangered Democrat who voted against Neil Gorsuch
Sen. Claire McCaskill, who has her own harrowing re-election race in November, took a gamble and voted against Gorsuch last year. Her Republican challenger began using the SCOTUS pick as a weapon against her even before Trump announced his pick, and she previously said she doubted the president would nominate anyone she could support. On Monday, the Missouri senator kept things short and bland, though the press release that contained her statement noted that she "has voted in support of more than two-thirds" of Trump's judicial nominations.
Claire McCaskill: "I look forward to thoroughly examining Judge Kavanaugh's record in the coming weeks as the Senate considers his nomination to replace Justice Kennedy."
A Democratic wild card
During last year's special election in Alabama, Doug Jones declined to say whether or not he would have voted to confirm Gorsuch. He won't have that luxury this time around. While Jones is not up for re-election until 2020, a vote against Trump's nominee could come back to cost him in the ruby-red state. Prior to the announcement, Jones suggested he could potentially vote for Trump's pick, and he struck the same tone on Monday night.
Doug Jones: "Tonight's announcement is only a first step. A thorough vetting of Judge Kavanaugh's body of work will be critical for the Senate to fulfill its shared responsibility—which I take very seriously. I will be diligent in measuring the record and in undertaking an independent review."
Support our journalism
Help us continue covering the news and issues important to you—and get ad-free podcasts and bonus segments, members-only content, and other great benefits.
Join Slate Plus
Join
---