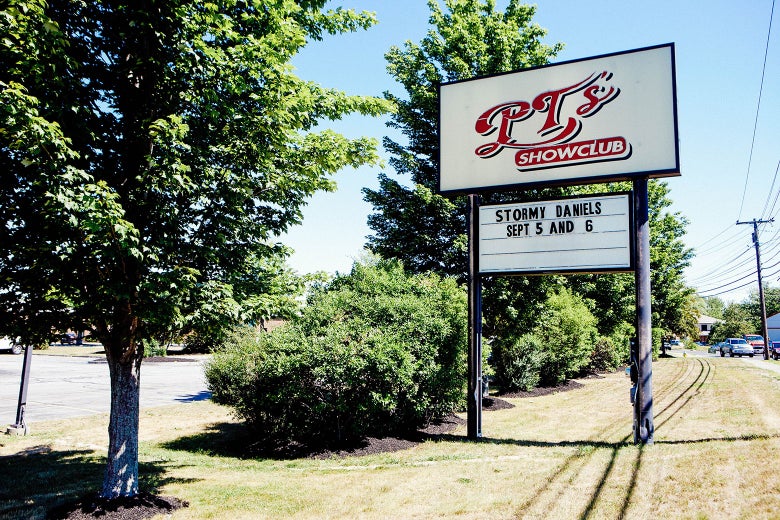 A muckraking local news site in Ohio says it's obtained evidence from a Columbus city whistleblower that Stormy Daniels' July 12 arrest on quickly dismissed charges of illegal sexual touching was planned days in advance:
A whistleblower from the City of Columbus contacted the Advocate with numerous emails between several high-ranking Columbus police detectives and VICE officers.

Inside the emails are news clippings discussing Daniels' planned appearance in Columbus, pictures of Daniels with President Donald Trump, videos of her dancing, and even a map to the club where she would be performing, all sent days before she would pull into town on her tour bus.
Daniels, the adult-film actress and director who was paid in 2016 by Donald Trump attorney Michael Cohen to keep quiet about her alleged earlier affair with the now-president, has been appearing at strip clubs across the country during her so-called "Make America Horny Again" tour. She was arrested at Columbus's Sirens club after a team of four undercover officers said she violated state laws against physical contact between dancers and patrons at "sexually oriented" businesses, but the charges were dismissed because the law as written only applies to individuals who appear "regularly" at a given establishment.
After Daniels' arrest, Columbus police claimed in a statement that her arrest was part of a "long-term investigation" into "human trafficking, prostitution, & other vice related violations." Daniels' high-profile lawyer Michael Avenatti, however, asserted she may have been targeted for political reasons, and a subsequent statement by Columbus' police chief said the "motivations" that led the four officers involved in the arrest to be at Sirens on the night Daniels appeared would be investigated. While the emails obtained by Ohio's Fayette Advocate don't prove that Daniels was the victim of a sting by Trump partisans per se, they do show that the police department's initial statement was misleading, demonstrating that one of the officers (Shana Keckley) had researched Daniels' appearance in advance and then, after the arrest, emailed another officer about it with the suggestive message "You're Welcome!!!!!….Thank me in person later."
As they say: Developing …
Support our journalism
Help us continue covering the news and issues important to you—and get ad-free podcasts and bonus segments, members-only content, and other great benefits.
Join Slate Plus
Join
---