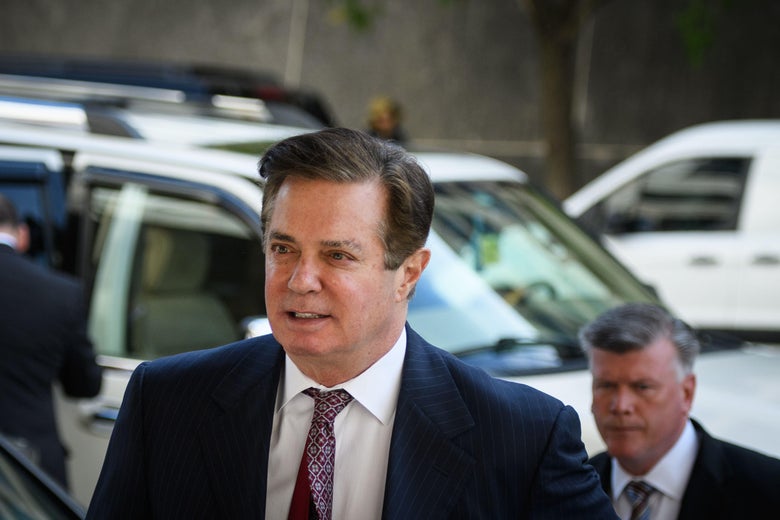 Paul Manfort has repeatedly bumbled his way through his criminal proceedings since special counsel Robert Mueller indicted him last year on charges related to allegedly undisclosed lobbying work for a pro-Russian political party in Ukraine. In December, the former Trump campaign manager was caught allegedly attempting to plant a ghostwritten op-ed in the press about how he was just a good man being railroaded by a corrupt system. (Investigators learned of this through an emailed word document with Manafort's "track changes.") Last month, Manafort was charged with attempted witness tampering after being caught allegedly sending encrypted text messages encouraging witnesses to mislead investigators. (One of the text messages read simply: "This is paul.")
After he was placed in jail following that latest shenanigan, it seemed as though there might be less opportunity for Manafort to embarrass himself through easily discovered efforts to monkey with his case. On Wednesday, that expectation was proven incorrect.
Responding to a filing by Manafort requesting a continuance in his case in the Eastern District of Virginia, Mueller's team used audio recordings of Manafort taken from jail to demonstrate that the basis for his continuance request appears to have been a sham. Manafort's attorneys argued that he was seeking a continuance in his Virginia case—which covers charges of bank and tax fraud and is set to begin on July 25—because his detention in Warsaw, Virginia, was preventing him from communicating with his lawyers in a way that allowed him to mount an adequate defense. Manafort argued he needed more time to prepare his case because of the conditions in jail.
As Mueller's team pointed out, though, even if Judge T.S. Ellis granted a continuance of multiple months in the Virginia case, Manafort would still face a September trial date in Judge Amy Berman Jackson's D.C. courtroom on charges of obstruction of justice, money laundering, unregistered lobbying, false statements, and conspiracy against the United States. Manafort has not requested a continuance in that case, which would presumably be affected by the same concerns.
In a filing on Wednesday, Mueller's team revealed recorded conversations that offered an alternative possible explanation for the reason behind Manafort's requested continuance: It's part of some kind of game plan. Mueller alleges that Manafort, in a phone conversation recorded from jail, suggested to a listener that it would be preferable for him to go on trial in D.C. before going on trial in Virginia for strategic reasons. "Think about how it'll play elsewhere," Manafort told this person in a June 20 phone call. "There is a strategy to it, even in failure, but there's a hope in it."
Even if the court were to take Manafort at his word about his reasons for wanting the continuance, other calls belied Manafort's description of his jail conditions, the ostensible basis for the need for the continuance. In his continuance request, Manafort's attorneys argued that he has "very limited access to his attorneys and the records." In his counterfiling, Mueller described Manafort as having ample access to his attorneys and cited other recorded conversations in which Manafort himself seemed to contradict this argument.
From the filing:
In fact, Manafort has reported, in a taped prison call, that he has reviewed all discovery: Just days before filing his motion for a continuance, Manafort told the person on the call that, "I've gone through all the discovery now." And he has had extensive access to his counsel and materials: On July 4, 2018, Manafort remarked in a taped prison call that he is able to visit with his lawyers every day, and that he has "all my files like I would at home."
Mueller further noted that conditions on Manafort are "less restrictive" than other inmates, who don't require similar delays.
Again, Mueller cited a Manafort phone call in which he said he was being treated like a "VIP." Indeed, here's how the special counsel's office described Manafort's situation in jail:
Among the unique privileges Manafort enjoys at the jail are a private, self-contained living unit, which is larger than other inmates' units, his own bathroom and shower facility, his own personal telephone, and his own workspace to prepare for trial. Manafort is also not required to wear a prison uniform.
Judge Ellis had attempted to accommodate Manafort's purported concerns about not being close enough to his attorneys. But when the judge presented Manafort with the opportunity to move to a jail closer to his criminal venues in Alexandria, Virginia, and Washington in order to address this issue, his attorneys attempted to turn it down, citing concerns about his safety. In a filing published on Wednesday, Judge Ellis rejected this request, ordering Manafort moved to a detention facility in Alexandria in order to ensure he has the access to his attorneys that he says he needs.
---