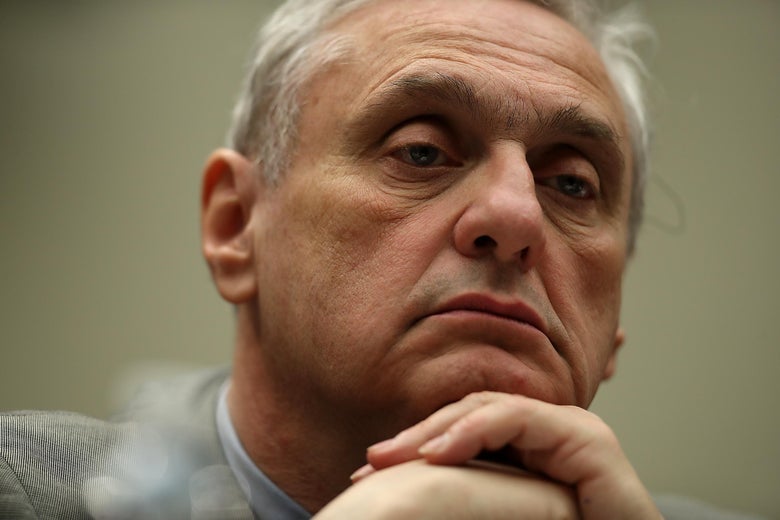 On Monday, the Daily Journal, a paywalled legal publication based out of California, published an essay by former 9th Circuit judge Alex Kozinski—the piece, entitled "Kennedy and I," is a glowing tribute to retiring Supreme Court Justice Anthony Kennedy. Kozinski is also retired: He stepped down from his judgeship at the end of 2017 after more than 15 women, many of them former clerks of his, credibly accused him of sexual misconduct and workplace harassment. (In a statement responding to the allegations, Kozinski wrote "I treat all of my employees as family and work very closely with most of them. I would never intentionally do anything to offend anyone and it is regrettable that a handful have been offended by something I may have said or done.")
The allegations echoed what had widely been regarded as an "open secret" in the legal world, and made headlines in the Washington Post, as well as in Slate. But on the Daily Journal's July 9 Kennedy tribute, Kozinski's bio makes no mention of the circumstances of his retirement: "Alex Kozinski Circuit Judge (retired), 9th U.S. Circuit Court of Appeals. Judge Kozinski served as a law clerk for Justice Kennedy from 1975 to 1975 and as Justice Kennedy's colleague from 1985 to 1988 when Kennedy was a Ninth Circuit judge."
A group of 13 women, including lawyers, law professors, and former Kozinski clerks, sent a letter to the editor of the Daily Journal, which the publication printed today, criticizing the journal for publishing an article by Kozinski without noting why the judge had stepped down from his post. The women slammed the Daily Journal, calling the decision "at best disappointing and at worst a failure of journalistic values." Because the Journal is paywalled, the women have also published their letter in full themselves; it is available here.
Prior to his resignation in 2017, Kozinski was a prominent, powerful jurist, serving as a judge on the 9th Circuit for more than 30 years. In December 2017, a group of women came forward and alleged that during Kozinski's long tenure at the 9th Circuit, he repeatedly harassed his female employees. Several of his former female clerks allege that he behaved inappropriately toward them, including showing them pornography in his chambers, inappropriately touching them, making inappropriate sexual comments, and propositioning them. Slate's Dahlia Lithwick wrote about her own similar experiences with Kozinski while she was a clerk for the chief judge of the Ninth Circuit Court of Appeals in 1996.
The women's letter to the editor—which is signed by several of the women who came forward about Kozinski's sexual harassment last year—pushes back on the legal publication's attempt to let his transgressions slide:
When he resigned, Kozinski was under investigation by the U.S. Court of Appeals for the Second Circuit. His decision to step down preempted that misconduct inquiry and preserved his pension. It appeared that the only consequence to him would be loss of the public platform afforded by his judicial robes. By publishing Kozinski's piece as merely an anodyne tribute by a former judge to his judicial mentor—without acknowledging the serious misconduct alleged by externs, clerks, members of the bar, law students, law professors, and even one of his fellow judges—the Daily Journal is asserting to the legal profession that Kozinski retains the cloak of judicial prestige. Women hear the message loud and clear: If we come forward with credible allegations of deplorable conduct, nobody will care (at least, not in six months' time).

Those who seek to eliminate sexual harassment must reduce the influence of harassers. This choice imposes a cost: A legal organization may forego the full house that a controversial speaker can secure for a fundraiser; a law firm may pass on a lucrative but problematic client; a law school may give up an avenue to place its students in clerkships; a professor may lose an important, powerful professional ally; a lawyer who desires to be known only for her work may become permanently associated with a high-profile jurist's shameful departure from the bench. Doing what is right is rarely easy.
The letter goes on to urge the publication to consider what kind of message it is sending to victims of sexual harassment and abuse: "Daily Journal's decision to publish Kozinski in the manner that it did on July 9 speaks to how easily victims and their stories are cast aside in favor of their charismatic harassers."
---