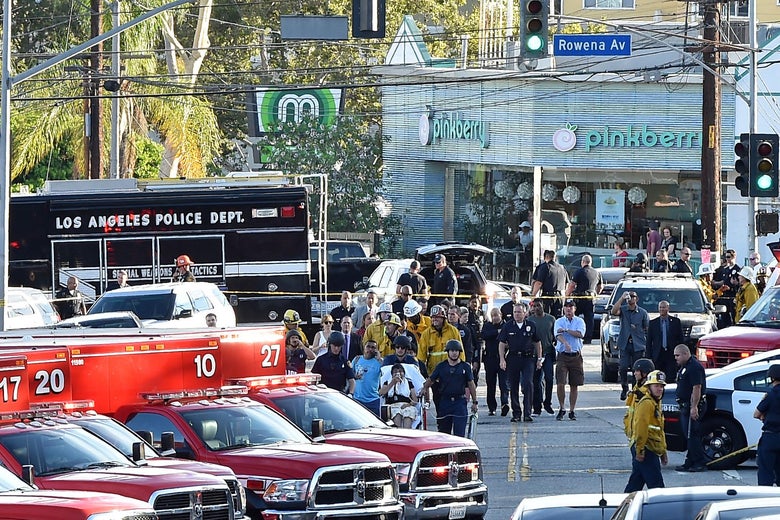 A Trader Joe's employee died Saturday and was the only immediate fatal victim of a tense hostage situation at a Los Angeles Trader Joe's that went on for several hours before the suspect agreed to surrender to police. Before bursting into the Trader Joe's, the 28-year-old suspect had shot his grandmother at least seven times and another woman, who was later identified as the gunman's girlfriend. It still isn't clear what sparked what appears to have been a family dispute. The suspect then dragged his girlfriend into his grandmother's car and fled. The grandmother was hospitalized and is in critical condition.
When police located the vehicle, they began chasing the suspect, who began shooting at police. He eventually crashed the car into a light post outside Trader Joe's in LA's Silver Lake neighborhood. About 40 people were inside the store when the armed suspect ran inside. "The bullets were flying everywhere through the front of the store and across the parking lot," a witness said. A woman, whose brother identified as a Trader Joe's employee, was shot and killed but none of the other hostages were seriously wounded.
After three hours of negotiations, the suspect, whose left arm had been wounded in the exchange of gunfire with police, handcuffed himself and surrendered to police. Although the gunman had made a "series of demands" during the tense standoff, negotiators were convinced they could get him to surrender peacefully. Six people ranging in age from 12 to 81 were taken to the hospital but none had been shot and all were in fair condition.
Support our journalism
Help us continue covering the news and issues important to you—and get ad-free podcasts and bonus segments, members-only content, and other great benefits.
Join Slate Plus
Join
---