In what was either an act of radical political sabotage or radical teenager-ness (or both), a big old yacht belonging to the family of Secretary of Education Betsy DeVos was surreptitiously untied from its dock in Lake Erie last weekend, causing thousands of dollars in damage. From the Toledo Blade's report on the incident in Huron, Ohio:
The Seaquest was moored at the Huron Boat Basin, 330 Main St., according to a police report. The captain of the 163-foot yacht, worth a reported $40 million, called police at about 6 a.m. Sunday, telling them that he and the crew realized at sunrise that someone had untied Seaquest from the dock, setting it adrift.

The crew eventually got control of the yacht, but not before it struck the dock, causing an estimated $5,000 to $10,000 in damage from large scratches and scrapes, according to the police report.
The Seaquest is among "at least" 10 boats owned by the DeVos family, the Wall Street Journal has reported. (DeVos is heir to an auto-parts fortune and married into the family that co-founded Amway.) The DeVoses also own "at least four planes and two helicopters" and maintain a company, RDV Corp., to manage family affairs; job listings at the company have included a "Household Administrative Assistant" position whose duties included "Assist teen with identifying list of clothing and personal items to pack for travel."
It's not clear what the DeVos yacht was doing in Huron, a small town between Toledo and Cleveland, but I'm guessing it was not related to a reservation at the Quality Inn: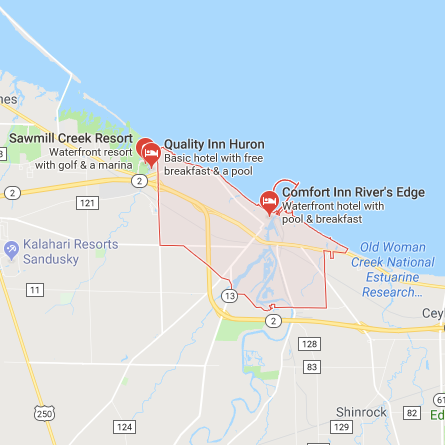 Free breakfast! And yes, that includes eggs, sausages, and pancakes, not just rolls and stuff. (I called to check.)
Huron, it's worth noting, is only 10 miles from the Cedar Point amusement park, a Midwestern institution so beloved that one Slate staffer attested this morning that her family named their dog "Mil" after its Millennium Force roller coaster. Cedar Point—fun place.