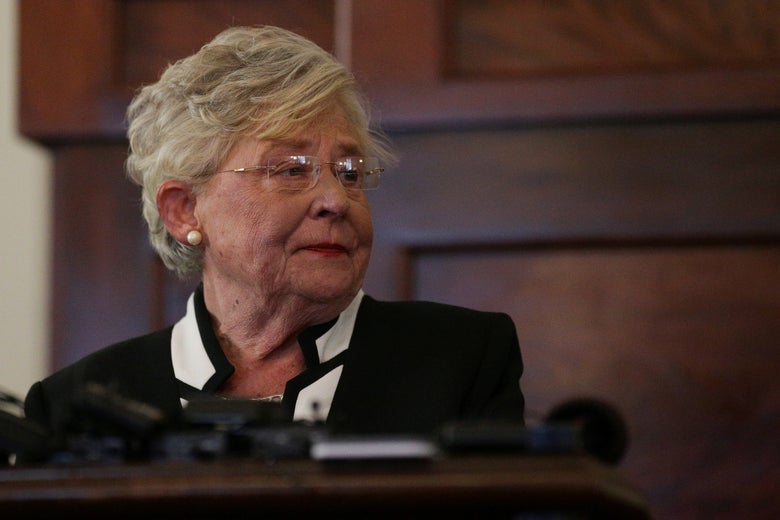 Alabama's governor has called to ban sheriffs from pocketing funds meant to feed inmates. A controversial Depression-era law in Alabama allowed sheriffs to keep as personal income any funds left over from covering the costs of prisoners' meals.
On Tuesday, Gov. Kay Ivey urged state lawmakers to pass legislation to make clear that these funds no longer go to the "sheriffs personally" but instead would be put into general county funds or the sheriff's official account. "Public funds should be used for public purposes," Ivey said in a statement. "It's that simple."
Ivey's action comes after contradictory opinions in the past few years by the state's attorneys general.
In 2008, the practice was upheld by Troy King, the state's attorney general at the time, who argued in an opinion that sheriffs may keep excess food funds "as personal income." However, in 2011, another attorney general, Luther Strange (you may remember him as the unsuccessful Alabama Senate candidate Trump endorsed last year), disagreed with King's opinion, ruling instead that "neither the sheriff nor the county may use the surplus for any purpose other than future expenses in feeding prisoners."
The longstanding practice has attracted criticism from those who fear it encourages sheriffs to enrich themselves at the expense of those in their custody.
In March, AL.com reported that Etowah County Sheriff Todd Entrekin had received more than $750,000 over the past three years—more than $250,000 each year—from the food provisions fund, according to ethics disclosure forms. By comparison, Entrekin's annual salary as sheriff was $93,178.80. In 2015, Entrekin paid someone to mow his lawn with a check that read in the upper-left corner "Sheriff Todd Entrekin Food Provision Account."
In 2009, Morgan County Sheriff Greg Bartlett was ordered by a federal judge to spend one night in jail after prisoners testified that they were always hungry and losing significant amounts of weight. Meanwhile, Bartlett was pocketing $212,000 annually for skimping on prisoners' meals. As with the Etowah County sheriff, Bartlett's yearly income from the food provisions fund exceeded his annual salary, which was approximately $64,000. Morgan County prisoners' daily rations, according to the New York Times, consisted of "a few spoonfuls of grits, part of an egg and a piece of toast at breakfast, and bits of undercooked, bloody chicken at supper."
The enormity of these sheriffs' enrichment is remarkable, considering that the Alabama state food allowance for prisoners is only $1.75 per person per day.
According to the judge who ordered Sheriff Bartlett to jail in 2009, the Alabama law was "almost an invitation to criminality." U.W. Clemon of the U.S. District Court in Birmingham told the New York Times that the law gave sheriffs "a direct pecuniary interest in not feeding inmates."
---