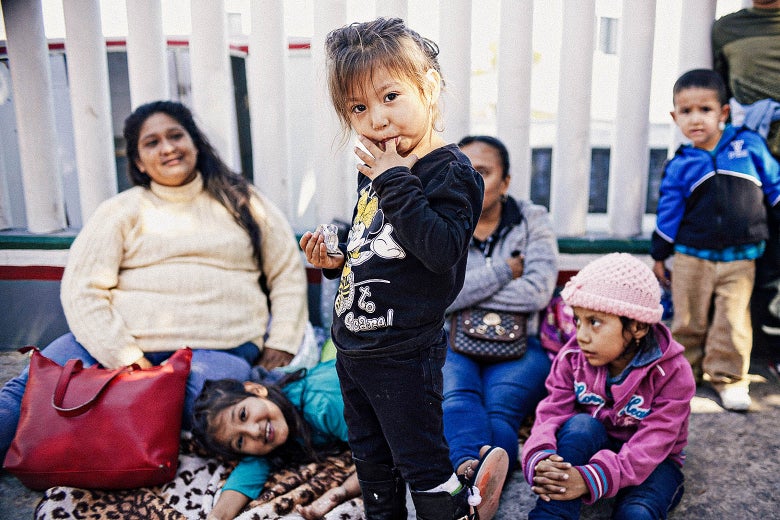 On Wednesday, Donald Trump announced that he would end his administration's practice of separating families at the border after denying for weeks that he had the power to do so. Trump did not direct Attorney General Jeff Sessions to halt his "zero tolerance" policy, which requires the prosecution and imprisonment of immigrant parents and created the crisis in the first place. Instead, he issued an executive order that would allow the indefinite detention of immigrant families together. This action may be preferable to the barbaric tactic of snatching children from their parents—but it is also illegal, and could lead Trump to return to tearing families apart.
The detention of immigrant minors is limited by the 1997 Flores court settlement, which ended a long-running challenge to the government's frequently inhumane treatment of immigrant minors. In Flores, the federal government agreed to hold undocumented children intercepted at the border "in facilities that are safe and sanitary" after intercepting them, and then to transfer these minors "to a non-secure, licensed facility" within five days of their arrest. During "an emergency or influx of minors," the government need only release them "as expeditiously as possible." (The courts have found that the U.S. currently faces such an influx.) Flores strongly favors family reunification. Whenever feasible, minors must be transferred to a parent, legal guardian, or adult relative (such as an aunt or grandparent). Otherwise, they may be transferred to "an adult individual or entity" designated by their parent or guardian, or to "a licensed program willing to accept legal custody."
The Clinton administration negotiated the Flores settlement to deal primarily with unaccompanied immigrant minors—kids who arrive at the border without a parent or guardian. But in recent years, the government has seen a surge in accompanied immigrant minors. The Obama administration attempted to deal with this surge by detaining immigrant families together. In 2015, however, a federal court ruled that Flores also covered children who are accompanied by a parent, and held that, by detaining the children for extended periods of time, the government had "wholly failed" to comply with the agreement. The 9th U.S. Circuit Court of Appeals affirmed that ruling in 2016, concluding that Flores "unambiguously applies both to accompanied and unaccompanied minors." But it added that the settlement "does not create affirmative release rights for parents."
Therein lies the problem at the heart of Trump's new policy. Flores compels the swift release of undocumented children to family members or noncarceral care facilities. Yet it does not prevent the government from continuing to detain these children's parents. Trump and Sessions refuse to revoke "zero tolerance," meaning parents will still be detained and prosecuted for illegal entry (a misdemeanor). Trump's solution is to detain kids alongside their parents. And that clearly runs afoul of Flores.
The obvious solution here is to simply resume the Obama administration's eventual policy of releasing immigrant families on bond. Despite Trump's claims to the contrary, the vast majority of immigrants released on bond show up to court hearings, and their release resolves the many legal headaches incurred by indefinite detention. Most obviously, keeping families together and releasing them on bond would allow the government to easily comply with Flores. (The settlement does not require minors to be placed with citizens or lawful permanent residents.) The government would also be able to avoid class-action lawsuits seeking to vindicate immigrants' fundamental right to family integrity and lawsuits alleging that indefinite detention infringes upon due process.
But the Trump administration refuses to take this route. Rather, in his order, Trump directs the attorney general to "promptly file a request" in court to "modify" Flores to permit the detention of "alien families together throughout the pendency of criminal proceedings." This modification would undermine Flores by affirmatively authorizing the open-ended detention of immigrant minors—precisely the kind of traumatic incarceration that the settlement sought to avoid. At best, these children would be detained with their parents until the government located an individual or facility willing to take them into custody. But during an influx, Flores only directs the government to find a home for these children "as expeditiously as possible." Courts have used a 20-day period as a rule of thumb, but in reality, the process can take months. And it still ends with the separation of children from their parents, who will remain in detention after their children are released.
The likeliest scenario, then, is pretty bleak. Immigration advocates will reject this subversion of Flores, the courts will rule that immigrant children must be released, and the zero-tolerance Trump administration will quite possibly respond by returning to family separation. Parents will again be detained by themselves, their children will be sent to "shelters" that operate like prisons, and everyone else will be back to where they started. Trump's stopgap policy, then, fails to resolve the issue driving this crisis: The Justice Department's insistence on prosecuting every undocumented immigrant to the full extent of the law, even those who committed a mere misdemeanor by entering the country without authorization. It is a crisis that the president concocted, and one that—in spite of Wednesday's half-measure—he still refuses to end.
Support our independent journalism
Readers like you make our work possible. Help us continue to provide the reporting, commentary, and criticism you won't find anywhere else.
Join Slate Plus
Join
---