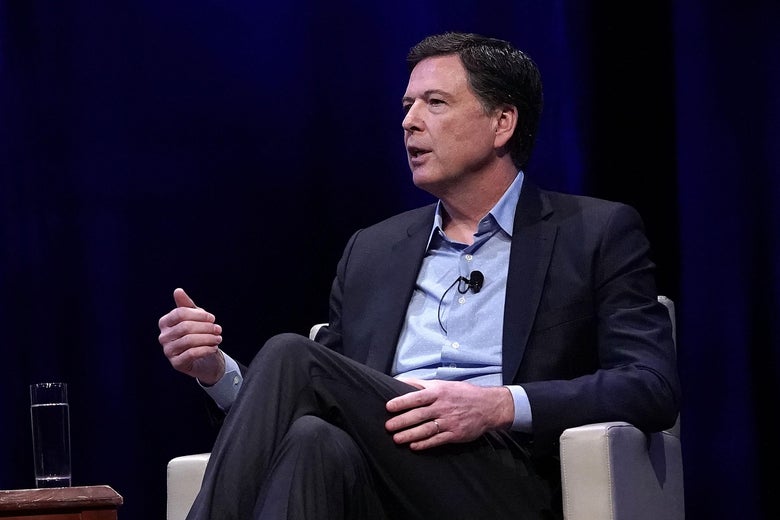 The highly anticipated Department of Justice inspector general report on actions taken by the FBI over the course of the 2016 presidential campaign is almost entirely old news. Former FBI Director James Comey messed up … a lot. FBI Deputy Assistant Director Peter Strzok and Lisa Page, special counsel to the deputy director, sent unprofessional and damaging text messages to each other while they worked on two high-stakes, politically charged investigations. Hillary Clinton's use of a private email server wasn't smart, but it also wasn't criminal.
If anything, the new report confirms—in painstaking detail—what we basically already knew. But it also forces readers to do something really difficult in the age of Trump, when there is a tempting pull on the left and the right to see everything in black and white, and that's to hold multiple competing thoughts in your head at the same time.
Former FBI Director James Comey's conduct during the 2016 election provided reasonable grounds for his firing, and yet that does not vindicate Trump's decision to fire him.
Almost as soon as it became clear in the spring of 2016 that the Clinton investigation, known as the "Midyear" investigation within the FBI, would not lead to criminal charges, Comey began thinking about how the conclusion of the investigation could be announced without Republicans accusing the FBI of political bias. Although he took part in discussions with Department of Justice leadership about how the decision would be rolled out, he began to craft his own plan for announcing there would be no charges brought against Clinton.
As the political climate around him became more fraught, Comey became convinced he'd need to make the announcement on his own and be more transparent than DOJ protocol would permit. This included making statements that would publicly condemn Clinton's email practice. This was probably Comey's biggest mistake, as it violated a sacrosanct DOJ rule, one that is in place for good reason: If the ultimate decision is not to prosecute someone, then you don't get to pass judgment on their behavior publicly. They either broke the law, or they didn't. And if they didn't, that's the end of the story.
Comey didn't tell DOJ leadership that he would be making his independent statement until the morning of his July 5, 2016, press conference. He told the IG that he did this to prevent DOJ leadership from stopping him from delivering his statement.
On this decision, in one of its most damning statements on Comey's conduct, the IG report says:
We found that it was extraordinary and insubordinate for Comey to do so, and we found none of his reasons to be a persuasive basis for deviating from well-established Department policies in a way intentionally designed to avoid supervision by Department leadership over his actions.
As the IG report details, this was not the only time Comey deviated from DOJ practice, trying to pre-emptively limit Republicans' accusations that the FBI was politically biased in favor of Clinton. Every move by Comey to thwart these accusations, though, only led him further down a path of taking unusual and harmful steps against Clinton.
In many ways, the IG report reads like Deputy Attorney General Rod Rosenstein's memo on firing Comey. And yet, in no way does it vindicate Trump's decision to fire him. Why? Because the idea that Trump fired Comey over his conduct during the Clinton investigation was always a pretext. Trump said as much to NBC's Lester Holt and to Russian officials visiting the Oval Office in May 2017. Also, after Trump took office, he left Comey in place for several months. During this time, according to Comey, Trump made efforts to shore up his personal loyalty to the president. It was only after it became clear that the Russia investigation wasn't going away that Trump pulled the trigger and fired Comey.
The text messages exchanged between FBI Deputy Assistant Director Peter Strzok and Lisa Page, special counsel to the deputy director, are both highly problematic—and yet did not ultimately affect the decisions taken in the Clinton email investigation.
If you've been watching Fox News (or reading Trump's Twitter feed), you've heard a lot about Strzok and Page already. They are central figures in the "Deep State Is Out to Get Trump" narrative. The two FBI officials were having a romantic affair during the time in question and exchanged private text messages, which have previously been widely reported. The texts reveal that both Strzok and Page had concerns about the prospect of Trump becoming president and had a preference for Clinton. The IG report includes this alarming exchange between the two of them:
Page to Strzok: "(Trump's) not ever going to become president, right? Right?!"

Strzok: "No. No he's not. We'll stop it."
In his report, the IG is clearly worried that Strzok's political bias may have played a role in his conduct of the Clinton and Russia investigations. He is especially concerned about whether it had anything to do with the FBI's delay in analyzing the batch of emails found on Anthony Weiner's laptop in September 2016 after the FBI had already closed out the Clinton investigation. The IG report says lots of excuses were given to explain why the FBI didn't take action more quickly, but he didn't find any of them persuasive. Strzok's role in all of this was particularly concerning because of the political bias revealed in his texts with Page, the IG notes:
Under these circumstances, we did not have confidence that Strzok's decision to prioritize the Russia investigation over following up on the Midyear-related investigative lead discovered on the Weiner laptop was free from bias.
But when the IG searched for evidence "that the Weiner laptop was deliberately placed on the back-burner by others in the FBI to protect Clinton," it didn't find any.
Ultimately, the IG found that Strzok's political bias, and its potential to influence decisions in the Clinton investigation, had no effect.
Strzok was not the sole decisionmaker for any of the specific Midyear investigative decisions we examined in that chapter. We further found evidence that in some instances Strzok and Page advocated for more aggressive investigative measures in the Midyear investigation, such as the use of grand jury subpoenas and search warrants to obtain evidence.
Still, these messages and others have done enormous damage beyond the scope of the Clinton investigation, the IG found.
We found that the conduct of these five FBI employees brought discredit to themselves, sowed doubt about the FBI's handling of the Midyear investigation, and impacted the reputation of the FBI.
Practically every one of Comey's decisions throughout the 2016 campaign hurt Clinton, and therefore potentially benefited Trump's campaign, and yet Comey wasn't motivated by political bias.
The IG does not mince words when it comes to Comey and the mistakes he made during the 2016 election. And yet, not once does the IG find that Comey was motivated by a desire to help one of the presidential candidates over the other, something he's been accused of doing by both Democrats and Republicans. Comey was not trying to help Trump win, and he was not trying to help Clinton win.
About Comey's decision to hold the July 5, 2016, press conference, the IG says:
We determined that Comey's decision to make this statement was the result of his belief that only he had the ability to credibly and authoritatively convey the rationale for the decision to not seek charges against Clinton, and that he needed to hold the press conference to protect the FBI and the Department from the extraordinary harm that he believed would have resulted had he failed to do so. While we found no evidence that Comey's statement was the result of bias or an effort to influence the election, we did not find his justifications for issuing the statement to be reasonable or persuasive.
On Comey's decision to alert Congress that the FBI was reopening the Clinton investigation in order to assess the batch of emails found on the Weiner laptop, the IG concluded: "We found no evidence that Comey's decision to send the October 28 letter was influenced by political preferences."
While mistakes were made over the course of the Clinton investigation, the way it reached its conclusion was sound.
An essential finding of the IG report, but maybe one that will be overlooked, is that the decision by the FBI and the Department of Justice to close the Clinton investigation without charges was free from political bias and met the proper legal standard. Federal prosecutors considered five federal statutes as they determined whether charges would be appropriate for Clinton—and determined for each that sufficient evidence was lacking. The IG found no evidence to suggest this was an improper conclusion.
"We found no evidence that the conclusions by the prosecutors were affected by bias or other improper considerations; rather, we determined that they were based on the prosecutors' assessment of the facts, the law, and past Department practice," the IG report says.
More From Just Security:
What Could Michael Cohen Tell Mueller About Russia Collusion?
Loopholes in Public Corruption Laws Benefit Swamp Dwellers
One more thing
The Trump administration poses a unique threat to the rule of law. That's why Slate has stepped up our legal coverage—watchdogging Jeff Sessions' Justice Department, the Supreme Court, the crackdown on voting rights, and more.
Our work is reaching more readers than ever—but online advertising revenues don't fully cover our costs, and we don't have print subscribers to help keep us afloat. So we need your help.
If you think Slate's work matters, become a Slate Plus member. You'll get exclusive members-only content and a suite of great benefits—and you'll help secure Slate's future.
Join Slate Plus
---