Major cities across the United States are getting swept up in a movement to replace tough-on-crime prosecutors with reform-minded outsiders. Last November, Larry Krasner, a former federal public defender turned civil rights lawyer, was elected district attorney in Philadelphia. He rapidly set about changing business as usual, refusing to prosecute low-level marijuana offenses and instructing his deputies to begin plea negotiations from the minimum rather than the maximum penalty. (Disclosure: After Krasner was elected, my sister Dana took a job as a policy adviser in his office.)
Similar challenges by self-described reformers have sprung up all over the country. On May 8 in North Carolina, Durham County District Attorney Roger Echols was toppled by Satana Deberry, who promised to bring "a culture change in the prosecution of crimes by addressing racial bias." Like Krasner, Deberry has no prosecutorial experience. In California, incumbent DAs are being challenged by public defenders and civil rights lawyers in races in Oakland, San Diego, and Stanislaus County. Other bids are in the works in Charlotte, North Carolina; Dallas; Baltimore; and St. Louis.
But while prosecutors wield enormous power, they're only part of the reform equation. State court trial judges preside over everything from murder trials to traffic ticket disputes. Because only a tiny fraction of these cases are appealed, their rulings typically go unchallenged. And yet there hasn't been a similar movement to replace them. Until now.
In Northern California, where I live, local judicial elections are traditionally sleepy affairs. Although it's a complicated system, judges are typically appointed to the bench by the governor. After serving a six-year term, an appointed trial judge is required to stand for re-election. When judges run for re-election, they are almost always unopposed. Their names do not even appear on the ballot, and the public knows next to nothing about them.
It will be a different story on June 5, when San Francisco voters like me head to the polls. In an unprecedented move four public defenders, Niki Solis, Kwixuan Maloof, Maria Evangelista, and Phoenix Streets—two black men and two Latinas—are running on a slate to unseat four incumbent judges—two white men and two Asian Americans. The incumbents, Curtis Karnow, Jeffrey Ross, Andrew Cheng, and Cynthia Ming-mei Lee, are widely respected for their intelligence and legal acumen. None have been accused of misconduct or issued a recent high-profile controversial ruling, such as the lenient sentence given by Santa Clara County Judge Aaron Persky to sexual assailant Brock Turner that led to an effort to recall Persky.
But in the eyes of the challengers, the judges—all of whom were appointed by Republican governors but are registered Democrats—are proxies for a status quo that is unacceptable. They want to shake up a judiciary that they argue is unwilling to acknowledge its pervasive racial bias and is insufficiently progressive on issues like sentencing, bail, and police misconduct. (While the public defenders are running as a slate, each has targeted an individual judge: Solis wants to unseat Ross, Evangelista is running against Karnow, Maloof is seeking to oust Lee, and Streets wants to replace Cheng.)
The incumbents have responded with their own unified campaign, Retain Our Judges, that calls for a down-the-line vote. Their list of endorsements includes the state's political heavy hitters: Jerry Brown, Dianne Feinstein, Kamala Harris, and Nancy Pelosi. The three top contenders for the San Francisco mayor's office, Jane Kim (who would be the first city's Asian-American female mayor), Mark Leno (who would be the city's first openly gay mayor), and London Breed (who would be the city's first black female mayor)—are also supporting the incumbents. (Leno has endorsed both the slate of incumbents and one of the challengers, Solis.)
Under the headline "Reject This Assault on an Independent Judiciary," the editorial board of the San Francisco Chronicle suggested that the public defenders' decision to run as a foursome was an opportunistic gimmick, and opined that judges standing for re-election should not face opposition unless they're demonstrably incompetent or corrupt, an argument deployed by many of the city's prominent legal luminaries.
The judges facing this electoral challenge aren't making that argument, and wisely so. The California Constitution and the state's election laws allow any qualified candidate to run for any reason. To proclaim that the voters should have no choice because the governor and his appointments committee know best smacks of elitism and entitlement. Lee, who has been a judge since 1998, told me, "They can challenge us. It comes with the territory, and I think it would be wrong for me to be judgmental."
In the process of reporting out this story, I spoke to the four judges and the four public defenders running in next week's election. Listening to the point-counterpoint made my head spin. I would get off the phone with an incumbent, nodding vigorously in agreement, only to do the same thing after speaking to a challenger. A lawyer friend suggested I was making the race too complicated. "It boils down to what you want the judiciary to look like and who you think can do the best job." I asked him who he was voting for. He hesitated, looking sheepish. "I haven't made up my mind yet."
To spend a day in felony arraignment court at San Francisco's Hall of Justice—windowless, grimy, and pockmarked by broken chairs—is to watch the processing of jailed, orange-jumpsuited, and shackled defendants who are overwhelmingly black and Latino. Solis told me, "Either you believe that black people are inherently predisposed to commit crimes, or you believe that the system is racially biased. Obviously, the system is biased. I don't see the judges doing anything about it and the buck stops with them."
Solis has invoked two recent studies as supporting evidence for this claim, one by the nonprofit W. Haywood Burns Institute and the other by the Quattrone Center for the Fair Administration of Justice. According to the Burns study, in 2013, black adults in San Francisco were seven times more likely to be arrested than whites and 10 times as likely to be convicted of crimes in San Francisco Superior Court. Analyzing more than 10,000 cases handled by the San Francisco Public Defender's Office between 2011 and 2014, the Quattrone Center study concluded that black defendants were booked on more felony charges, held in custody an average of 30 days longer, convicted of more serious crimes, and received longer sentences than white defendants. Many of the discrepancies, the authors wrote, could not be explained by "age, homelessness, poverty, or crime rates in the neighborhoods in which Black residents reside or routinely encounter police."
Of the four incumbents, only one, Jeffrey Ross, currently hears criminal cases in the Hall of Justice; the others are assigned to the civil courthouse a mile away. Regardless, Maloof said, "People like me, that are fair and are not going to judge people based on what they look like instead of what they've done, you need them in small claims court, in traffic court, in civil court, and in family court."
The challengers, who have mounted an aggressive grass-roots campaign, argue that the judiciary's complacency has allowed certain problems to fester, including San Francisco's much-criticized money bail system, which pegs the release of defendants to their ability to pay according to a bail schedule set by trial judges. The average felony bail in San Francisco is $50,000, which is "more than five times the national average," according to a 2017 report prepared by the city's treasurer. Multiple studies have shown that the money bail system disproportionately impacts communities of color and that jailed defendants are more likely to plead guilty even to crimes they did not commit out of desperation to keep their jobs, and their housing, and to ensure they can be home with their children.
Earlier this year, the California Court of Appeal for the First District ruled in In re Kenneth Humphrey that imposing money bail is unconstitutional unless trial judges hold hearings to determine whether it's affordable or whether there are less onerous alternatives, such as electronic monitoring or residential drug treatment. Some San Francisco jurists have resisted the Humphrey ruling. In March, U.S. District Judge Charles Breyer mandated a defendant's release within 24 hours after a trial judge refused to set a reasonable bail for a third time.
But none of the challenged judges are directly responsible for this state of affairs. They point out that in creating bail schedules, trial judges are simply following the law, and argue that they use monetary amounts that are consistent with adjoining counties such as Alameda and Marin. One of the incumbents, Karnow, noted that he has long been a critic of money bail, and wrote in depth about its shortcomings in a law review article that was cited with approval by the state court of appeal and by Judge Breyer. "Why would you run against me when I am one of the few people that has actually tried to think through the issue?" he asked.
Another of the incumbents said the challengers' campaign promises are unrealistic. "It's like they think they can wave a magic wand and solve a complicated systemic problem," said Andrew Cheng. "If they want to do that, they should run for the legislature." Trial judges don't make the law, he pointed out, they apply it.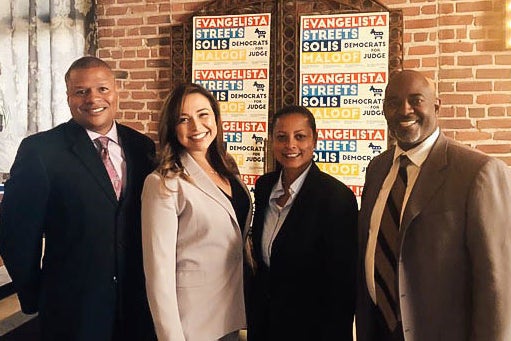 All four challengers are lifelong public defenders. Three of the four incumbents worked as prosecutors at the state or federal level at some point in their careers. In most races, that fact should matter to those who want greater diversity on the bench: As a general rule, former public defenders are a rarity on state court benches. But Gov. Jerry Brown has turned that truism on its head by nominating public defenders and prosecutors in nearly equal numbers during his two terms in office.
While many tout the San Francisco bench as one of the most diverse in the nation for this and other reasons, the reality is more complicated. As of Dec. 31, 2017, the court had 49 judges. That cohort was 55.1 percent white, 22.4 percent Asian, and 10.2 percent black. By contrast, 51 percent of the people represented by the San Francisco Public Defender's Office are black. Hispanic and Latino clients also make up a disproportionate share of defendants, but only 6 percent of the trial judges who preside over their criminal cases are themselves Hispanic or Latino.
"The bench should reflect the diversity of the people who come before the court. People trust the process more if they see people in power who look like them," said Solis, who describes herself as "an out lesbian Afro-Latina" who came to the United States from Belize undocumented at the age of 1. She is the mother of two African-American boys, ages 10 and 12. "If my sons are seven times more likely to be incarcerated, 10 times more likely to be convicted than my opponent's sons or grandsons, then I need a seat at the table."
Cheng expressed frustration with this argument. "How do you increase diversity on the bench by knocking off a diverse judge? The challengers' answer is, 'you aren't the right kind of diverse.' " Cheng, who was raised in the Midwest by immigrant parents, was one of two Asians in his high school; his sister was the other. "Should I be saying that someone who is African American or Latino but has been in this country for generations can't understand immigration issues the way that I do? I would like to believe that we can move in a direction of greater complexity than that."
How much should race matter? Ninety-seven percent of the felonies filed in San Francisco last year ended in guilty pleas and dismissals, with judges deciding whom to release on bail, what motions to grant or deny, which plea bargains to accept, and what sentences to impose. The challengers say the race of the judge weighs heavily in these decisions. Evangelista, who would be San Francisco's first elected Mexican-American judge, told me that "the job of a judge is to apply the laws fairly to everybody, but we see the statistics and we know that's not true. I won't favor one side, but my perspective means that implicit bias is not going to cut against [black and Latino defendants]."
The incumbent Karnow, who is white, was raised in Hong Kong and came to live in the United States in ninth grade. In school, he was mocked for his accent and shunned because he was slow to adapt to American culture. Karnow, who took pains to say he doesn't equate his own experience to that of minorities in the United States, has created a course on implicit bias that he has taught to judges and lawyers across the state. When Karnow discussed his course at a judicial candidates forum in April, Solis responded, "People of color who are judges ought to be the ones who are teaching courses regarding implicit bias."
Ross, who often co-teaches with Karnow—other judges do as well, including San Francisco Superior Court presiding Judge Teri Jackson, who is black—responded, "to assume that the only people who have experienced implicit or explicit bias are part of a specific racial group is to ignore reality. My father came here as a teenager from a shtetl in Russia fleeing religious persecution." After describing the anti-Semitism he experienced growing up, Ross said, "implicit bias is not specific to any sexual orientation, race, ethnicity or language experience."
I agree. But there is no doubt that black and Latino males bear the disproportionate burden of being judged—on the streets, in stores, in schools, and in courts. As black men, Maloof and Streets have personally experienced that judgment. In 2010, Maloof was pulled over for nothing more, he said, than driving while black. He was detained and handcuffed, and freed only after the police searched the trunk of his car without his consent. The courts, he said, can send a strong message that this kind of conduct will not be tolerated by granting motions to throw out evidence the police obtain via illegal searches. Solis, who has been a public defender for 22 years, said that too often San Francisco trial judges are unwilling to grant these type of motions for fear of getting on the wrong side of police and prosecutors. "If there is no accountability," she said, "then there will continue to be illegal arrests and detentions that disproportionately affect black and brown people."
Streets, one of eight children raised in Arkansas by a single mother, served four years in the Navy and was deployed to Iraq. His passion, he said, is providing greater access to San Francisco's collaborative courts, which are designed to provide therapy, substance abuse treatment, job training, and educational resources to qualifying veterans, young adult offenders, and those suffering from mental illness and addiction. Successful graduates of these programs often leave without criminal convictions on their records. Deserving defendants, he said, get turned away because courts are too full or prosecutors object. "The judges are the ones who can say, let's expand these programs and waive the DA's objections," Streets said.
And yet, two of the targeted judges have long labored in the trenches of the collaborative courts. Lee, the city's first Asian American female presiding judge, created the Veterans Justice Court in 2013. "If I died tomorrow, that is the professional accomplishment I want to be remembered for," she told me. Ross, who presided over the Veterans Justice Court for three years, said he'd never turned anyone away for lack of resources but agreed that other collaborative courts were oversubscribed and underfunded. (Disclosure: I have appeared before him numerous times on behalf of two clients, both of whom he treated with compassion and fairness.) These are complex problems, he said, requiring grant money and other alternative sources of funding.
As a clinical law professor, it's my job to work with students to litigate misdemeanor cases at the Hall of Justice. We see firsthand how shabbily the system treats some of our clients. I, too, am frustrated and sickened: Little seems to have changed in the decade since I was a federal public defender in Los Angeles. And so the contrarian in me responds viscerally to the argument that we should throw the bums out.
But these four judges aren't bums. They are thoughtful, reflective people who work hard to do the best possible job. They have their own stories of hardship and accomplishment. Two of the incumbents are people of color, and three are the children of immigrants. One spends his free time writing law review articles on how to improve the justice system.
Then there is the threat to judicial independence. If the insurgents win, Cheng said, "it will be open season on judges." He has a point. Do we really want a system where judges are constantly running for office and asking the lawyers who appear before them for money? What if, the next time around, a slate of incumbents is ousted by plainly unqualified candidates because a Silicon Valley billionaire with an agenda used unlimited funds to buy the results?
It would be easy enough to pick one slate over the other, as both sides are urging the voters to do. But I firmly believe that each choice should be based on the individual candidate; groupthink is the easy, lazy way out. And the choice in each race is fraught and difficult. Like my lawyer friend, I still have not decided how to vote.