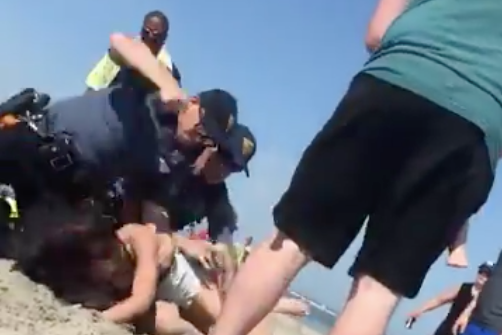 Three New Jersey police officers who pinned down and punched a woman on a beach during an arrest for alcohol possession will not face criminal charges, prosecutors said.
The officers from Wildwood, New Jersey, are under an internal investigation for their behavior in a May 26 incident in which cellphone and bodycam videos show one officer punching 20-year-old Emily Weinman twice on the head in front of her 1-year-old daughter.
"A decision such as this is not based on emotion; it is based upon applying the proper laws, policies and directives that govern law enforcement," county prosecutor Jeffrey Sutherland said in a statement. "Members of the public should understand that no matter what your opinion is regarding the subject event, it is not based on a full review of the evidence."
Weinman, who was at the beach with her daughter, her daughter's father, and a friend, was approached by police when they noticed alcohol containers (which police have said were open and Weinman has said were unopened). Police then questioned Weinman about the alcohol and administered a blood-alcohol test—she says she had not been drinking and the test came out negative. When Weinman refused to give them her name and tried to walk away, the officers moved to handcuff her. Police say she then struck one of the officers. Video of the ensuing scuffle shows the officers wrestling Weinman on the ground and shouting at her to "stop resisting."
Then, in the video, she tells the officer to "get the fuck off." The officer then says, "That's it," and starts punching her.
Weinman was arrested and charged with two counts of aggravated assault on a police officer, aggravated assault by spitting on a police officer (she told Good Morning America that she didn't mean to spit at the police but was spitting out sand that had gotten in her mouth), disorderly conduct, resisting arrest, and possessing alcohol as a minor.
Weinman told Good Morning America that she suffered neck and back injuries and that the experience had been a "trauma."
---