A short-fin male pilot whale died in Southern Thailand after a five-day effort to save the mammal failed. An autopsy found the whale had more than 80 pieces of plastic trash in its stomach, weighing some 17 pounds. The whale was first seen on May 28 as locals quickly saw it wasn't acting quite right. A team of veterinarians tried to save it but on Friday the whale spit out five plastic bags and later died. "This plastic rubbish made the whale sick and unable to hunt for food," Thailand's Marine and Coastal Resources Department said on its website. Experts say the whale likely thought plastic bags were food.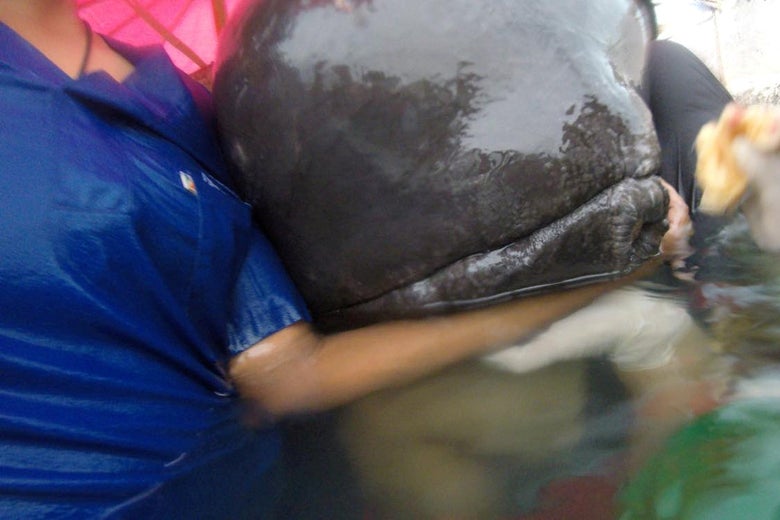 A veterinary surgeon who took part in the rescue operation said it was the worst case of its kind she had ever seen. "We found a lot of plastic bags in the stomach, I think around 85 plastic bags," Watchara Sakornwimon told Sky News. "Somehow they were from another country, they were not from only Thailand." Although Sakornwimon said she had seen similar cases, this one was much more dire than any others. "I saw it, but the [amount of plastic] is not like this," she said, noting that she once found a whale with "a kilogram of plastic bags," or the equivalent of 2.2 pounds.
The whale's death by plastic comes at a time when governments around the world are trying to raise awareness about the danger of plastic to the environment. A recent study by the British government found that if nothing is done the amount of plastic littering the world's ocean will triple within a decade.