Update, 6:57 p.m.: There is now an unambiguous confirmation from the administration that Trump's order will have no bearing on the more than 2,300 children who have been separated from their parents since the zero tolerance policy began. The New York Times quotes spokesman Kenneth Wolfe, who said, "There will not be a grandfathering of existing cases."
Update, 3:55 p.m.: Trump has signed the executive order. It does not revoke his administration's "zero-tolerance" policy toward border crossings under which all crossings are prosecuted criminally rather than through civil proceedings in which families could be released from custody with an order to appear later. It does declare the administration's intent to "maintain family unity, including by detaining alien families together where appropriate and consistent with law and available resources." It instructs the Department of Homeland Security and Department of Defense to use their facilities to house the families "during the pendency of any criminal improper entry or immigration proceedings," and instructs the Department of Justice to file a request in federal court to modify the Flores settlement (discussed below) to allow families to be detained for the entirety of the time that their cases are pending. It also instructs the DOJ to prioritize the adjudication of the families' cases.
Speculatively, what seems likely to happen here is that the administration will begin detaining families together while trying to rush them through adjudication quickly. Some families will sue, either because they don't get a quick hearing and believe the lengthy detention of their children violates Flores or because they do get a quick hearing and feel that a hasty adjudication violates their rights to have a fair hearing of the asylum claims that many of them have filed. And there's no word yet on what happens to the families that were already separated. In other words, this issue is far from being resolved.
Incidentally, Trump told Fox News last Friday that it was not possible for him to end family separation through an executive order. Also, the order misspells "separation."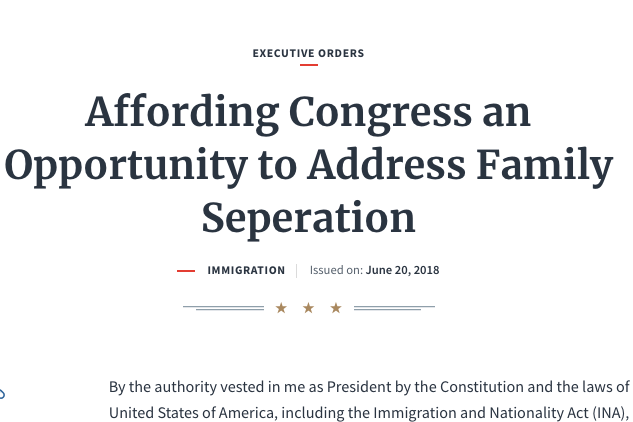 Update, 1:13 p.m.: The New York Times reports that the Trump administration's plan to end family separation via executive order will involve the creation of a system for indefinitely detaining families together, a move that seemingly violates the 1997 Flores court settlement, which prohibits the federal government from keeping children in custody for extended periods of time. (The Obama administration attempted to institute large-scale family detention in 2014; the effort was widely decried as a disorganized disaster and was found to be in violation of Flores by a judge.*)
To be clear, Trump could end family separation immediately by instructing his Justice Department not to prosecute every border-crosser criminally. Under current practice, however, that would result in some families being released with an order to appear later for a hearing—an approach that the president has said is unacceptable because it makes the United States seem "weak."
Original post, 11:35 a.m.: The Trump administration has made extensive efforts to obscure the reality that the mass family separations currently taking place at the border are the result of its decision to prosecute all undocumented border crossings as criminal offenses rather than handling most of them in civil proceedings (as other administrations have done). But with the backlash against the policy reaching a crisis point as reports emerge that the U.S. government is operating entire detention centers for babies and toddlers, reports say POTUS may be about to admit that family separation is not "the Democrats fault [sic]" but rather a practice he instituted and could end at any time:
The AP has a similar report:
(To be clear, Flores is a 1997 legal settlement that requires children detained at the border to be released from detention without unnecessary delay, not a ruling that requires separation.)
After the AP and Fox's reports, Trump told reporters at the White House that he would be signing "something" in "a little while" that would address family separation. As always, your guess is as good as anyone else's as to what he meant by that or whether he'll follow through.
This post has been updated with new information.
Correction, June 20: This post initially stated in error that the Obama administration's family-detention policies were designed not to violate Flores.